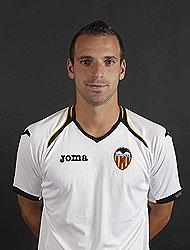 "Roman Abramovich paid fifty million pounds to Liverpool for Fernando Torres. So far for Chelsea he has scored three goals for Chelsea. How much did Roman Abramovich pay for each of Fernando Torres' goals?"
Sometimes you have to look a life by just seeing the silver lining. Fernando Torres' slump has helped out the education of many kids. Now there are English kids that can divide because of his newly found scoring impotence.
That doesn't mean that he should still be called up to the Spanish national team. His name used to be one that was a can't miss on any call up sheet. Now its mere presence gives a sickening feeling to the stomach knowing that there are players right now that deserve more of a chance than the native of Fuenlabrada.
In my opinion, there is a player that deserves a chance from Vicente Del Bosque, not because of what the did over three years ago with the national team; but based on what he does currently. Spain does have the depth and Vicente Del Bosque does have the luxury to pick players that are currently in top form. Spain is one of the few national teams that does not need to be exclusive and if a player is not playing well, he does not have to be called up.
Outside of his goal against Germany back in 2008, what kind of credit has he established in order to keep a spot on La Furia? His streak of injuries and his slow decline in form since then have not made him a top selection for a while. He is that poster child for players who get call ups based solely on past performances when their present form doesn't support that at all.
If you look at the numbers from the time Torres arrived at Chelsea, Soldado beats them by more than sixfold. To show you how devastating a player Roberto Soldado has been for Valencia, there are single-game numbers that surpass Torres and his output as a Blue so far.
Soldado had a hat-trick against Racing Santander in round two of this season. He scored had four goals against Getafe back on April 2nd. He is currently one of the top goalscorers in Spain the past year and is currently one of the top poachers in La Liga not named Lionel Messi or Cristiano Ronaldo that strikes fear in opposing goalkeepers.
Stats are great to use to pad an argument,and these numbers aren't lying.  Roberto Soldado's impact on Valencia has been much greater than "El Niño" over at Chelsea.  The unfortunate this is that numbers don't tell the entire story.  Soldado's impact on every team has been phenomenal, save for his time at Real Madrid where he was treated as just another "Pavón" and sent to the usual dumping ground of Merengue youth players- Getafe.
His game is not seen in front of goal but also away from it as well.  Although one of the statements that strikes anyone the most about Soldado is that he "embodies all the virtues of a classic number nine", there is one thing that goes quite unnoticed.
Soldado's football career did not come with silver spoons and preferential treatment.  As a matter of fact, one can remember when Real Madrid even briefly considered bringing in Torres as they evoked what players like Hugo Sánchez and Raúl offered the Merengues in the past.   This was all being mentioned when Soldado was still in their ranks.
The road less traveled or whatever you wan to call it, it has worked for Roberto Soldado.  He is still not getting the callups, but soon enough he will have to.  The clamor for him grows and at one point Vicente Del Bosque will not be able to keep him off.  Torres, in the meantime, his woes continue to grow and he can't keep him on.
The only thing that boggles the mind is why not Soldado and why not now?