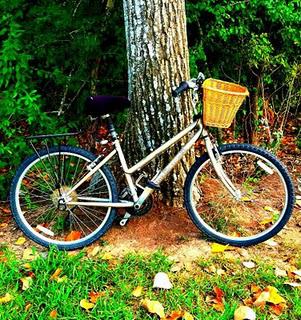 Like you (I'll bet), tennis is not my only physical activity. Like you, I actually get out and do a few other things on occasion. I run. I do yoga. I do work-out classes. I lift weights. And I bike.
And when I bike, the bike in this photo is the bike I ride. Yes, it has a basket on the front. Yes, it has a rack on the back. Yes, if you look closely, you will see it has one of those padded gel-thingies on the seat. And yes, I understand that this is not anywhere close to being a serious high speed racing bike. That's obviously not what I'm aiming for (as evidenced by the basket on the front). But it's still a great bike to me and I can happily ride it for several miles and feel like I'm getting a work-out.
So, I was shocked on one of my recent bike outings on my neighborhood Hike and Bike Trail when I distinctly heard a man call out, "What a waste of a bike!"
Now, I know this was aimed at my bike, and by obvious implication at me, because there was no one else around. I kept riding because I just couldn't process what I had heard quickly enough. And when I finally figured it out ("That guy was yelling at ME!"), I was down the trail far enough that I didn't want to turn back to reply. (Like I would really have confronted a man on my neighborhood Hike and Bike Trail anyway.)
Because this little encounter has stuck with me, however, and because I have been thinking of all the things I wish I would have said to that guy, I am writing this post which has nothing at all to do with tennis but everything to do with being a physically active and fit person and with plain old common etiquette. In your honor, Mr. Trendy Hipster Bike Guy, here is why MY bike is NOT a waste of a bike:
1. Within the last year, I had the gears and brakes on this bike reburbished and had the rack installed at a real bike shop, not at a big box sporting goods store. I thought that this was more ecologically beneficial than just buying a fancy new bike. I also thought it would be good of me to support this small specialized business so that people who ride fancy bikes and buy all of the trendy accompanying gear can keep shopping there. People like you, Mr. Trendy Hipster Bike Guy.
2. I had the rack installed so I could bungee cord my tennis ball basket to the bike and ride down to the nearby tennis courts to practice. As opposed to driving the 1/3 mile to the tennis courts that are right off the Hike and Bike Trail.
3. I wear a bike helmet when I ride. Sure, it has pink flowers on it and its very cute, but at least I wear one. Just like a real biker.
4. I have two pairs of padded bike shorts, bike gloves, and leg warmers and a lot of other bike gear. I don't wear them on the Hike and Bike Trail because I'm not out for a serious 20+ mile bike ride.
5. But I own those things because I have been on a 6 day bike ride through the wine country in Napa Valley and Sonoma, California that included rides of up to 30 miles per day.
6. Oh, and I also went on a 6 day bike ride through Alberta, Canada, starting in Banff, going through Banff and Jasper National Parks, stopping at Lake Louise and Moraine Lake and the Columbia Icefields and going all along the Icefields Parkway. I rode about 35 miles a day with my longest day being 50 miles.
7. I didn't ride my bike on these rides because I understand my bike is a fun little bike for riding around in my neighborhood. It is not a serious road bike like the one I used on these real bike rides. Or like your's, Hipster Bike Guy.
Perhaps all of this doesn't add up to much. Perhaps in the wonderful world of "serious" biking, my bike is a waste of a bike. But I like my bike. I like the rack on the back and the gel-thingy on the seat. I especially like the cute rattan basket on the front (Wal-Mart, $14). Because that basket is the perfect place to store water balloons, among other things. Are you getting the picture, Mr. Trendy Hipster Bike Guy? Watch your back!


© Kim Selzman 2011 All Rights Reserved