I admit I am a traditionalist.  I have never worn cycling shorts, gloves or dare I say it, a "snood".  To me football should be played in short-sleeves, socks rolled down and no "fancy-dan" accessories, irrespective wind, rain, sleet and snow.  Football boots, now don't get me started on those.  I was brought up on Puma Kings since I was knee-high to a grasshopper.  People who saw me wear those bad boys knew I was taking the game serious.
I was winding down my career, slowing moving from that fast, pacy wide-man to a no-nonsense centre-back as these young whippersnappers started taking the field in red, white, blue and yellow boots.  Wearing those types of boots ten years ago marked you out for some special attention.
With the re-negotiation of the TV contracts around the world, and the huge influx of sponsorship money, little things in the game became more important. Out went the steak and chips, with a pint of heavy as a pre-match meal, replaced by lean grilled chicken and lentils, whilst boot manufacturers started to innovate in a way they'd never done so before. The football boot revolution had become.  Screw-in studs were being replaced by "blades", new ultra-light materials were being used making the boots feel like slippers rather than soggy lead weights in the inclement conditions.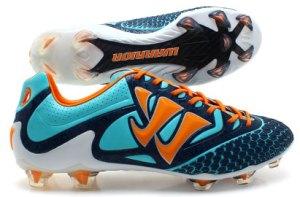 Today, it is the exception rather than the rule to see old-fashioned boots on the pitch.  In fact a few weeks ago in Germany at one of my weekend outings, 21 out of 22 starting players wore non-black boots.  I had resisted the urge to upgrade my footwear for my occasional outing, until I tried the new Warrior Skreamer boot.  Warrior are a new brand in the UK market, best known for their presence in the US but this year have become the official kit supplier to Liverpool FC.  And now they are breaking into the football boot market.
The new Skreamer boot was launched a few weeks ago in a blaze of publicity and are certainly eye-catching.  Joe Cole and Craig Bellamy have already started wearing the Skreamer Pro and thanks to those good chaps at PHD, we got our hands on a pair last week.  What a trio – Cole, Bellamy and Fuller.
Whilst the other two would be putting their new boots through their paces on the training grounds of Melwood and Vale of Glamorgan respectively, I had to make do with Fairy Hill Park, London, SE9.  But as soon as I had these on I could have been anyone.  Light as a feather, comfortable but stable, I loved these.  That extra yard I had lost back in the England Fans v Croatia Fans in Zagreb back in 2006 seemed to have returned. Even my first touch returned thanks to the rubber toe of the boot.  I was on the phone to Club-Sec Kev within minutes, demanding the reinstatement of my Ryman League registration.
But don't just our word for it.  We have a pair of the boots to give away to one lucky reader.  Yep – one free pair of these boots that have an RRP of £124.99 thanks to Warrior's generosity.  "How can we get our hands on these beauties?" I hear you scream.  Well, it's very simple really.  One question stands between you and slipping these on your feet.
Just tell us "What did Craig Bellamy become the first British player to do on 26 July 2012?"
Simply email ([email protected]), Tweet (@theballisround using hashtag #skreamer) or put your answer in the comments below.  One winner from the correct answers will be chosen on Sunday 16th December 2012 at 7.03pm.