[From the Archives: Five years ago this month:]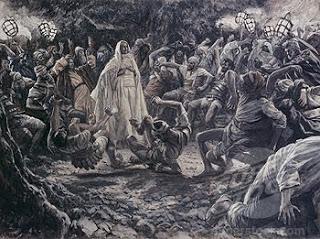 The scene in Gethsemane usually focused on is the sweet scene where Jesus is praying, alone. It touches the heart to see the beginning of the emotional and physical travail our Savior endured for our sakes. But John's Gospel alone has the scene where Judas arrives with the soldiers and the soldiers approach Jesus. Jesus asks the soldiers whom they seek:
Jesus therefore, knowing all things that should come upon him, went forth, and said unto them, Whom seek ye? They answered him, Jesus of Nazareth. Jesus saith unto them, I am he. And Judas also, which betrayed him, stood with them. As soon then as he had said unto them, I am he, they went backward, and fell to the ground. (John 18:4-6)
This is a picture of what will happen in Armageddon. Both the Old and the New Testaments are replete with passages that at once depict live events, events that are partial fulfillments of the near future,
and
are complete fulfillments of things that will happen in the far future. One example comes to mind, the destruction of Sodom for sin, and how Peter advised us that what happened at
Sodom is an example
of what will happen to the ungodly in the future.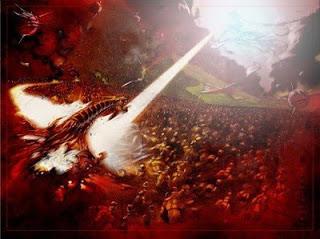 As Jesus spoke, his very words (almost) slew the soldiers, and they fell onto their backs. This is a picture of Rev 19:15, 21
The Coming of Christ
From His mouth comes a sharp sword, so that with it He may strike down the nations, and He will rule them with a rod of iron; and He treads the wine press of the fierce wrath of God, the Almighty. And the rest were killed with the sword which came from the mouth of Him who sat on the horse, and all the birds were filled with their flesh.
And to confirm, Isaiah 11:4;
But with righteousness He will judge the poor, And decide with fairness for the afflicted of the earth; And He will strike the earth with the rod of His mouth, And with the breath of His lips He will slay the wicked.
THIS is the mighty God we serve! He speaks, and the wicked fall. He speaks and worlds are made. He speaks, and angels fly. He speaks, and billions are redeemed. He is mighty and wonderful! No matter what comes upon us in this world before the Tribulation happens, He will see us through it, and then as we fly to Him and meet Him in the air, so we shall be with Him always!