Adrienne, over at Catholic Sistas, caught my eye when she wrote this in a piece detailing the faith problems her young son has been having:
It has been a year since my son bravely told me "I don't really believe in it … God and the Bible and stuff like that".  In that year he turned 10 and kept the theological questions coming.  He is a smart and logical boy.  I grew up a cradle Catholic and never bothered to study the faith beyond what I failed to absorb in CCD classes.  By the time he was born, I didn't even know what Baptism was for, just that it was something to be done, which is such a shame!  However, challenged by a few family members to question and leave my Catholic faith for another Christian faith tradition, I chose to study and learn the Catholic faith first before ignorantly and blindly following those persons on their own paths.  Being ignorant of the purpose baptism is already a shame, but what a greater shame it would have been for me to leave the Catholic faith before I even knew what it taught!  Ten years later, I am genuinely thankful for these family members' challenges because I know the Catholic faith so thoroughly I can answer most any question completely, with evidence to back up the explanation.  This skill has proven most valuable in my discussions with my son.
I left the Catholic Church not long after my first communion.  And by left I mean that growing up, regular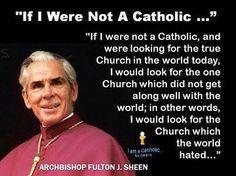 attendance at Mass and coming to know more about the faith wasn't a priority in our home.  We were faithful people, but largely from afar, pulling God down off our imaginary shelves from time to time and attending Mass on holidays and other special occasions.  This passivity toward the Church I carried with me for a very long time.
I can't help but wonder where I might be, where my boys might be, had I been more educated about the faith.  I don't dwell on it but certainly think about it from time to time.
Today I find myself enthralled with the Catholic faith, and the deeper I go in learning about it, the richer the faith becomes for me.
My hope is that my boys and other loved ones will not make the same mistakes I've made... and I think that's why Adrienne's piece caught my eye... and my heart.
I would be heartbroken to know that loved ones reject the Catholic faith but I must come to grips with the notion that they are free to do so.   My hope however is that they would reject something they know rather than reject something they think they know.  Fulton Sheen's oft cited quote comes to mind:
"There are not one hundred people in the United States who hate The Catholic Church, but there are millions who hate what they wrongly perceive the Catholic Church to be."
Carry on.