In so, so many ways, what a difference there has been in the last week. For the garden it feels like it has stepped up a gear to welcome spring.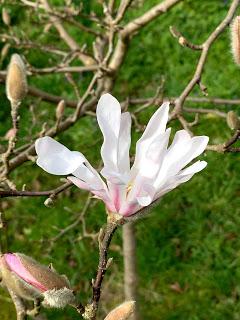 Magnolia Leonard Messel, one of my very favourite shrubs, has decided to burst into flower. Last week it was still tight in bud but suddenly 'poomf' there it is starting to flower.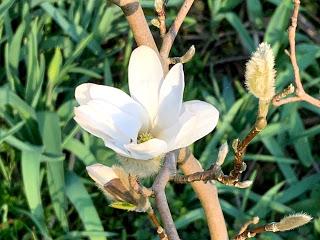 Very excitingly, the Magnolia stellata 'Water Lily' has started to flower. I bought this stellata seven years ago, which seems quite an amazing amount of time. It sulked for a year after planting before deciding to flower. It then has flowered pretty well but last year it decided not to. I think it had got too dry in the drought the year before. This year it is back on form and I am delighted to see that it is.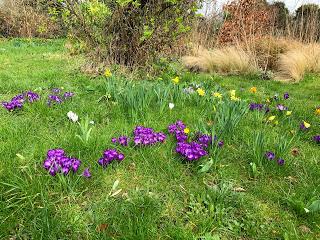 The Dancing Lawn are at it's crocus flowering best. The purple crocus were the first planted in this lawn and you can see they are clumping up now rather well.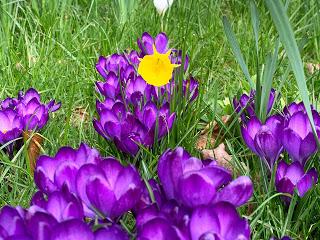 This hooped daffodil has popped up perfectly in the sea of purple. I am totally in love with hooped daffodils these days.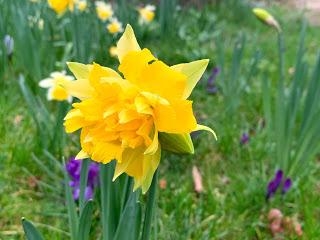 This is Narcissus Telamonius plenus, planted a couple of years ago. I am very very pleased to see it growing well in the Dancing Lawn. I whisper suggestions to it of naturalising and it nods to me as if it understands. Time will tell.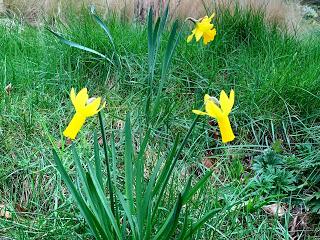 These Narcissus February Gold are planted in the Grassy Knoll next to the pond. These too are a complete joy.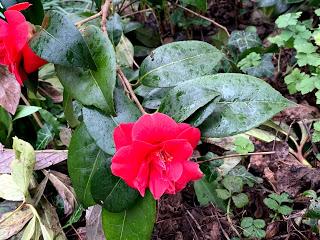 The red camellia (name lost to time) that was one of the early plantings in the garden and sulked for several years before flowering, is now a reliable flowerer. It is a bit floppy though so I might give it some support.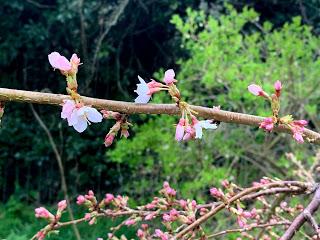 The Iford Cherry has started to flower. This tree also had a little sulk when first planted but after a year or so it put out its roots and decided to thrive. I actually have two of these trees, this one is planted in the Wild Garden and I have another in a pot by the back door. The one in a pot is a year or two behind this one but is coming on well. It is not quite flowering but I think it gets less sun where it is.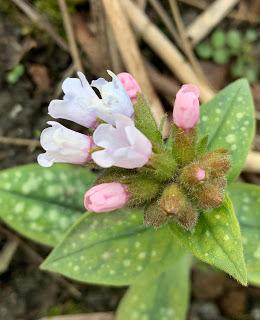 Over the past year I have acquired a pulmonaria or two, including this one that might be Mrs Kittle. She is certainly Mrs someone as that can still be seen on the label, the lower part of the label has been rained clean.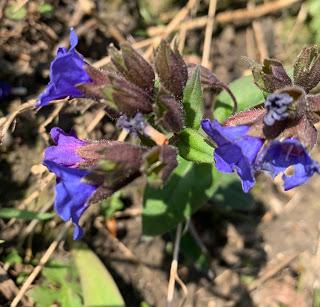 I think this one is Blue Ensign, the label has completely rained clean on this one. I love the darkness of the blue.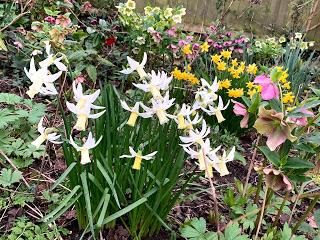 The Spring Border is pretty much at peak Spring now, it is certainly getting close to it. I could tell you that I planned this space all along and it is testament to my incredible garden planning skills. This would be a lie. After a year or two of living here I realised that this border suited the Spring plants I put in it but that the rest of the year it tended to struggle. This border is in the shade of the large Bramley Apple Tree and I generally think that not every part of the garden has to look at its best all at the same time.
I have said many times that the garden tells me what to do and the garden told me to plant Spring here. Not only does the garden never lie, it will also be looking after me for the weeks to come as life is constrained due to Covid-19. I am now having to work from home for the foreseeable which has fors and againsts. I am focussing on the fors as if nothing else I can eat my lunch in the garden whilst the weather is so good.
Stay safe everyone.