Every fall, more than 20,000 Pacific gray whales begin to migrate south from their feeding grounds in the Bering Sea to their breeding grounds in the warm waters of Baja California. They pass by Mendocino County twice: going south from November through February, and going north from February through May. With an average lifespan of 50 years, they swim an astonishing 10,000 miles each and every year. Calves are at least a month old before they migrate north with their mothers, so they travel slowly and close to shore.
Numerous Mendocino Coast bluff-top sites are perfect for watching migrating gray whales, including the Point Arena Lighthouse, the Point Cabrillo Light Station, the Mendocino Coast Botanical Gardens, MacKerricher State Park, and Mendocino Headlands State Park. Every spring, you can choose to attend one of three different whale festivals: one in the town of Mendocino, one in Little River, and one in Fort Bragg. But only at the 15-acre Pacific Star Winery, located 12 miles north of Fort Bragg, will you find the perfect pairing of wine and whales. In April, while sipping a glass of Pacific Star's 2014 Orange Muscat, I was lucky to see a mother with her newborn calf going north.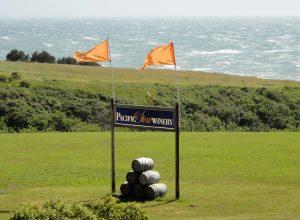 The sign, the flags, and the view entice you
to the tasting room.
and
Although I tend to prefer the bolder reds, my favorite at Pacific Star turned out to be the orange muscat ($29). According to Sally Ottoson, winemaker and owner, fewer than 350 acres of orange muscat grapes remain in California. Her orange muscat, made from Eddie Graziano's grapes grown in Calpella, is somewhat dry, with a hint of orange, making it perfect for pairing with spicy Asian and Indian cuisine, with fresh fruit, or with any tangy dessert. After many years working in a wine industry focused on chardonnay and cabernet, when Sally became a winemaker she decided to experiment with some of the rarer grapes: charbono, orange muscat, tempranillo, and rousanne.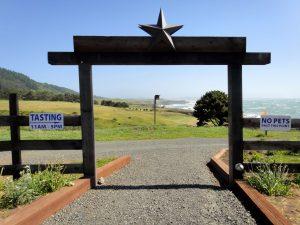 Leave your dog at home and go around to the back.
There are more reasons to visit Pacific Star Winery than the view and the tasting room. Every mile of the drive along Highway 1 north of Fort Bragg offers breath-taking views of the Pacific Ocean. Even if you're not a wine aficionado, you'll be a welcomed guest. Bring a picnic lunch to go with a glass of wine, or purchase some salami, cheese, and crackers in the tasting room.
Try to visit on a day that's not too windy or rainy because the tasting room, located in the warehouse cellar, is small and somewhat chilly. I was there on a weekday, which was quiet enough for leisurely tasting and conversing with the server, and also warm enough for sitting outdoors to enjoy the view. The picnic area is huge and includes many tables, benches, and a line of Adirondack chairs arranged for a view of endless sky, blue ocean, and breaching whales.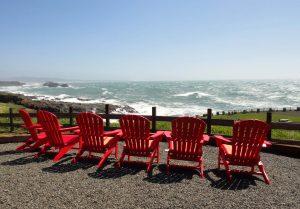 Bring a glass of wine from the tasting room
and choose a chair.
Map of the West Coast Migration of Gray Whales
https://www.learner.org/jnorth/tm/gwhale/annual/map.html
Pacific Star Winery
www.pacificstarwinery.com
Fort Bragg Tasting Room, Depot Building, 401 North Main Street, Fort Bragg, (707) 962-9463. Open 12 noon to 5 pm, closed Tuesday & Wednesday.
Winery & Tasting Room, 33000 North Highway 1 (mile marker 73.58), Fort Bragg, (707) 964-1155. Open daily 11 am to 5 pm.