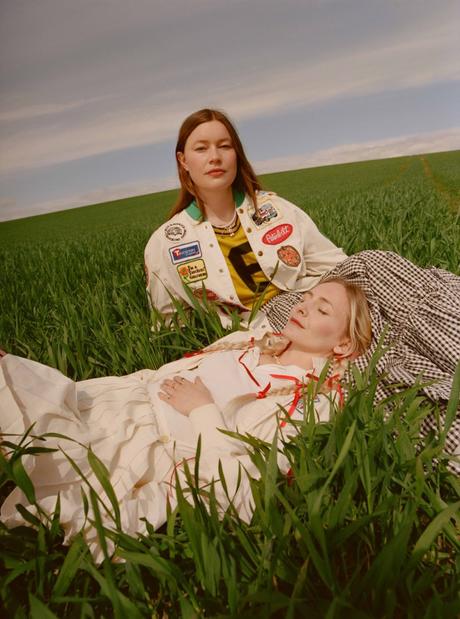 Photo credit: Hollie Fernando
Isle of Wight duo have announced they've signed to Domino Records and shared the video for new single 'Chaise Longue'. The band – made up of Rhian Teasdale and Hester Chambers – have also announced details of live performances at major festivals and shows with Declan McKenna, Sports Team and Willie J Healey.
Opening with art rock guitar hooks and deadpan vocals about going to school and getting a degree ('All my friends call it 'The Big D'), the band showcase their dry sense of humor before the song veers into more of a garage rock direction. There's then an invite to someone in the front row of their show to join them in their dressing room to chill on the 'chaise longue' and enjoy a warm can of beer. It draws to a close with bouncing rhythms and repeats of the words 'All day long'.
Upcoming live dates
10th July – Margate Bus Trip+
22nd-25th July – Latitude Festival, Henham Park, Suffolk
23rd August – Junction, Cambridge*
24th August – o2 Academy, Oxford *
31st August – SWG3 Galvanizers, Glasgow*
1st September – SWG3 Galvanizers, Glasgow*
4th September – o2 City Hall, Newcastle*
6th September – o2 Academy, Liverpool*
7th September – Rock City, Nottingham*
19th September – Isle of Wight Festival, Isle of Wight
11th October – The Crescent, York^
12th October – King Tut's, Glasgow^
13th October – Think Tank?, Newcastle^
15th October – The Jericho Tavern, Oxford^
16th October – The Jericho Tavern, Oxford^ (matinee)
16th October – The Jericho Tavern, Oxford^
 
 *  = w/ Declan McKenna
+ = w/ Sports Team
^ = w/ Willie J Healey