Tuesday 16th February 2021 – National League South at Park View Road, Welling
It seems with every passing day at the moment there's another club at Step 2 who give notice that they aren't willing or able to continue to play their league games unless the messy funding situation is resolved. Add in the ongoing risk of Covid-19 cases and a couple of weeks of poor weather and the thought of there being any games scheduled going ahead without any issues is very unpredictable. But here I was, back at Park View Road.
There had been rumours building up to the midweek games that a decision would be announced on the Resolution vote by the National League that could see Step 2 declared Null and Void. But as I walked towards Park View Road I could see the floodlights shining, a beacon of hope in such an uncertain world of football at this level.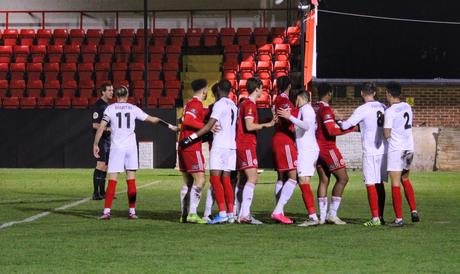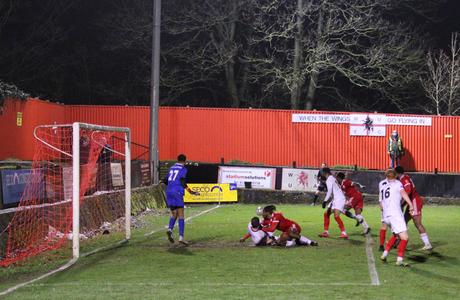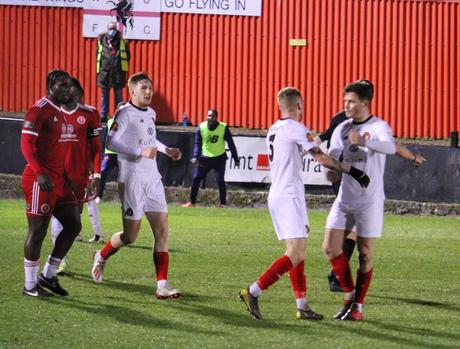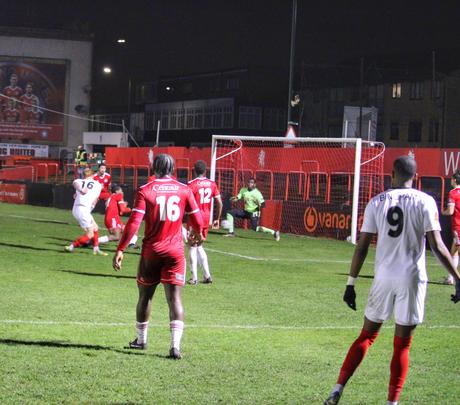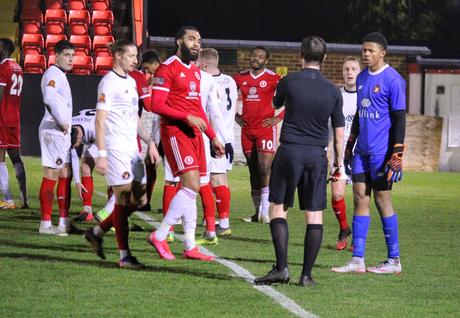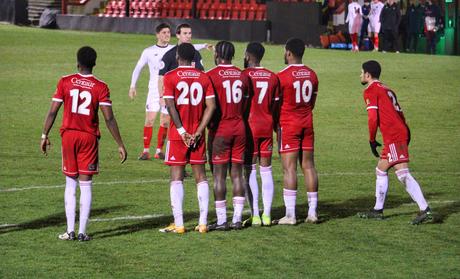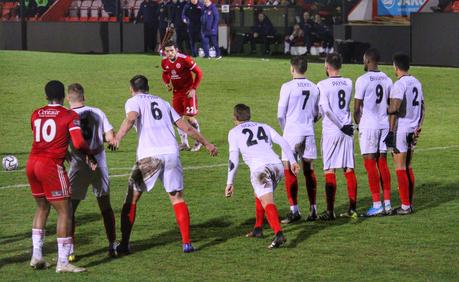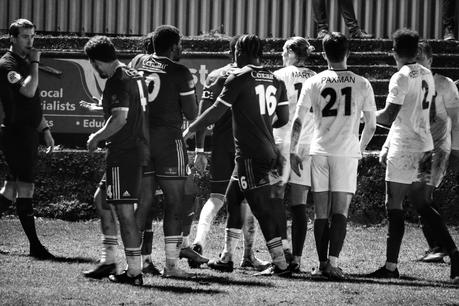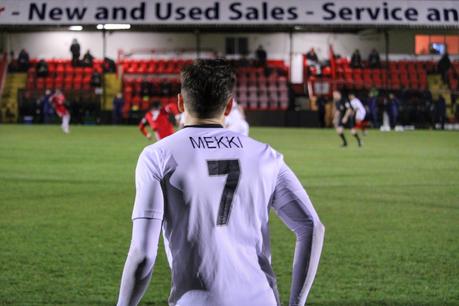 Welling United are one of the clubs that want to continue to play the season to a natural end. Whilst they came into this game bottom of the National League South and off the back of a 5-0 defeat to league leaders Dorking Wanderers, confidence was still high that they could climb the table.
Ebbsfleet United were one of the clubs that suffered at the decision to end the 2019/20 season as decided. With points per game being used to determine final league places, the club went from avoiding relegation on a points basis, to being relegated by a points per game, being leapfrogged by Maidenhead United by .002 PPG, the thinnest of margins. They would have hoped for a swift return this season, but with the threat of the season being brought to an early end again, they will be nervously looking at the teams around them in terms of their points per game as they came into this game one place outside of the Play-off places.
Games like these really need to be played in front of fans. Yes, it was a damp Tuesday night in February but that is what makes our game so fantastic. Both teams gave no quarter. Tackles flew in, some legal, others such as the challenge by Ebbsfleet keeper Gio Bellagambi flattening Welling forward Dipo Akinyemi outside of his area very much illegal. The game was full of incident, one that fans would have lapped up.
Ebbsfleet started off strongly and could have taken a very early lead with Charles-Cook having to make smart saves and so it was somewhat against the run of play when the home side took the lead, when Durojaiye pounced on a loose ball after Bellagambi had made a brilliant save from Akinyemi.
The visitors equalised thanks to a long-range strike from full-back Taylor who cut in from the left and let fly from 25 yards through a crowd of players. The lead didn't last long before a Welling corner wasn't cleared and Akinyemi's overhead kick beat a group of Ebbsfleet players in the six-yard box.
However, the talking point of the half was the Ebbsfleet keeper's rash challenge outside of his area on Welling's Akimyemi who had pushed the ball beyond him. Referee Paxman, not a popular man in these parts by all accounts, waited for a few minutes before inexplicably showing the keeper a yellow rather than a red card.
The home side did get some luck from the officials just three minutes into the second half when the referee overruled his assistant in giving a penalty when Cook was tripped. After another lengthy delay Akimyemi slotted the spot kick home to make it 3-1.
This wasn't in the Ebbsfleet script so they came back at Welling, scoring themselves from close range thanks to Poleon and then having what looked to be a legitimate effort chalked off when Jack Goodman headed home but was judged offside. However, they got the equaliser Will Wood turned in from the edge of the six yard box. With ten minutes to play both sides went looking for a winner.
With five minutes to go a deflected Campbell effort wrong-footed the Ebbsfleet keeper and Welling had the lead for the third time in the game. A flair up involving almost every outfield player in the corner of the pitch with the home side looking to run down the clock. Once again, Packman showed incredible leniency by brandishing just a couple of yellow cards.
Welling held on to grab all three points in a game that could have gone either way. It was a fantastic advert for the Non-League game – the only shame is that the clock may be ticking on the season at this level. Football without fans may mean nothing. But no football at all is just not worth thinking about.