by Jeff Cavins
"The 'door of faith' (Acts 14:27) is always open for us, ushering us into the life of communion with God and offering entry into his Church. It is possible to cross that threshold when the word of God is proclaimed and the heart allows itself to be shaped by transforming grace. To enter through that door is to set out on a journey that lasts a lifetime."—Pope Benedict XVI, Porta Fidei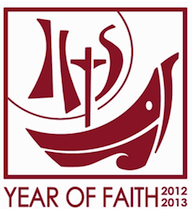 Welcome to our Year of Faith project!
The Year of Faith begins October 11, 2012. It is a timely and much-needed call from the Holy Father for a renewed dedication to the Faith. It is also a chance for each of us to accept the Pope's challenge and vigorously seek an encounter with Jesus Christ so that the Year of Faith is a year in which we help make his desire for the Church's renewal a reality.
Faith in Action: Free weekly reflections to help you live the Faith…
Each week you can sign up to receive an inspiring and insightful Faith in Action message from some of the Church's most popular speakers and writers including Edward Sri, Greg and Lisa Popcak, Teresa Tomeo, Sean Innerst, Damon Owens, Thomas Smith, Danielle Bean, Brian Butler, Martha Fernández-Sardina, Steven Weidenkopf, and myself.
These short reflections include a simple action step for the week that will show you how to put your Faith in Action.
The Year of Faith marks two important anniversaries in the life of the Church, both of which were pivotal sources for my own conversion.  On this date fifty years ago was the opening session of the Second Vatican Council; twenty years ago was the promulgation of The Catechism of the Catholic Church. Both of these things have proven to be true compasses, directing us toward our heavenly goal.
As you engage the Faith in Action reflections, which draw richly from Vatican II and the Catechism, I would encourage you to hide them in your heart and meditate upon them with the hopes of accomplishing what they suggest. I would also recommend that you share these reflections with your friends and family as a way to actively participate in the New Evangelization.
The Year of Faith is an historic year. It is time to focus and dive deeply into the life transforming faith of the Catholic Church.
About the Author
Jeff Cavins is the director of the Archbishop Harry J. Flynn Catechetical Institute in St. Paul, Minnesota. Over the past several years, he has dedicated his life to developing The Great Adventure, a practical, interactive Bible study system that enables students to understand the chronological flow of Sacred Scripture. Jeff holds an MA in theology from Franciscan University of Steubenville. He resides with his wife, Emily, and their three daughters in Minnesota.
If you enjoyed this post, make sure you subscribe to The Faith Explorer RSS feed!