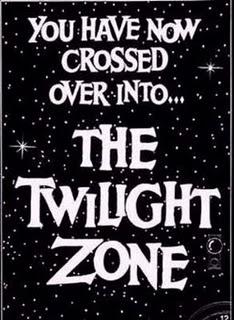 Well, it appears that I have officially entered the Tennis Twilight Zone because I am now on an Open level team.
I know most of you know what that means but let's just be sure. In this particular ranking system:
If I'm a beginning tennis player, I'm probably on a C level team.
If I'm an average to intermediate level player, I'll be on a B level team.
If I'm an advanced player, I'll be on an A team.
If I'm a really advanced player, I'll be Champ level.
And if I'm a tennis pro who doesn't have anything better to do, a former college player who still likes to get out on the court, or Steffi Graf who feels like getting back into the wonderful world of competitive tennis but isn't too serious about it, I'll be on an Open level team.
Because Open level is just that - completely open to anyone at all, no matter how high their skill level or how great their income from advertising endorsements.
So what I'm saying is that I'm now playing at a level where I might possibly face a bored-enough-to-come-out-of-retirement Steffi Graf. Or at least I might face the opposing club's pro since it is perfectly legal for a teaching pro to play in the Open level.
How did this happen to me? I think my little story is typical of a lot of people who somehow end up on a high level tennis team despite their lack of high level tennis skills. When I started on this team, we were B level. But the league didn't have enough B teams to keep that level going. So we were moved up to the A level. And then, somehow, we won the A level (by a few points) and the league director asked our captains if they wanted to move our team up to the Champ level. Of course they said yes, realizing that the planets might not align in this fashion next season. THEN the planets DID realign in EXACTLY the same fashion and our team somehow won the Champ level - so now we're in the Open level.
So next time you're playing in a very high level match and you're wondering how the @!(*& did your hack of an opponent ever get to that level, remember . . . she may have arrived from the Tennis Twilight Zone!

© Kim Selzman 2011 All Rights Reserved