Leave your OCD at the door!
Well, here we are. Isabelle's half birthday has been (and gone) and, following the World Health Organisation recommendations, Isabelle was exclusively breastfed until 6 months. That - if you will let me have a little boast - is something I am very proud of.
Now, where do we go from here? Simon and I eat homemade food every night, and we want Isabelle to eat homemade food too. However, as a crunchy momma, I am not about to start peeling and pureeing fruit and veg and spoon feeding Isabelle. Let's face it - I am far too lazy. I can barely work a peeler, and I certainly will not be spending my evenings peeling loads of fruit/veg, steaming it, pureeing it and freezing it - it just is not for me. If you are like I was a few months ago, you won't know that there is any other option, but happily I stumbled upon Baby Led Weaning (blw) and knew immediately that it was how I would introduce Izzy to solids. This is a very basic overview of blw and why we have chosen to go the blw route with Izzy.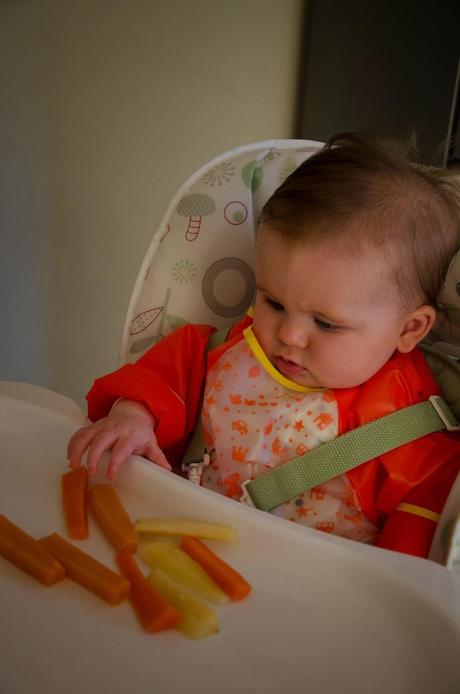 Firstly, I truly believe the mantra that 'food is for fun until one'. What that means is that until Isabelle is around 1 year old, her milk will supply the bulk of her food and nutrients, with solid food supplementing that. As she approaches 1, she will gradually up her intake of solid food and reduce her milk feeds in her own time.
And 'in her own time' is really the key to blw. Instead of us feeding Isabelle, we are here to help her to learn to eat and feed herself. It might not sound that different, but let me put it this way: you don't teach a baby to walk by moving their feet for them - you provide opportunities for them to move their feet themselves, until they are able to walk themselves. Blw provides Izzy with opportunities to try food for herself, and learn all about food, and all about eating, without any pressure from us to actually eat. The emphasis is not on how much, or what, she is eating, the emphasis is on her gaining the skill set to feed herself, and learn about what food she likes or doesn't like. To do that, she is offered 'real' pieces of food, basically finger food. We decided we want to start with sticks of fruit/veg but in a fortnight or so we will move on to include basically everything else we eat. We'll cook, and she will get a whack of whatever we have.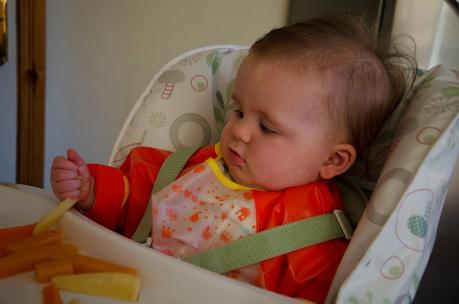 For her to start blw, she needed to be able to do 2 major things: sit up unaided (check) and pick up items and move them to her mouth with accuracy (check). That way, we know she can sit and pick up her own food, and if she wants to put it in her mouth - she can. If she wants to smoosh it into her hair, or on the table, that's OK too! (Not ideal, but OK!)
Blw is all about learning, and putting Izzy in control of her meal times. I want to give her the chance to learn for herself what food is and what she is supposed to do with it. I want to offer her the opportunity to progress her dexterity and hand/eye coordination by handling her own food, of all shapes and sizes. I want to allow her the chance to learn about the colour, texture, smell and taste of different foods, and learn what she likes and what she doesn't. If I mix apple, banana and pear and offer it all at once on a spoon, she might know there is something there she hates, but she doesn't know what it is, so she will reject it all. If I offer her a piece of apple, a piece of pear and a piece of banana she will know she doesn't like that weird yellow thing, but still eat the apple and pear.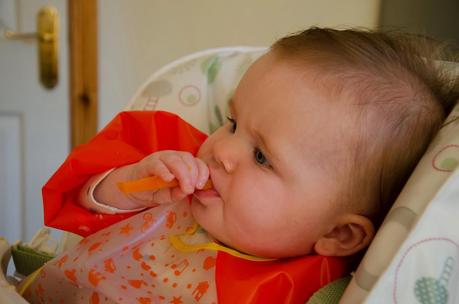 Mostly, I want to give Isabelle control. So far, I have let her do everything in her own time. I haven't forced her to do anything on MY schedule, and eating is no different. I will give her the opportunity to eat by offering her food at meal times. I know she CAN pick it up, put it in her mouth and bite a bit off,  so if she wants to, then she can. If she doesn't want to, she doesn't have to. Chewing food is a natural progression for a breastfed baby, as the motion they make when feeding is more of a 'chew' motion with their jaw than a sucking motion as they would with a bottle. So I don't have to worry about her not being able to handle the chunks of food in her mouth.
Blw offers us the chance to put Izzy in control of her eating, and to hopefully develop a healthy attitude to her eating with no pressure from anyone to eat a certain amount, or to eat a certain food. If she wants it, she will eat it; if not, she won't.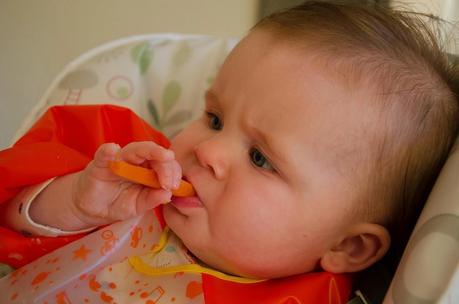 Last night, at 6 months exactly, we began. Ironically, Simon wanted to make a batch of soup - basically pureed vegetables! - so he cooked the butternut squash, parsnip and carrot for that. While he went on to blend ours, Isabelle was given the finger sized chunks of vegetables. We ate at the same time as she did, and she was at the table with us the whole time. To be honest, she couldn't have been less interested - I think she was wondering where her beloved spoons had gone to! But she did pick up a piece of each vegetable eventually and have a go. The parsnip got smooshed up, the butternut squash and carrot made it to the mouth, and chunks were bitten off! I am pretty sure a little bit was even chewed and swallowed! That might not sound impressive, but this child has never - IN HER LIFE - swallowed anything except breast milk. Yet she managed to eat a piece of carrot, just like that! Her daddy and I were suitably proud! Yes, she may not have eaten a lot, but that isn't what is important to us with blw. What's important is that last night, Isabelle learnt. She learnt that some things can be broken up in her mouth. She learnt that some things can be swallowed. She learnt how to spit things out that she doesn't want. She learnt that parsnip is fun to squish. She learnt that carrot is OK...but butternut squash clearly is not! (Last picture!) Most of all, she learnt this all by herself. Tomorrow, she will learn something new - something about peaches, pears, melon, broccoli or whatever else we have in the house for her to munch on. And over the next few months as we introduce all the other types of food, she will learn about those to.
All in her own time.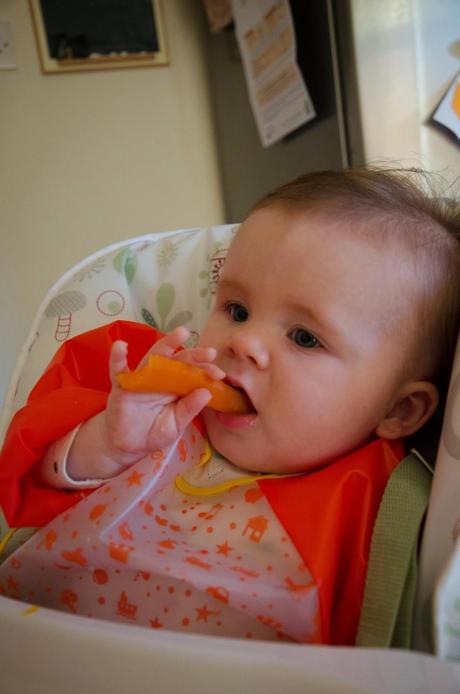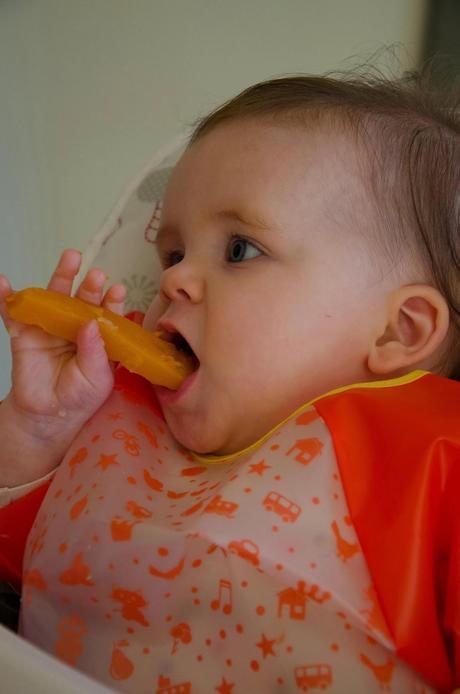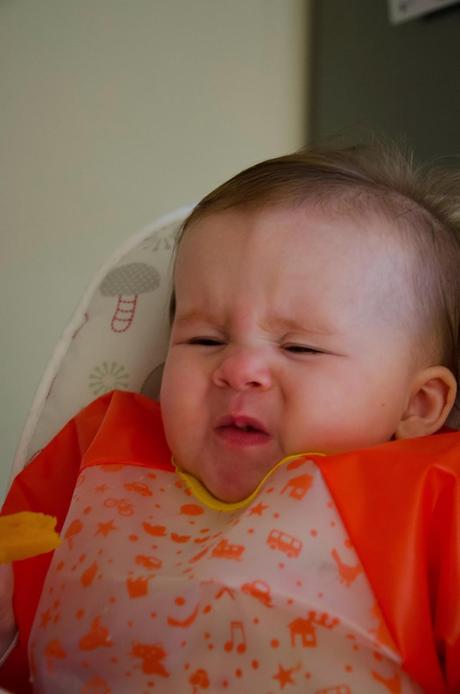 If you want to learn more about BLW, just Google! There are LOADS of resources out there, including a great book by Gill Rapley which gives lots of detail about the rationale behind blw, how to start, and some recipes to get going. There are several different ways to go about blw, we've tailored our approach to suit our life with Isabelle.