Back in February, we thought that spring had arrived.  It was early for Tashkent, but I remember experiencing an equally early spring back in Dushanbe, so I figured we were just having another one.  The apricot trees all bloomed, the bushes started leafing out, and the daffodils looked like they were going to bloom.  Then it snowed.  And then it froze.  And then it warmed up again before plunging down to a hard freeze for several days in a row - one night getting down to nine degrees Fahrenheit.
Quite a few bushes that had come out of dormancy, including our neighbor's lovely honeysuckle hedge and my own oleander plant, got killed by the late, hard frost.  I've seen holes appearing in landscaping where dead bushes have been pulled out, and noticed that about half the branches on our neighbor's willow trees haven't ever leafed out.  I'm always sad when plants get killed.
After the freeze ended, we had rain.  I use our pool to judge the amount of rain we get each winter, and this year's water level was several inches below last year's.  Then it rained for almost two weeks straight and we were suddenly above last year's rainfall level.  It felt like spring would never come.  I knew that it would, but my poor, sunlight-starved, animal brain had a hard time believing it.
But this last week has finally brought spring, and this time it is for good.  We've thrown open the windows, put on our shorts and short-sleeved shirts, filled up the pool, and started mowing the lawn again.  The weather has been sunny and seventy degrees all week long.  Tulips are blooming all around town.  All the trees are turning green as the leaves practically burst out of the branches.  Our Virginia creeper vine has gone from bare sticks to tiny red leaves to almost-full green ones over the last week.  We've even spotted both tortoises as they make their way around the yard finding green delicacies to break their winter fast on.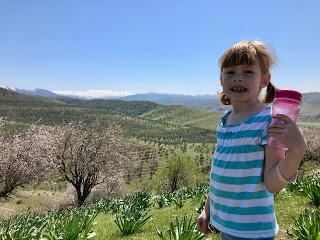 Yesterday we went up to the mountains with friends to enjoy the glorious spring weather.  We were greeted by a world clothed in the eye-dazzling bright green that only comes with new growth in the spring.  Countless cars had their trunks open selling herb-filled green somsas that are only available at this time of the year, and other enterprising Uzbeks has set up impromptu stands stocked with kites to fly while enjoying the perfect weather.  Families set up picnics along the hills or beside the river as everyone soaked up sunshine after a long winter spent inside.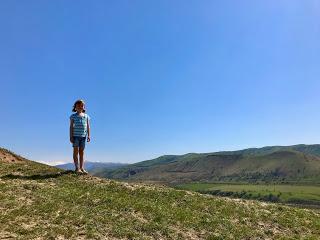 We enjoyed our own picnic on top of a small ridge where I felt like spinning while singing about the hills being alive.  Then we pull out own own kite and all the children took turns flying it while those in waiting played tag, stomped flowers (there were eight boys total), or threw rocks down hills.  Everyone couldn't help but have huge grins on their faces as we all enjoyed our day up in the mountains.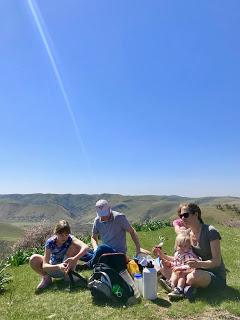 Soon enough spring will wane and summer will set in.  The green will go from bright to tired and we will all hide from the sun in our houses or from the heat in our pools.  Our own Saturdays will be spent cleaning out the house in preparation for our move, and our friends will be gone, having left us a month before our own departure.  The friendly sunshine and high excitement of spring will be a quiet memory.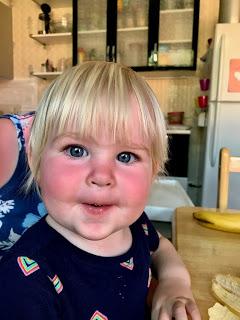 But for now, spring is new, the weather is perfect, and friendships have not been yet broken up.  Strawberry season is in a few weeks, followed by cherries and apricots, so welcome after a winter of apples.  All of the delights are coming, and I intend to enjoy them all for this last spring here in Tashkent.