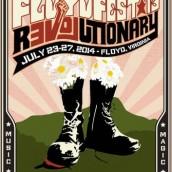 Floyd, VA – January 6, 2014 – FloydFest is re-inventing the proverbial wheel of the summer music festival.  Through the years, FloydFest has created an authentic atmosphere for festival-goers to experience an unequaled intermingling of music, scenery, community, and self-discovery. This year will present the same unfaltering authenticities; however, inspired to maintain boutique by giving loyal attendees an experience comparable to no other, 2014 will showcase revolutionary changes to the festival and, in general, the summer music festival experience.
"FloydFest is about the authenticity of the entire experience, not just one aspect of it," notes Erika Johnson, FloydFest's director and co-founder. "At Across-the-Way Productions, we believe that the artists and audience alike deserve a naturally beautiful venue, a high standard of comfort and safety, and an overall environment of largess."
No other event across the country provides attendees with such a diverse assortment of music and activities in such a naturally remarkable and yet intimate setting. In a world where the "bigger is better" mantra reigns supreme, FloydFest is trending in the other direction, embracing its "Shangri-La" moniker. With 5 days of nearly 100 unique artists and performers, an engaging Children's Universe area, a Healing Arts and wellness scene, gourmet regional food trucks and concessions, and outdoor adventure activities including mountain biking, kayaking and a Sunday 5k trail run, FloydFest provides a true vacation experience for every member of the family.
FloydFest, which has grown over the past decade to a capacity event of national renown, has not been without growing pains and logistical headaches that plague many large outdoor events. While weather, long waits and transportation issues are largely seen as part and parcel of the outdoor event experience, FloydFest has chosen to take the higher ground. As a true testament to their revolutionary theme, FloydFest has made some significant logistical changes, cutting back on the number of available tickets for sale, extending the festival start and end dates, and revamping parking and camping locations to more comfortably accommodate festival-goers.
This year's musical line-up features an impressive roster of headliners and an unprecedented melding of R&B, Blues, Reggae, Americana and more, including: Ben Harper and Charlie Musselwhite ~ Ms. Lauryn Hill ~ Ray LaMontagne ~ Thievery Corporation (Full Band) ~ Ziggy Marley ~ Michael Franti & Spearhead ~ Buddy Guy ~ Robert Randolph & the Family Band ~ Lettuce  ~ JJ Grey & Mofro ~ Groundation ~Conspirator ~ Donna the Buffalo ~ Rising Appalachia ~ The Duhks ~ Campbell Brothers ~ The Lee Boys ~ Hackensaw Boys ~ The London Souls ~ Ben Miller Band ~ Jonathon Boogie Long ~The Deadmen ~ Quinn Sullivan ~ 2013 On the Rise Winner: Paper Bird ~ 2013 On the Rise Winner Runner Up: Crystal Bright & the Silver Hands ~ Tauk ~ Dirty Drummer ~ Blue Mule and more!
On the Rise Performers
Antique Firearms ~ Chris Kasper Duo ~ Cold Chocolate ~ Deer Run Drifters ~ Gabe Morales Trio ~ Grandpa's Cough Medicine ~ Madrone ~ Major and the Monbacks ~ Michaela Anne ~ Mighty Joshua ~ Oak Creek Band ~ Proverbial ~ Seth Stainback and Roosterfoot ~ Super Ape ~ The Dirty Beggars ~ The Giving Tree Band ~ The Shack Band ~ The Southern Belles ~ Underhill Rose ~ Whitewater Ramble
So, come one, come all, and join the 'Revolution' – FloydFest 13 is going to be the best yet!

For more information visit www.floydfest.com, contact Mandy Gresham Giles at [email protected] or call 1-888-VA-FESTS.