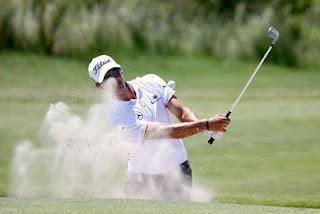 KIAWAH ISLAND, S.C. – If it smells like a bunker, looks like a bunker and feels like a bunker it must be a "sandy area," at least that's the line this week at Kiawah's Ocean Course.
Officials have deemed that all bunkers for this week's PGA Championship will be played "through the green," which means players will be allowed to ground their club in the sand, take practice swings and remove debris.
Just because they can, however, doesn't mean players will.
At the 13th hole on Thursday, his fourth of the day, Tiger Woods pulled his tee shot into a bunker left of the green and was reminded by his caddie Joe LaCava that he is allowed to ground his club.
"It just felt weird," Woods said. "It gives a whole different perspective. The club settles and as you take it back there's an imprint. I didn't do that again."
It was a familiar refrain on Day 1 at Kiawah. Despite the rule players were reluctant to do something that, well . . . didn't feel natural.
Adam Scott said he played his first few shots from the "sandy area" as he would a normal bunker, but decided midway through his round to test the sand.
"That's the most odd thing I've ever experienced," Scott said. "I took a practice swing and it looks kind of funny and I think the guys in the group were snickering at it as well."
It was a similarly weird feeling for caddies, who have been asked "as a courtesy" to groom bunkers as they normally would. GTC asked one looper how many bunkers he raked on Day 1, "None, there aren't any on the course," he smiled.
This article was written by Rex Hoggard from the Golf Channel.