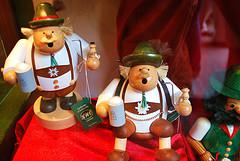 photo : unknown
Weight watching the Styrian way is perhaps a trifle different to the approach usually adopted by nutrition gurus and health food fanatics. Anyone accustomed to holidaying in Austria will know it is an accomplishment to leave the same size as you arrive!
Steirisches Würzelfleisch
Or beef stew to those of us not proficient in German.
This is a Styrian staple made of beef, cooked with carrots and other root vegetables – including the much maligned Mangelwürzel!
Steirisches Würzelfleisch is a regional variant of the original Hungarian dish Goulash, which was introduced to Austria during the period of the Austro-Hungarian Empire. With extra large portions of meat (usually pork), this succulent stew  is accompanied by extremely generous helpings of potato or dumplings – and sometimes both. With a little bread to help fill you up, there's not much room left for little things like leafy lettuce or gut-cleansing greens.
Funny how there's always room for a tasty treat after the main meal, though!
Mangelwürzel
One of the favoured root vegetables used in Steirisches Würzelfleisch is the Mangelwürzel, which was developed in the 18th century as fodder or feed for livestock. And coincidentally it was also the base for a potent alcoholic beverage!
Mangelwürzel also plays a major part in the diet and currency of the renowned children's book 'Muddle Earth', written by Paul Stewart and illustrated by Chris Riddell. The book is a parody of JRR Tolkein's 'Lord Of The Rings' and is in three sections:
Engelbert the Enormous
Here Be Dragons
Dr Cuddles of Giggle Glade
The story has all the features you would expect of a magical tale – wizardry; a warrior Princess; Elves; talking trees; and Mount Boom in the Musty Mountains.
Parallel And Comparable Worlds
Just as weight watching the Styrian way is almost a parallel world to the usual healthy eating plans we know and 'love' (yeah, right!), it's perhaps also possible to see that there are comparisons to be made between Austria and 'Muddle Earth'.
At the risk of  being criticised as 'sizeist' (though more importantly not wishing to appear rude) , take a little look at Mr Average Austrian next time you're enjoying a summer sun and fun filled holiday in somewhere like Steiermark. He doesn't look exactly undernourished or even slightly slim. Could he be the image model for Engelbert the Enormous?
And take a good gander at some of the statuary you see around and about. Could these be the inspiration for 'Here Be Dragons'?
Maybe, maybe not.
But what we can be sure about, is that the good 'Dr Cuddles of Giggle Glade' can be found in many Styrian villages and the majestic massifs of the area are undeniably like the Musty Mountains!
Don't believe me?
Then take a look for yourself whilst staying in this traditional style all-season holiday chalet in Stadl an der Mur!