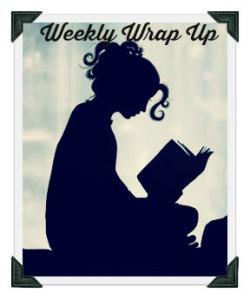 I'm pleased to report I've had a lovely week off work which started with a visit to what turned out to be a snowy Gloucester to see my friend for the weekend. Due to the snow we took a snow day where we cooked and I taught her how to knit – we really know how to party! Don't worry though, we did manage a couple of lovely meals and a few gins to help stave off the cold. I returned to Jersey with my brother so all round a great week catching up on all the news and eating and drinking way too much.
This Week on the Blog
My week belatedly started with my review of Last Letter Home by Rachel Hore, a historical dual time-line story featuring a German man in England at the time of World War II.
This Week in Books featured the authors Edmund Crispin, A.J. Pearce and Louise Candlish.
Next I reviewed The Family Next Door by Sally Hepworth which was published on 22 March 2018. This book was set on a close of houses in Melbourne, and looked at the secrets each household was concealing, some were bigger than others.
I love a good 'sliding doors' type story which was exactly what And the Birds Kept on Singing by Simon Bourke delivered. The tale of an adoption, or not. This powerful debut novel which was set in the 1980s illustrating the different lives that Seán and/or Jonathan grew up in.
My final review of the week was my non-fiction read for March; Common People by Alison Light is a wide-ranging look at the lives, jobs and neighbourhoods that her family lived in based on the historical and family history research she carried out. A fascinating read.
This Time Last Year…
I was reading A is for Arsenic: The Poisons of Agatha Christie by Kathryn Harkup, a non-fiction read of the highest standard. Kathryn Harkup looks at the role poison played in Agatha Christie's life during World War I when she worked in the dispensary in her local Torquay hospital and her training to become as an apothecary's assistant. No wonder then that she put that knowledge to such good use in many of her crime fiction. Each poison's appearance is explained along with the symptoms any victim can expect which shows us just how much the Queen of Crime spared her readers in her books. Where there is a link to a famous case, this is also included with details of the crime, how it was discovered and the verdict if applicable. If all that wasn't enough at the back there is a handy table listing Agatha Christie's books and the murder method. An absolute gem of a book for lovers of poison and Agatha Christie.
You can read my full review here or click on the book cover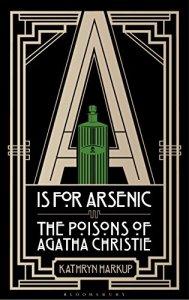 Fourteen novels. Fourteen poisons. Just because it's fiction doesn't mean it's all made-up …
Blurb
Agatha Christie revelled in the use of poison to kill off unfortunate victims in her books; indeed, she employed it more than any other murder method, with the poison itself often being a central part of the novel. Her choice of deadly substances was far from random – the characteristics of each often provide vital clues to the discovery of the murderer. With gunshots or stabbings the cause of death is obvious, but this is not the case with poisons. How is it that some compounds prove so deadly, and in such tiny amounts?

Christie's extensive chemical knowledge provides the backdrop for A is for Arsenic, in which Kathryn Harkup investigates the poisons used by the murderer in fourteen classic Agatha Christie mysteries. It looks at why certain chemicals kill, how they interact with the body, the cases that may have inspired Christie, and the feasibility of obtaining, administering and detecting these poisons, both at the time the novel was written and today. A is for Arsenic is a celebration of the use of science by the undisputed Queen of Crime. Amazon
Stacking the Shelves
I have had some great new books from NetGalley since my last post…
The Story Keeper by Anna Mazzola chosen because I loved her book The Unseeing a historical crime book. The Story Keeper will be published on 26 July 2018.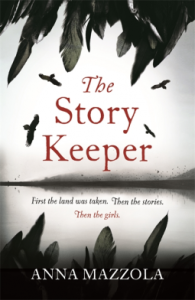 Blurb
Audrey Hart is on the Isle of Skye to collect the word-of-mouth folk tales of the people and communities around her. It is 1857, the Highland Clearances have left devastation and poverty, and the crofters are suspicious and hostile, claiming they no longer know their stories.

Then Audrey discovers the body of a young girl washed up on the beach and the crofters tell her that it is only a matter of weeks since another girl has disappeared. They believe the girls are the victims of the spirits of the unforgiven dead. Initially, Audrey is sure the girls are being abducted, but then she is reminded of her own mother, a Skye woman who disappeared in mysterious circumstances.

It seems there is a link to be explored, and Audrey may uncover just what her family have been hiding from her all these years. NetGalley
I was also lucky enough to be approved for the next book in David Jackson's D.S. Nathan Cody series, Don't Make a Sound. Since I voted the first in this series, A Tapping At My Door one of my top ten reads for 2016 and thoroughly enjoying Hope to Die which was published last year, this is one I'm keen to read before it is published on 3 May 2018.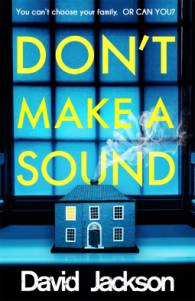 Blurb

You can't choose your family. Or can you?

Meet the Bensons. They're an ordinary couple. They wash their car, mow their lawn and pass the time of day with their neighbours. And they have a beautiful little girl called Daisy.

There's just one problem.

SHE'S NOT THEIRS.

D. S. Nathan Cody is about to face his darkest and most terrifying case yet . . . NetGalley
My last book that I'm sharing this week also comes from a crime fiction series – I keep saying I ought to cut down on the ones I follow but they are just so good! Isabelle Grey is publishing the fourth in her crime fiction series featuring DI Grace Fisher on 17 May 2018 with Wrong Way Home.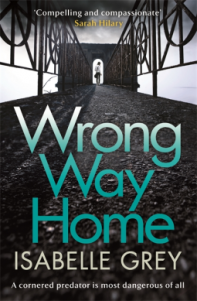 Blurb
A cold case leads DI Grace Fisher on the hunt for the most dangerous killer of her career – but after twenty-five years, can she really be sure she will get to the truth?

The same night a local hero saved two people from the burning Marineland resort in Southend, a young woman was raped and murdered minutes from the scene of the fire, the culmination of a series of brutal rapes in the town. The killer was never found.

Twenty-five years on, new DNA techniques have blown the cold case open. DI Grace Fisher relishes the prospect of finally catching the culprit, but when the evidence doesn't point to one clear suspect, she must reconstruct the original investigation. Any suggestion that the Essex force was less than thorough at the time could alienate her colleagues and destroy her chances of reaching the truth.

Grace finds her investigation shadowed by a young true-crime podcaster backed by veteran crime reporter Ivo Sweatman. As pressure mounts she cannot afford to be distracted. She knows that a cold-blooded killer is slowly being backed into a corner, and a cornered predator is often the most dangerous of all… NetGalley
If you want to catch up on this series they before this one is published here's the list in order…
Good Girls Don't Die
Shot Through the Heart
The Special Girls
What have you found to read this week?

Since my last post I have read 5 books and since I have gained a few so my TBR has stayed the same and the total is therefore 187
Physical Books – 110
Kindle Books – 54
NetGalley Books –23
I have banked two thirds of a book token this week so technically 3 1/3 books in credit but… well I've had to use the special 15% discount voucher that World of Books provided to me and my readers – if you haven't used the code yet, make sure you do so before it expires on 31 March 2018! But as the books haven't arrived yet…