A quick weekly stock market update, forecast, and recap. This week I exited the short positions at the bottom reversal.

Exit Post.

  I spent some time last night with the SPY hourly chart and the Wonderwood short. 

Entry Post.

 As indicated in the 

Entry Post

 this move has a very strong bullish look to it and shorting into it is risky.  
As for patterns, I do not rely much about Elliott Wave given its subjective nature, but I do like (along with Gartley) its Fibonacci component for finding potential reversals. As you can see on the chart below, we do have a potential 5 wave count down in SPY that "fibs" correctly with both the 3 and the 5 wave being 1.618 extensions of the prior wave. Now, that does not mean that this cannot blow up to a higher high. However, it is a nice data point for evaluating this RISKY short position, which is playing this as counter trend. Currently, we sit at the 61.8 retrace of the entire wave down and are still below the original stop area as indicated in the Entry Post above.  
I have evaluated and am going to move my stop for now up to the area above the gap on the SPY chart in the event it is going to run back for a double top, which is a possibility.  I am not scaling in any more position as playing a pure "fib guess," is not a high probability setup. Accordingly, I will remain here with a smaller positron and a larger stop.  Only if the smaller charts signal a trend change will I add into this RISKY play. 
Here is the Chart: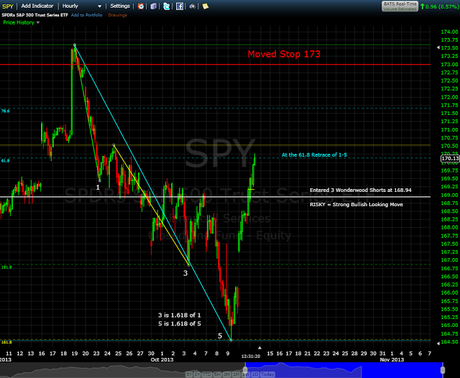 To reiterate, everything on the daily on down is currently bullish. This entry is "speculating" on the notion that this is a retrace with a lower low to come. There did not exist significant divergence at the low we put in. Also, the RASI has not exceeded the 500 level, as significant negative divergence with price, and has not yet indicated that this move from a breadth perspective is in fact bullish.  
Here are a couple RASI charts from the chart links on the right side of the page: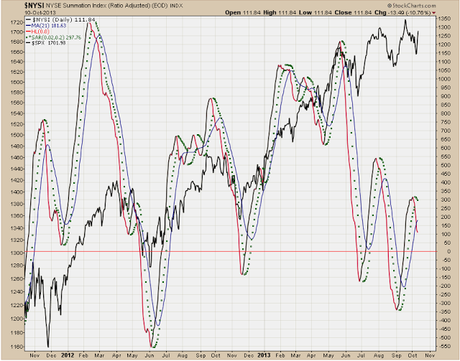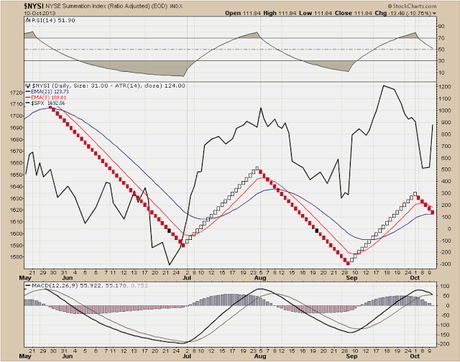 As stated when I first entered this, I do think I could likely be wrong here given the strength of the move, but I am playing this as a backtest of the first wave down for now. I personally do not like these fib retrace setups, but I am going to play it small and see what happens without bias either way on the possibilities.
I am still limited in posting time.

Peace, Om,
SoulJester