A comfortable hotel spanning four buildings that date back to the early to mid-1800s is much-needed addition to the town of Beacon.
Slideshow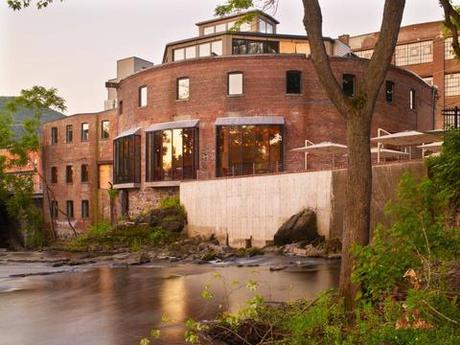 McAlpine, whose construction company had created high-end hotels for clients for decades, bought the former factory, with its dramatic but dilapidated curved walls, in 2010 and recruited two of his children and their spouses to run it. The buildings were painstakingly restored with the help of local architect Aryeh Seigel. The Rockwell Group—fans of Beacon and colleagues of Mr. McAlpine's on past projects—created designs for the interiors, executed by local designer Elizabeth Strianese and featuring the work of many local artists and artisans. Photo by Eric Laignel.
Beacon, New York has become a cultural destination, with New Yorkers lured by the vast Dia:Beacon museum and the community of high-end artisans nearby, including lighting company Niche Modern and furniture maker Atlas Industries.
But the hotel options never quite matched the emerging scene of art world tourism—that is until the Roundhouse, a 23-room hotel with two restaurants and a lounge that perches along the falls of Fishkill Creek, and opened in 2012. Set in four buildings that date back to the early to mid-1800s and once housed a textile manufacturer, a lawnmower factory, gun factory and a dye works, the operation now sports reclaimed wood, hand-blown glass light fixtures and zinc countertops.
"We wanted to bring a certain level of sophistication here that may not be common for the Hudson valley," said owner Bob McAlpine. "We didn't set out to be the local country inn; we set out to be something more sophisticated in the country."