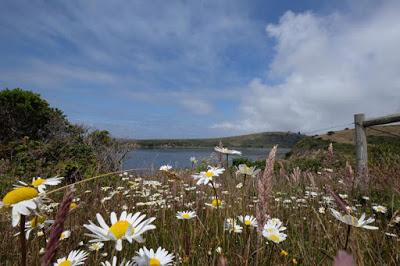 Point Reyes National Seashore, California
Two weeks ago, taking advantage of their daughter being away at camp, my son Matt and his wife Kate escaped their busy life in Oakland, CA, for a short road trip to explore Inverness and the area around Point Reyes.  Here is Matt's report along with his excellent photos.
Surprisingly close to the Bay Area, you feel a world away in the coastal town of Inverness, entering a part of California that seems from another era. Just the drive to the coast is worth the trip. After leaving the East Bay, we utilized the Nicasio Valley Road route.  Other scenic options include taking Sir Francis Drake Blvd through San Rafael or going through Mill Valley and Stinson beach via Highway 1.
Once leaving the outskirts of San Rafael and turning off of the 101, you are immediately thrown into a series of alternating quintessential California landscapes--from rolling golden hills dotted with Oak trees, to windy roads dodging giant Redwoods, to coastal bluffs filled with scrub brush, to pastoral grazing lands for cattle. The long and windy road feels less long, surrounded by such serenity.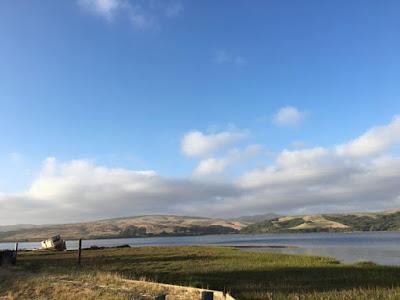 Looking East across Tomales Bay from "downtown" Inverness
We stayed, via Air B & B, at a small studio in the heart of Inverness, one block from Tomales Bay and Chicken Ranch Beach, looking eastward across Tomales Bay.
The topography of the area is defined by the San Andreas fault, and the collision of the Pacific and North American tectonic plates that slice their way through the Pacific edge of California. The fault line runs from Bolinas and Stinson beach to the south, following Highway 1 and then diving back into the water, forming the large and narrow Tomales Bay (think Baja California but upside down.)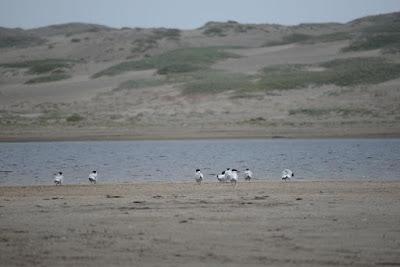 Forster's Terns at Abbott's Lagoon
To the west of this fault line is
Point Reyes National Seashore
. Here, there is a vast collection of trails leading across the ridge with pine and oak forests, down to wild bluffs, abandoned beaches, rugged coastline, and a series of tranquil lagoons and marshland, with extensive tidal flats. There is a series of roads that lead to several of these locations, though trail heads will take you quite quickly away from the busier outlooks.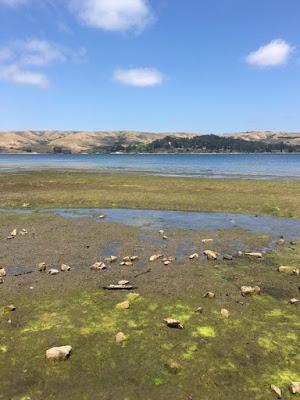 Looking across Tomales Bay from Tomales Bay State Park
The towns of Inverness and nearby Point Reyes Station, personify what would best be termed the West Marin (County) aesthetic. There is a touch of what might be blamed on the hippie roots of the area, and words like
free, organic, artistic
--attached to the lansdcape--all seeming appropriate. On a gastronomic level, this area is the intersection of the foodie culture that originated in the Bay Area, (fresh/locally sourced/organic) and the bucolic Old Califronia (where this produce is actually grown). Many brands, which are familiar to Bay area foodies (Marin Sun Farms, Cowgirl Creamery, Nicasio Valley Cheese, Strauss Creamery, Tomales Bay Oysters, etc.) are all located in the surrounding pasture lands/tidal zones, with several outlets in Point Reyes Station to sample their wares. In addition, the restaurants all serve top notch foodie fare, with oysters on the half shell at even the smallest sandwich shops. It is really hard to eat a meal here that isn't absolutely delicious.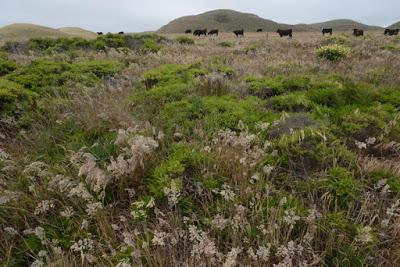 There are still a few working farms on the land, and cows grazing, harking back to a true California of old.
The town of Inverness sits right at the edge of the more wild Point Reyes National Seashore, and after you round the bend on Sir Francis Drake Blvd and leave town, you really feel like you are leaving much of civilization behind. The scenery can be breathtaking. Most of the land is wild, with amazing vistas stretching from the hills down to the tidal flats or cliffs on the coast.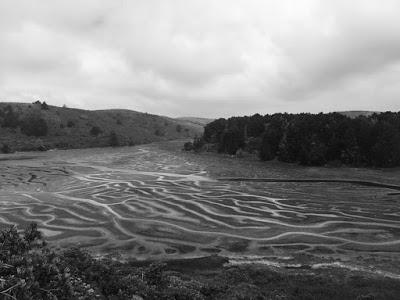 Tidal flats photographed in black and white at Drake's Estuary
On our particular trip, after a good night's sleep Friday, we woke early on Saturday morning and set out to explore (via our ritual exercise) the trail system in Point Reyes. We picked up coffee and breakfast at the IP Market (short for Inverness Park), which offers an excellent deli/cafe bar in addition to normal market supplies. Lots of fresh baked goods, and options for sandwiches (later I had their amazing Tri-Tip sandwich). We went to Bear Valley trailhead where Kate took off on her Saturday run, with the trail gently climbing and then descending to the coast, where several trail options will get you to the beach. Here you can get to waterfalls that flow directly into the Pacific (I think called Tidal Falls).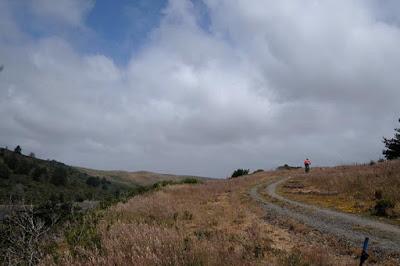 Several trails in Point Reyes allow bike riding.
While Kate ran, I took off on a bike ride. The trail riding is a little more limited, and many of the trails only allow bikes on certain portions (only half of the Bear Creek trail is open.) After consulting a map I tried to string a few of the trails together, needing to use a few park roads to skip between trails, but ended up with a very satisfying ride, with the trails almost all to myself for several hours.
After our respective exercise regimens were checked off the to-do list on some pretty cool trails, we headed back to our studio. Sandwiches were picked up at the IP market and we were able to enjoy these at Chicken Ranch Beach (did I mention the Tri Tip?)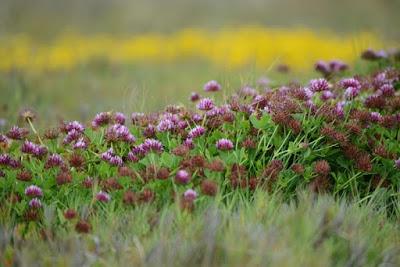 Even in mid-June there were still plenty of wildflowers in bloom.
After lunch, another trip into Point Reyes Seashore to explore more hiking trails took me to a short trail to Abbott's lagoon.This was recommended by our AirB & B host and it did not disappoint.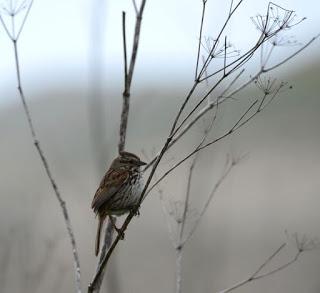 Wildflowers were in bloom on the trail down to the lagoon plus an impressive collection of birds; others on the trail had just seen river otters in the lagoon (though I missed out.)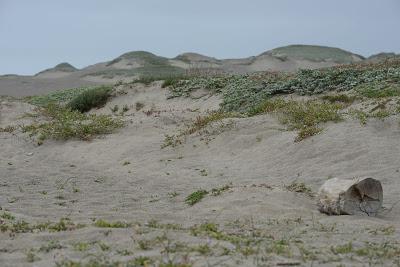 Sand dunes await at the mouth of  Abbott's lagoon, which then stretch onto the actual coastline and Point Reyes Beach.
This is a great trail to see seabirds that dot the shores around the lagoon. Once at the actual ocean front, one could potentially walk up and down the sandy beach for miles.
Dinner that night was in Inverness at the Salt Water Oyster depot. Despite being at the edge of civilization, the food was excellent. We enjoyed the local oysters, as well as scallops, and clams (linguini) and shrimp (cassoulet). When in Rome...
Sunday morning arrived sooner than we would have wished, and after cleaning up and checking out, we had one last dive into the National Seashore trail system, this time at the Estero trail head to a system of trails (most of them bike-able) surrounding Drake's Estero. This offered more views of the tidal estuary along mostly brush covered coastline.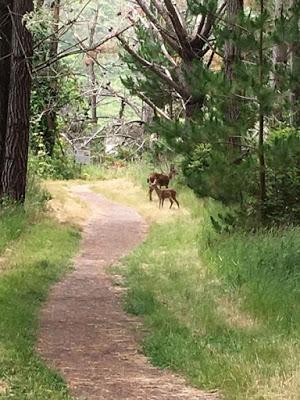 On the Estero trail we caught several white tail deer and their fawns as it was "fawn season".
Despite the decent weekend weather, and relative proximity to San Francisco, being in the park never felt crowded. Though Bear Valley Visitor Center does get busy (it is the closest trail head to SF), we were there early, and almost every other trail that we explored we had mostly to ourselves. There were miles of some trails where I did not see another soul. This sense of isolation, so close to home, was wonderfully refreshing.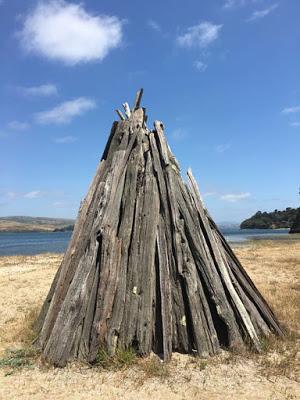 A short hike at Tomales Bay State Park to Indian Beach led to several reproductions of cone shaped Miwok bark shelters as part of a cultural exhibit.
On the way out of the National Seashore, we had one more stop on the beach, this time hitting Tomales Bay State Park, carved into the western edge of the bay, taking a short hike from Hearts Desire Beach (which was full of picnickers, kayakers, and BBQ) to Indian Beach.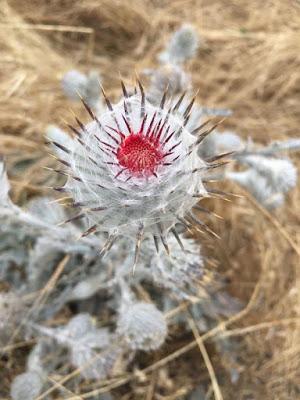 An unusual thistle like plant along the trail to Abbott's Lagoon
Unfortunately our weekend was coming to an end. Reversing course on Sir Francis Drake Blvd brought us back through Point Reyes Station where we stopped for lunch. Again, we ate well, as the comfort food prepared at Side Street Kitchen was simply amazing (oysters, pork Belly BLT, pulled pork sandwich, salad). We picked up some cheese to take home across the road at Cowgirl Creamery, and returned to civilization through Nicasio Valley back to Oakland.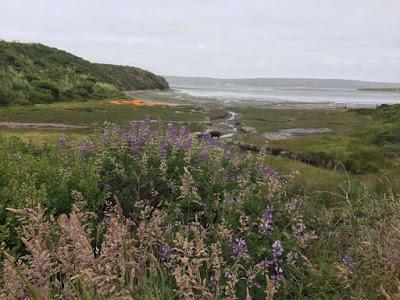 Lupins along Drake's estuary along the Estero trail
Despite packing a lot into the weekend, we felt refreshed and recharged for the week ahead. It felt like we barely scratched the surface of Point Reyes National Seashore and Tomales Bay, and left wanting to return for more. In particular, the Tule Elk Preserve on the northern tip, on the way to Tomales point, as well as the more famous and picturesque lighthouse at the opposite end, are on the list of things to get to on our next visit, or even camp in the park. Another trip will have to be made to actually kayak on Tomales Bay (Blue Waters Kayak) as well.
With only a small amount of traffic leaving Oakland, it took us around 1 hour, 20 minutes to get from the Bay Area to Inverness and Point Reyes.  For a map of Point Reyes click
HERE.
I hope you enjoy this report and are able to experience this area of California for yourself.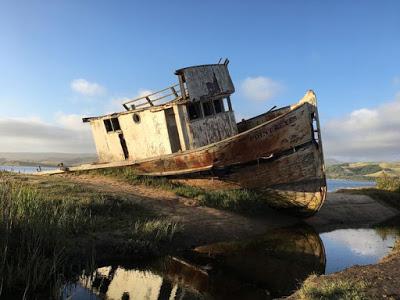 Abandoned fishing boat providing the classic Inverness snapshot