People have all sorts of fun over a work free weekend, but does attending an ox-racing championship sound like fun to you?  Fun or not, it was the entertainment of choice for nearly ten thousand people in Germany on August 26th. 
Jockeys showed up clad in traditional Bavarian Lederhosen from leather suspenders to  high-waisted shorts and hats with a feather.  The oxen were even dressed up for the opening ceremony parade with flower crowns and braided tails.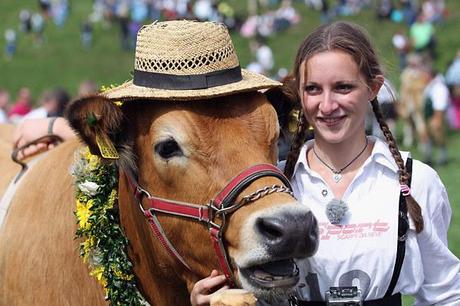 Opening cermonies began with a parade of flower drenched cows and lederhosen clad jockeys.: photo by Johannes Simon/Getty Images

The crowds gather every four years for the ox-racing championship.  Jockeys are required to ride the oxen bare back.  This causes quite the scene similar to what you may see at a traditional rodeo where a bull rider slides off the side of a bull.  In this case though the rider, aka jockey, is dressed in his traditional German gear where the only thing missing is the beer stein.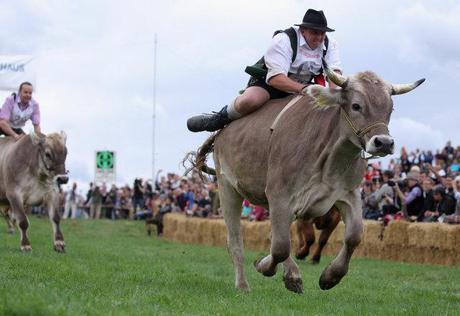 Crowds cheer as jockeys try to ride bareback without falling off the ox.: photo by Johannes Simon/Getty Images

While some are having fun in the setting where a German beer seems oh so appropriate, others are worried about the animals' welfare.  An organization called Fight Against Animal Cruelty in Europe (FAACE) sees the event as cruel and stressful to the oxen.  While a jockey rides the ox, other participators chase and beat the ox to make it run to the finish line.  Members of FAACE say this stress plus the travel the animals must endure to get to the event can cause harm to the oxen.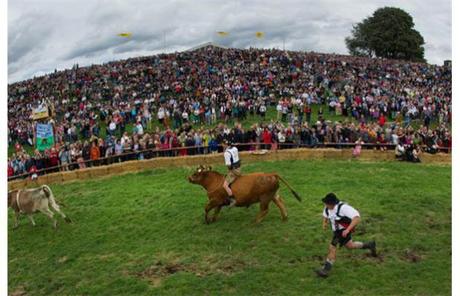 Jockeys ride the oxen while other participators chase behind to make them run to the finish line.: photo byAFP/Peter Kneffel

Thanks to the efforts of activists, the event must now have veterinarians on staff.  Other improvements have also been made to ensure diseases aren't spread from animal to animal.  The new standards have caused the cost of joining the championship to rise, which has turned away some participators.

This year 23 men and four women still participated as jockeys.  Though the festivities started with a parade of jockeys strutting their oxen, it ended with a "ox-ball" where ox was on the menu rather than on display.  

Sources: UPI, Mail Online, FAACE, Mirror