This is the Third Edition of the NFL Power Rankings and I am pretty excited to have two knowledgeable football analysts with me to help with the rankings. We have taken the average of the three analysts votes. Each analyst has ranked the teams as they choose 1-32 and we have added comments for each team. I am Sam Brief, of Sam's Sports Brief, a 14 year old who created Sam's Sports Brief to give you a refreshing new perspective on the wild world of sports. I hope to someday become a sports broadcaster or a sports writer and I am following my dreams, providing readers with a wealth of information and keen perspective.
Our second analyst today is Steve Hromin, of The Sportz Guru, based out of Nassau County in New York. He, too provides in-depth game breakdowns and predictions of every game and has coverage of all of the four major sports on his site!!! I highly recommend checking their sites out and brushing up on your sports knowledge through the eyes of these sports fanatics.
Last but not least, I am working with JB Knox, co-creator of The Daily Beans and writer of the Inside The Knox Score NFL Game Predictions as well as the well-documented "Occupy Lansdowne Street" article posted on The Baseball Page. He is a fantastic writer who is a total workhorse and just has a knack for saying the right things.
So without further ado, here are the NFL Week 7 Power Rankings. Comments and debates are highly recommended and encouraged on all three websites!!! Hope You Enjoy!!!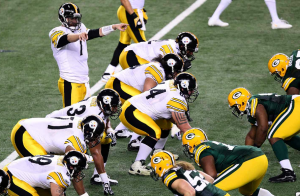 With the Packers and Steelers ranked #1 and #2, we couldn't help but pose the question: Will the Packers and Steelers face-off once again in the Super Bowl?
TEAMRECORDCOMMENTS
1. Packers 

7-0 The 7-0 Packers are coming off of their bye week. I think at the halfway point of the season it's fair to say that Aaron Rodgers is the midseason MVP. When a player leads the league in passer rating, TDs, and completion %, all while leading his team to a perfect record, how can he not be the MVP? Also, the odds of the Packers finishing the season at a perfect 16-0: 5.3%, but hey they can make it happen. 
@SamsSportsBrief
Sam's Sports Brief
2. Steelers

6-2 They have the hottest QB in the league in Roethlisberger, 4 straight wins and the 1st ranked passing defense in the NFL. They are coming off perhaps their biggest win of the season and look to take sole lead of the AFC North with back-to-back games vs. the Ravens and Bengals. Will the Lamar Woodley injury slow this defense down as they look for sweet revenge this week is a big question
@TheKnoxScore 
 DBSports
3. 49ers

6-1 After a win against the Browns last week and a Patriots loss (to Pittsburgh), the 9ers are sitting at 3rd best in the league. Jim Harbaugh is proving that you don't need talent to win games: you need heart. San Fran's ability to run the ball AND stop the run on D makes them hard to beat. It will be interesting to see if they can keep this going and finish as one of the best teams in the league.
@TheSportzGuru
The Sportz Guru
4. Patriots

5-2 The Patriots are coming off of a devastating loss at the hands of the Steelers. With this loss, many questions begin to arise about the Patriots depth on both offense and defense. I think everyone should just chill out, it's just 1 loss, and Tom Brady is still taking snaps for the Pats (that's a good thing). 
@SamsSportsBrief
Sam's Sports Brief
5. Ravens

5-2 With the game of the week coming up on the road vs the Steelers and the division lead on the line, the Ravens will have to play much better than they have over their last weeks. Turnovers, special teams and costly penalties are killing their play lately. The vaunted Steel Curtain will be a tough match-up against an offense that has been very inconsistent this season. 
@TheKnoxScore 
 DBSports
6. Lions

6-2 After crushing the hopeless Broncos and Tim Tebow the Lions head into their bye week looking to get a little bit healthier. Stafford's ankle will have time to heal as the Lions get two weeks to prepare for a big road game against the Bears. A win in that game should put the Bears playoff hopes in doubt. With newly signed safety Chris Harris on the squad, the Chicago Bears better change-up their playbook quickly. 
@TheKnoxScore 
 DBSports
7. Bills

6-2
The Bills won last week against the Redskins. They 
executed
 on offense and created turnovers on D. That, my friends, is a recipe for success. We think they'll be able to keep this going throughout the year. @TheSportzGuru The Sportz Guru
8. Saints

5-3 To be honest, I'm surprised the Saints are ranked this high. They handed St. Louis their FIRST WIN OF THE SEASON. Remember guys, we are in WEEK 9. To be honest, I just think Brees had an off-day, and as a result the offense as a whole was sub-par at best. 
@TheSportzGuru
The Sportz Guru
9. Falcons

4-3 The Falcons are coming off of their bye week. Their last game was a statement win over the Lions in Detroit. This Falcons team is starting to look like the 13-3 Falcons of yesteryear. 
@SamsSportsBrief
 Sam's Sports Brief
10. Bengals

5-2 Here's a shocker: The Bengals are 5-2. If you look more deeply into that record you will find out that this is a team whose wins are against teams with a combined record of just 12-24! They have only played 2 teams with winning records this year, and the Bengals are a team on whose bandwagon I have yet to jump. 
@SamsSportsBrief
 Sam's Sports Brief
11. Giants

5-2 The Giants looked a bit shaky last week at home vs Miami as they may have been looking ahead to this week's game at New England. The talented Pierre-Paul will try to duplicate the pressure the Steelers put on Brady. This may just slow the Pats down enough for Eli Manning and his talented receivers Manningham and Cruz. 
@TheKnoxScore 
 DBSports
12. Texans

5-3 The Texans beat Jacksonville last week, which I thought was impressive considering they came off that MNF win against the Ravens. Remember, in that game, the Jags shut down their offense and didn't let them work. Getting back to Houston, Arian Foster is in full stride now and Matt Schaub should be getting back Andre Johnson this week. Look out for this team, I'm expecting big things from them soon. 
@TheSportzGuru
The Sportz Guru
13. Jets

4-3 The Jets have a chance to get back in the race in the AFC East as they face off against the Buffalo Bills this weekend. They seem to be hitting their stride and are coming off a bye week. Burress will be more acclimated to the offense, Mangold is a bit healthier and that passing defense will have a big say this week vs Ryan Fitzpatrick. 
@TheKnoxScore 
 DBSports
14. Eagles

3-4 Wow, the Eagles did WORK on Sunday Night. They completely dismantled the Cowboys and kept the offense pouring. More importantly, they let LeSean McCoy take over and score 2 TD's! Even thought they haven't lived up to the "Dream Team" status, they are working towards that. Boy, they sure did LOOK like a dream team last Sunday huh! 
@TheSportzGuru
The Sportz Guru
15.Bears

4-3 The controversial and oft-criticized Bears are coming off of their bye week following a win in London over Tampa. The Bears' offense has scored 170 points this year. At this point last year, they had scored just 126. They have a colossal matchup in Philly on Monday Night. 
@SamsSportsBrief
 Sam's Sports Brief
16. Chiefs

4-3 The Chiefs are now 4-0 this season when they win the turnover ratio. They have done so in their last 4 games recording 8 interceptions in their last two as well as taking the AFC West lead away from the SD Chargers. They could very easily make it 6 straight wins with their next two games vs the Dolphins and Broncos. A key player of late has been Brandon Flowers, who has been shutting down the oppositions best receivers in his last 2 games. 
@TheKnoxScore 
 DBSports
17. Chargers

4-3 What has happened to the Chargers lately? They have been melting in the second half of games this season. Their red-zone efficiency is inefficient and Philip Rivers has thrown 11 INTS already this season to go along with his game losing fumble against the KC Chiefs on Monday Night. Will he be repeating "This is the worst day ever" this Sunday when he faces Clay Matthews and the ball-hawking Charles Woodson vs Green Bay? Very likely. 
@TheKnoxScore 
 DBSports
18. Buccaneers

4-3 The Bucs were off last week with a bye. Nothing new to report, maybe they will rebound after their Week 7 loss to Chicago? We'll have to wait and see. 
@TheSportzGuru
The Sportz Guru
19. Cowboys

3-4 The 'Boys looked like crap last week against the Eagles, plain and simple. They kinda looked like the old "Dream Team" Eagles before they found their stride (in this game, no less). Jason Garrett and Rob Ryan need to work together and find a solution to this problem. 
@TheSportzGuru
The Sportz Guru
20. Titans

4-3 Here's a thought: The Titans should bench Chris Johnson (yes I just said it). Johnson has 107 carries for 302 yards (no, you didn't read that wrong). That's 2.8 yards per carry. Your franchise player who is getting paid $53 million cannot put up those kind of numbers. The Titans are having an okay season, but they can accel if they change Johnson's position from starting running back to left (or right) bench. 
@SamsSportsBrief
 Sam's Sports Brief
21. Raiders

4-3 They are coming off a much needed bye week as they look to get Carson Palmer more familiar with the offense as well as hope that Darren McFadden is ready and healthy for this week's game at home vs the woeful Tebow-led Broncos. They should be very hungry after getting blanked and embarrassed two weeks ago vs KC and this is the perfect team to face for them before San Diego. 
@TheKnoxScore 
 DBSports
22. Browns

3-4 The Browns are just one of THOSE teams. By 'those teams' I mean the ones that just hover around .500 all season and have no offensive firepower, and score less than a baseball team. The Browns have not scored 20 points all season, and in the last 2 games have scored just 3 and 10 points. (Sounds like the Yankees' scores if you ask me). 
@SamsSportsBrief
 Sam's Sports Brief
23. Panthers

2-6 The Panthers lost at the hands of the Vikings last week (called it 

 ). Even though Cam played pretty well (as usual), they still lost. In order to win, this defense will just have to bear down and stop the big plays, and until they do that I don't see them winning. 
@TheSportzGuru
The Sportz Guru
24. Redskins

3-4 Train Rex or Beck? That is the question. The way their offense looked last week North of the Border, I would choose direct snaps and the wildcat for the near future. Shanahan and his QB shuffle has this offense sputtering as the Skins have been in a free-fall for weeks now. Oh and they just happen face the NFL's best defense in the San Fransisco 49ers this weekend. Things do not look good. 
@TheKnoxScore 
 DBSports
25. Vikings

2-6 The Vikings beat the Panthers this week, but only moved up a couple spots. Even though the Vikings won, we still think the Panthers will be a better team looking at the big picture. Looks like they've found their future in Christian Ponder, though. 
@TheSportzGuru
The Sportz Guru
26. Jaguars

2-6 After an inspiring Monday Night win over the Ravens, the Jaguars got a flash of reality. They found themselves on the losing end of an AFC South battle to the Texans. Listen, this team is going nowhere. With an average defense, a struggling rookie QB, and a below-par coach, there needs to be major change in Jacksonville (or should I say JAGSonville). 
@SamsSportsBrief
 Sam's Sports Brief
27. Cardinals

1-6 Kevin Kolb may be out this week for Arizona, but they have showed recently that they are willing to fight and force teams to earn their victories, which says a lot about the team's respect for  coach, Ken Whisenhunt. The lone bright spots for the Cards this season have been Larry Fitzgerald and the improved play of Patrick Peterson, who had an impressive punt-return TD in Baltimore last week. 
@TheKnoxScore 
 DBSports
28. Rams

1-6 The Rams went up a spot this week after defeating the Saints. From here on out, they'll have to show us they know how to beat the big boys if they want to hold this spot. Hopefully, Bradford can get healthy so they can start winning some games. 
@TheSportzGuru
The Sportz Guru
29. Seahawks

2-5 Like the Browns, the Seahawks are one of THOSE teams. In the past 2 weeks, they have scored 3 and 12 points! How great! No team led by the two-headed monster of Tavaris Jackson and Charlie Whitehurst is going anywhere. 
@SamsSportsBrief
 Sam's Sports Brief
30. Broncos

2-5 The Broncos took the loss last week to the Lions 45-10. People were Tebowing all over the field, and in their living rooms too! No hope for this team this year… 
@TheSportzGuru
The Sportz Guru
31. Dolphins

0-7 The Fins almost pulled out a win in NY last week vs the G-Men and Reggie Bush rushed for his second career 100 yard game. If they could only fix the passing game on both sides of the ball they may may have had a chance to pull out a couple of wins this season. A visit to noisy Arrowhead Stadium looms ahead. 
@TheKnoxScore 
 DBSports
32. Colts

0-8 The Colts are a mess. They have a 2.2% chance of becoming the second team in NFL history to go 0-16. But hey, they're halfway there! 
@SamsSportsBrief
 Sam's Sports Brief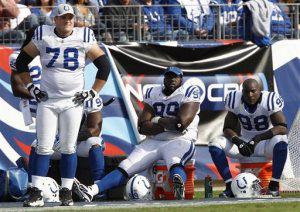 Whoa we're halfway there!" The Colts are 0-8, which means that they're 'Halfway There' on their road to 0-16.
This week was a very interesting one in terms of our individual rankings. Sam and JB both had the Steelers ranked at #2, while Steve put the 49ers at #2. All of us had a different #6: Sam had the Lions, JB had the Bills, and Steve had the Saints. The Eagles also had a lot of diversity, while Sam and JB both were obviously convinced by their win, and had them at #14, Steve had less faith in them , and put them at #17. Another interesting topic is the Chiefs and Chargers: While Sam and Steve both had the Chiefs (who have won 4 in a row after an 0-3 start) ranked in front of the Chargers, JB still had the Chargers in the drivers' seat ahead of the Chiefs. The Panthers drew some of the most change this week: Sam and JB both put them at #23, while Steve had them all the way down at #28. The Vikings also had various different rankings, while JB and Steve were close at ranking them #24 and #26, Sam had them all the way down at #30. The Broncos and Rams drew the most diversity of all the teams: For the Broncos, Sam had them at #25, JB ranked them at #28, and Steve had them down in the dumps at #31. In terms of the Rams, Sam and JB both ranked them at 29, while Steve obviously thought their win over the Saints wasn't a fluke, and had them all the way at #22! At the very bottom of the rankings, there was one consensus: All three of us ranked the lowly, depressing Colts at #32.
I guess we can always agree on futility.