This is the First Edition of the NFL Power Rankings and I am pretty excited to have two knowledgeable football analysts with me to help with the rankings. We have taken the average of the three analysts votes. Each analyst has ranked the teams as they choose 1-32 and we have added comments for each team. I am Sam Brief, of Sam's Sports Brief, a 14 year old who created Sam's Sports Brief to give you a refreshing new perspective on the wild world of sports. I hope to someday become a sports broadcaster or a sports writer and I am following my dreams, providing readers with a wealth of information and keen perspective.
Our second analyst today is Steve Hromin, of The Sportz Guru, based out of Nassau County in New York. He, too provides in-depth game breakdowns and predictions of every game and has coverage of all of the four major sports on his site!!! I highly recommend checking their sites out and brushing up on your sports knowledge through the eyes of these sports fanatics.
Last but not least, I am working with JB Knox, co-creator of The Daily Beans and writer of the Inside The Knox Score NFL Game Predictions as well as the well-documented "Occupy Lansdowne Street" article posted on The Baseball Page. He is a fantastic writer who is a total workhorse and just has a knack for saying the right things.
So without further ado, here are the NFL Week 7 Power Rankings. Comments and debates are highly recommended and encouraged on all three websites!!! Hope You Enjoy!!!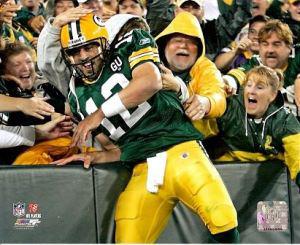 All is good in Green bay as the Packers have taken their 6-0 record all the way to the #1 spot on our power rankings.
POWER RANKINGS
TEAMRECORDCOMMENTS
1. Packers 6-0 The Packers are simply the best team in the NFL. They are 6-0, leading the league in total offense, and are 7th in total defense. 16-0 anybody?-@SamsSportsBrief http://sambrief.com
2. Patriots 5-1 The Pats are now 5-1 and are second only to the Green Bay Packers (6-0). They have the best offense in the league combined with a decent defense to hold opponents at bay. That's all they need to do for Brady to light up the board and win them the game. They can't be stopped right now. SportzGuru
3. 49ers 5-1 The Niners are outrushing opponents 131.5 yds/gm to 74.7 yds/gm and with wins in 4 straight games over teams with a combined record of 15-9, San Francisco looks like a team to be reckoned with in the NFC.@TheKnoxScore
4. Ravens 4-1 Baltimore has a high-powered offense and an old, yet stout defense. I'd say their defense is a bit better than the Jets', while their offense is much better. The Ravens are 4-1 right now and I see them as the leader in the division come season's end. SportzGuru
5. Lions 5-1 Detroit was finally knocked off by San Fran last week to put 'em at 5-1. In all honesty, I think they just had an off-game. Megatron didn't get any TD's and the run game wasn't up to par. This team is getting into the playoffs this year, I can feel it. They are good enough for 5th in the league just ahead of the Chargers. SportzGuru
6. Chargers 4-1 Taking advantage of an easy schedule in the early goings and coming off of a bye week out-gaining opponents 416-293 yards per game, the Chargers look forward to big battle against the short-rested Jets.@TheKnoxScore
7. Bills 4-2 Ah, the Buffalo Bills. New York's best football team right? I think so, and here's why: The Giants are very sporadic and the Jets haven't gotten in a rythym yet, but the Bills certainly know what they're doing. Playoff team? Yea, definitely over the Jets. SportzGuru
8. Saints 4-2 A tough loss in Tampa shouldn't affect the Saints too much. Any team with Drew Brees leading the charge is in prime position.@SamsSportsBrief SamsSportsBrief
9.Steelers 4-2 Big Ben Roethlisberger always finds a way to win, and even though they didn't look great in a win over Jacksonville, there are no worries. @SamsSportsBrief http://sambrief.com
10.Giants 4-2 The return of a balanced offense does wonders for your team doesn't it. The injury prone GMen have relied on Pierre-Paul and a talented group of linebackers and receivers to head into their bye week atop the NFC East before facing the weak Miami Dolphins. @TheKnoxScore
11. Raiders 4-2 Al Davis' death is motivating the Raiders. Since his death, they are 2-0. Overall, with a 4-2 record, the Raiders are better than they've been in more than 5 years. @SamsSportsBrief http://sambrief.com
12. Buccaneers 4-2 The Bucs redeemed themselves with their 4th win in 5 games vs. division rival New Orleans. Their run defense made the Saints one-dimensional and forced Drew Breesto throw 3INTS. Can they become more consistent is the question? @TheKnoxcore
13. Titans 3-2 Will the bye week cure their running woes or will Matt Hasselbeck have to carry this team all year without the help of CJ2K and injured Kenny Britt? A bih AFC South showdown awaits vs. the Texans, who are hungry to get back to their winning ways. @TheKnoxScore
14. Bengals 4-2 Last week, the Bengals beat the hopeless Colts to improve to 4-2. That's the same record as the Giants! Surprising considering the team did away with veterans (T.O, Ocho, and Palmer) and replaced them with rookies (Dalton, A.J). I don't think they will continue this run, but they will finish around the 10-6 mark, which would allow them to make the playoffs. SportzGuru
15. Falcons 3-3 Call me crazy, but the injury to Julio Jones may have been the best thing to happen to the Falcons of late. Why? They were forced to get back to their bread and butter. Feed Michael Turner the ball!!! Their pass-defense needs to step it up this week vs. Megatron and the Detroit Lions.@TheKnoxScore.
16. Redskins 3-2 Things were going well for Washington until, well, Bad Rex came out. Rex Grossman threw 4 interceptions against the Eagles, and it looks like John Beck will take over the reins for the Redskins. @SamsSportsBriefhttp://sambrief.com
17. Jets 3-3 I talked very briefly about the Jets in my Bills comments: they need to find a groove. A spark, a streak, something to get them going. Once they get going, they can be as good as the Packers, but when they're bad, they're like the Dolphins. SportzGuru
18. Bears 3-3 The Bears dominated the Vikings, 39-10 on Sunday night. This showed some signs of promise, but with a struggling offensive line and no quality receivers, the Bears are in a dark place. @SamsSportsBriefhttp://sambrief.com
19. Texans 3-3 Although the Texans are in the bottom-half of the league (according to these rankings), I still think they're a good team. Matt Schaub is a good quarterback and when Arian Foster gets going, he can be a monster (remember last season). The defense has improved from last season, now the offense has to step their game up. That starts with Matt Schaub.SportzGuru
20. Cowboys 2-3 The Cowboys almost beat the Patriots in Foxborough, but their late- 4th quarter game management was short of standards. The Cowboys are 2-3, but have some upside. Right now, though, they need to step up their play. @SamsSportsBrief http://sambrief.com
21. Eagles 2-4 Yes , I was one of a few people who called the Eagles winning last week!!! Their team speed was too much for the Skins and they finally played a little more man-to-man coverage. What was the point of spending Millions on cornerbacks if you're gonna play a zone anyways? A bye week ahead to work out more kinks comes just in time.@TheKnoxScore
22. Seahawks 2-3 Seattle had a bye this week, and is 2-3 with major quarterback trouble. The Seahawks aren't going to the playoffs anytime soon with Tavaris Jackson or Charlie Whitehurst. @SamsSportsBrief http://sambrief.com
23. Browns 2-3 The run defense wasn't all that bad vs. the Raiders, Darren Mcfadden!!! Then again, their special teams unit was too busy playing ole with Jacoby Ford. Still can't figure how a team that ran down people's throats are 30th in the league in rushing. Must win for psyche this week vs Seahawks. @TheKnoxScore
24. Broncos 1-4 Tim Tebow? This is not a good team to start with, but when you gotta resort to Tebow at QB? You have some issues. To fix this, Knowshon Moreno has to stay healthy and that offensive line needs to open up holes. If they can't do that, don't expect any more numbers in the 'win' column. SportzGuru
25. Panthers 1-5 With a 1-5 record, you'd think that the Panthers would be lower. Although this is true, Cam Newton is 4th in the NFL with 1,847 yards. He is leading the Panthers with excellence, and they have a serious upside.@SamsSportsBrief http://sambrief.com
26. Cardinals 1-4 The Cards are not getting it done on the ground this year. While they are getting 101 YPG this season, they need to get more if they want to win. Also, the defense needs to improve as they're giving up too many points. No chance for the playoffs this year. SportzGuru
27. Chiefs 2-3 This is easily our biggest surprise in the rankings as I had them at 23rd. An old-school leather-head styled battle with the Raiders this week could bring them back to .500 and in the thick of things in the AFC West. Can they make it 3 straight against the Carson Palmer led Raidahs?@TheKnoxScore
28. Jaguars 1-5 Does anybody else feel bad for Jones-Drew? He is leading this team to the 10th ranked rushing attack in the NFL, has no help offensively whatsoever and has to face a stout Ravens defense that held Adrian Foster to a measley 49 yds last week. Hey Gabbert, how many fingers am I holding up? Can he answer this question after this week's game is a concern. @TheKnoxScore
29. Vikings 1-5 The Vikings are simply a mess. After getting blown out by the Bears in Chicago, it was revealed that the Vikings are in the rebuilding stage. Donovan McNabb is not going to start for the Vikings, but Christian Ponder does have some serious potential. @SamsSportsBriefhttp://sambrief.com
30. Rams 0-5 If only Brandon Lloyd, the WR whom they picked up from the Broncos this week, could play Left-Tackle. The Rams O-line is letting Sam Bradford get eaten alive this year and now they have to travel to Dallas and face a defense that just held the Tom Brady led Patriots to a mere 20 points. Call-in sick Sam. @TheKnoxScore
31. Colts 0-6 Colts without Manning = jelly without peanut butter. It just doesn't work! When will the Colts win? I don't think they will win until Week 9 or 10 honestly, this team is that bad! SportzGuru
32. Dolphins 0-5 When the Dolphins lost quarterback Chad Henne for the season, Matt Moore started against the Jets. He threw 2 interceptions, and had a 41.8 passer rating. The Fins aren't going anywhere soon. @SamsSportsBriefhttp://sambrief.com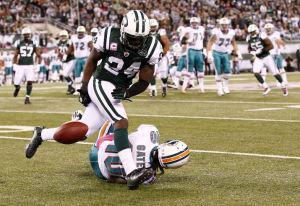 The struggling Dolphins were no match for the Jets on Monday night.
There were some major discrepancies as well as some exact consistencies within our picks. Notable rankings by the panel are as follows:
Pats were ranked 2nd by both Sam and Jb, while Steve had them 4th. The Niners were ranked behind the Lions by Steve, despite losing head-to-head last week against the Lions. We were all over the place in regards to the Saints. I had them the highest at 6th, Sam had them 12th and Steve had them 8th. We all had the Giants in the 10 spot. Another huge difference was with the Bengals where Steve had them 9th, while Sam and I actually agreed on them in 17th. Steve had the Jets in 18th and again Sam and JB in 14th. Perhaps the largest difference after the Bengals selection was ranking the Chiefs. Knox had them at 23rd, Sam at 25th and Steve in 31st.
We hope you enjoy the rankings and comments and Let The Debates Begin!!!
Again make sure to check out all three of these sports sites for great views on the games we all love!!!
By J.B. Knox- http://thedailybeans.wordpress.com
Steven Hromin- http://thesportzguru.wordpress.com
Sam Brief- http://sambrief.com