The week 13 NFL Power Rankings are in and  I am pretty excited to have two knowledgeable football analysts with me to help with the rankings. We have taken the average of the two analysts votes. Each analyst has ranked the teams as they choose 1-32 and we have added comments for each team. I am Sam Brief, of Sam's Sports Brief, a 14 year old who created Sam's Sports Brief to give you a refreshing new perspective on the wild world of sports. I hope someday become a sports broadcaster or a sports writer and am following my dreams, providing readers with a wealth of information and keen perspective.
Joining me today are JB Knox of 1313 Sports, who keeps readers informed with the latest news in the sports world, and provides us with opinionated analysis and has a very polished site which I recommend to all and Steve Hromin, of The Sportz Guru, based out of Nassau County in New York. He, too provides in-depth game breakdowns and predictions of every game and has coverage of all of the four major sports on his site!!! I highly recommend checking their sites out and brushing up on your sports knowledge through the eyes of these sports fanatics.
So without further ado, here are the NFL Week 13 Power Rankings. Comments and debates are highly recommended and encouraged on these websites!!! Hope You Enjoy!!!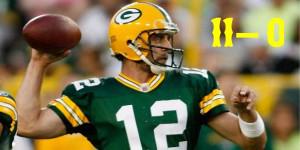 The Packers are 11-0 and rolling. The only thing that can stop them from perfection is themselves...
TEAM RECORD COMMENTS
1. Packers

11-0 What can I say? The Packers are 11-0, and may be the most well-rounded team we've seen in a while. They lead the league in 6 different offensive categories (Have I mentioned that they average 35 points per game?). Of course, they are led by Aaron Rodgers, who leads the league in almost every stat category, and is on pace to have the best season a quarterback has ever had. If Calvin Johnson is Megatron, Rodgers is Optimus Prime.
Sam's Sports Brief
@SamsSportsBrief
2. Saints

8-3 It's all about the weapons. Jimmy Graham (6-6, 260) leads the team with 67 receptions and 957 yds, Darren Sproles continues to be a spark-plug and a so-called one-dimensional offense is out-rushing their opponents this year. The Saints are hitting their stride just in time for the stretch run. 
@theknoxscore
1313 Sports
3.Patriots

8-3 The Pats are coming off a win @ KC last week. They looked dominant on both sides of the ball and were able to beat this sinking Chiefs team. With Jamaal Charles, Matt Cassel, and Eric Berry all out, I'm not surprised the Pats beat 'em like this. Still, the Pats are a dominant team and can beat anyone provided they're on top of their game. Next week, the Pats take on the the Colts at home.
The Sportz Guru
@TheSportzGuru
4. 49ers

9-2 The 49ers showed their true colors (red and gold, right?) during a 16-6 loss at the hands of the Ravens. Their usually magnificent offensive line sputtered, and Alex Smith was sacked an uncharacteristic 9 times. Could the 49ers finally be falling off the mountain? When they play the Steelers in 3 weeks, we will know if they are the real deal or no deal. 
Sam's Sports Brief
@SamsSportsBrief
5. Steelers

8-3 The Steelers are in the top 6 in every major defensive category in the NFL. Big Ben has found an emerging star in Antonio Brown and they are nearly doubling their opponents 41-24 in passing plays of 20 yards or more. Can you say Speedy wide-receivers? 
@theknoxscore
 1313 Sports
6.Ravens

8-3 The Ravens won the Harbaugh Bowl last week 16-6. Although the 49ers are still ranked ahead of them, they're a force to be reckoned with in the AFC. The defense, old as it is, can stop any offense in the league. Baltimore has an easy game against the Browns next week. 
The Sportz Guru
@TheSportzGuru
7. Texans

8-3 Houston we have a problem: Our starting quarterback (Matt Schaub) is out for the season, and now so is our backup (Matt Leinart). Now our starter is 5th-round draft pick T.J. Yates. Although this is true, a Texans' team that leads the NFL in total defense and is 3rd in rushing offense should be just fine. Sam's Sports Brief 
@SamsSportsBrief
8.Falcons

7-4 Winners of 5 of their last 6 games, a favorable schedule down the stretch and injuries/suspensions to their two major obstacles for the NFC Wild Card has the Falcons looking good for a late run. They take their 2nd ranked rushing defense against A. Foster and the QB-less Texans this week for a smash-mouth battle. 
@theknoxscore
 1313 Sports
9. Bengals

7-4 The Bengals pulled out a close win last week over Cleveland. The Dalton to Green connection is getting stronger every week. This team really turned it around this season with a rookie QB at the helm. Next week's matchup is against the Steelers in Pittsburgh.
The Sportz Guru
@TheSportzGuru
10.Cowboys

7-4 The 'Boys barely escaped the upstart Dolphins on Turkey Day, winning 20-19 on a last-second field goal. They are now on a surprising 4-game winning streak, and lead the NFC East. If the Cowboys can keep this up, then maybe they can escape the label as the Kim Kardashian's of the NFL. Sam's Sports Brief 
@SamsSportsBrief
11.Bears

7-4 Yes, I know Cutler may be done for the year, but they have 4 very winnable games left on the schedule vs KC, Denver, Seattle & Minnesota. They still have the special teams of Hester and the Urlacher-led defense holding them strong. Don't count them out just yet. @theknoxscore 1313 Sports
12.Lions

7-4 The Lions got their asses handed to them against the Packers last week. Plus, Suh got suspended 2 games for his malicious hit on a Green Bay player. They are still in the Wild Card race, but they'll have to keep it going in order to secure that spot. Next week, they face the Saints in NO.
The Sportz Guru
@TheSportzGuru
13. Giants

6-5 The Giants are doing what they do. They trick us with a stellar start (6-2), and then they stop winning and end up on losing streaks and get cut out of the playoff picture. Eli Manning is doing his job, but his supporting cast and defense may need some clues on how to step up their game. Here's a start: Giving up 49 points against the Saints on Monday Night Football is unacceptable. Sam's Sports Brief 
@SamsSportsBrief
14.Raiders

7-4 Palmer has won 3 straight games and the defense is in the top 5 in sacks with 32. The trio of Wimbley, Seymour and Kelly has seemingly flown under the radar this year. Janikowski gives them the ability to score once they reach the 35 and if they could only cut down on their league leading 109 offensive penalties, they'd be a worrisome bunch come playoff time, assuming they can hold off Tebow. 
@theknoxscore
 1313 Sports
15.Jets

6-5 The Jets got lucky last week. Bills kicker Ryan Lindell muffed a kick which gave them great field position at midfield. Plus, Stevie Johnson wasn't able to haul in the game-winner TWICE last week. Although, the second one was behind him. Regardless, this is an up-and-down team that needs to become consistent in order to secure a playoff spot. Next week they face the 'Skins in Washington.
The Sportz Guru
@TheSportzGuru
16.Broncos

6-5 It's official: Tebowmania has begun. Tim Tebow is now 5-1 as a starter, and now has the Broncos at 6-5 and just 1 game back of the Raiders for the division lead. There is no doubt that Timmy Tebow has given a breath of new life to the entire Broncos' Organization, but has also revolutionized the way we look at the quarterback. Keep Tebowing, keep Tebowing. Sam's Sports Brief 
@SamsSportsBrief
17. Titans

6-5 So, Chris Johnson has 2 100 yard rushing games in his last three and they face a weak Bills run defense this week on the road. They are within striking defense of division leading Houston and their depleted QB core. This week is a must win game for them to keep pace. 
@theknoxscore
 1313 Sports
18. Bills

5-6 The Bills didn't play their best last Sunday. They aren't looking sharp at all right now. Hopefully, they can turn things around and beat out the Jets for the Wild Card spot. Next week, the face the Titans at home.
The Sportz Guru
@TheSportzGuru
19.Buccaneers

4-7 The Bucs are now competing to be the runt of the NFC. They are currently on a 5-game slide, and while their schedule was tough (Bears, Saints, Texans, Packers, Titans), there are no excuses for a 5-game losing streak. Just stop losing it reeks! Sam's Sports Brief 
@SamsSportsBrief
20.Chiefs

4-7 Easily the streakiest team in the NFL gets to start Kyle Orton vs his old team in Chicago this week. Can Orton get the Chiefs to score more than 10 points? Their is a FG-kicker in Oakland nearly averaging the same number of points as your whole team!!! The stout defense of the Bears should have a field day.
@theknoxscore
 1313 Sports
21.Cardinals

4-7 Last week, the Cards edged out a win against the Rams. Patrick Peterson returned another punt for a TD, his 4th of the year. Beanie Wells had 228 yards rushing. They won't make the playoffs this year, but I see them upsetting some teams and causing a stir in the NFC. 
The Sportz Guru
@TheSportzGuru
22. Eagles

4-7 The Eagles got crushed by Patriots at home this week. Michael Vick was out again with a rib injury, but shouldn't the 'Dream Team' be able to pull out a win against the NFL's best? The Eagles are also a horrific 1-5 at home, which is the 2nd worst in the league only to the winless Colts. At 4-7, there are truly no playoff chances for the 'Dream Team', so don't be surprised to see Andy Reid lose his job at the end of the season. Sam's Sports Brief 
@SamsSportsBrief
23. Browns

4-7 Their next two games are vs the Ravens and the Steelers. Get the ice baths ready boys. This very vanilla offense has Peyton Hillis back, but has he really shown any ability to play like a man this season? No, and if you're targeting Benjamin Watson more than Cribbs, you may as well cal Tom Watson now and get ready for some early golf lessons. 
@theknoxscore
 1313 Sports
24.Chargers

4-7 The Chargers are playing awful right now. Rivers is turning the ball over, nothing is getting done on the ground, and the defense is stinking up the place! Maybe next year, Norv. 
The Sportz Guru
@TheSportzGuru
25. Redskins

4-7 The almighty Rex Grossman went into Seattle, and won! He got a win! It looks like the 'Shanahanagins' are going to stick with Rex for the rest of the season unless Bad Rex shows up, at which point another switch to John Beck would seem likely. Here's the Redskins quarterback equation for those who are confused: 
Good Rex= Win, Bad Rex= Lose, John Beck= Self-Destruction, Rex Grossman/John Beck 2-headed monster= Just. Plain. Bad. Sam's Sports Brief @SamsSportsBrief
26.Panthers

3-8 Can the Panthers climb out of the NFC South cellar this week? Their 28th ranked run defense isn't a good matchup vs LaGarrette Blount and his thigh striding ways. Let's hope the front-office has some defensive lineman in mind for next season.
@theknoxscore
 1313 Sports
27.Seahawks

4-7 The 'Hawks were edged out by the 'Skins last week. This snapped the Redskins' 5 game losing streak. I don't see the Seahawks doing anything this year. Next week, they take on the Eagles at home.
The Sportz Guru
@TheSportzGuru
28.Dolphins

3-8 The surging Dolphins nearly knocked off the Cowboys on Turkey Day. This loss marked the end of a 3-game winning streak that actually made Dolphins' fans excited (first ever last-place team to make the playoffs, anybody?) Now the streak is over, so…the Dolphins…eh… Sam's Sports Brief 
@SamsSportsBrief
29. Jaguars

3-8 Blaine Gabbert gets benched, Del Rio gets fired and MJD keeps running!!! The 3 most exciting things I've said aloud about the Jags all season.
@theknoxscore
 1313 Sports
30.Rams

2-9 The Rams were good last year…but that was last year. Next week, they face the 49ers on the road.
The Sportz Guru
@TheSportzGuru
31.Vikings

2-9 The 2-9 Vikes lost for the 3rd time in a row on Sunday, this time to the Falcons. This was a game in which the Vikings actually showed some life towards the end of the game, but, better luck next year, I hope they're not this putrid in Los Angeles… Sam's Sports Brief 
@SamsSportsBrief
32.Colts

0-11 21 point underdogs this week at New England!!! Really the only question in this game is this. Will Tom Brady and the Pats break the Saints mark of 65 points vs the Colts from earlier this season? 
@theknoxscore
 1313 Sports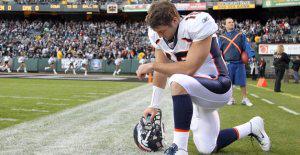 "And Tebow Shall Lead Them."
So it's stretch run time in the NFL and the games are getting magnified on a week-to-week basis. The teams are fighting for coveted home-field advantages and playoff byes, while the lower tiered teams are already trying to figure out who has what it takes to stay on the roster for years to come. The Packers had a unanimous #1 ranking and I'm not sure even a single loss will hurt them in that spot. The Saints and Pats are putting up points at an alarming rate and what is going on in Denver? Tebowmania is sweeping the nation, as he is 5-1 as a starter.The Coach's hot seats are starting to boil over as well. Del Rio is gone in Jacksonville, Andy Reid and Norv Turner are both hearing the chants scream loud from their home crowds and more rookies (aka Patrick Peterson) are starting to make a name for themselves. Lucky number 13 is in the books. Let's see how the playoff picture unfolds this coming Sunday!!!