This is the Fourth Edition of the NFL Power Rankings and I am pretty excited to have a knowledgeable football analyst with me to help with the rankings. We have taken the average of the two analysts votes. Each analyst has ranked the teams as they choose 1-32 and we have added comments for each team. I am Sam Brief, of
Sam's Sports Brief
, a 14 year old who created Sam's Sports Brief to give you a refreshing new perspective on the wild world of sports. I hope to someday become a sports broadcaster or a sports writer and I am following my dreams, providing readers with a wealth of information and keen perspective.
Our second analyst today is Steve Hromin, of The Sportz Guru, based out of Nassau County in New York. He, too provides in-depth game breakdowns and predictions of every game and has coverage of all of the four major sports on his site!!! I highly recommend checking their sites out and brushing up on your sports knowledge through the eyes of these sports fanatics.
So without further ado, here are the NFL Week 10 Power Rankings. Comments and debates are highly recommended and encouraged on these websites!!! Hope You Enjoy!!!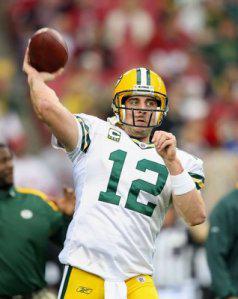 Aaron Rodgers on pace to have the best season for a quarterback in the history of the NFL... Oh and his team is 9-0.
TEAM RECORD COMMENTS
1. Packers

9-0 The
Packers are still the only undefeated team in the league. Aaron Rodgers is having a career year, but can he lead them to an undefeated season? Only time will tell. The Sportz Guru @TheSportzGuru
2. 49ers

7-1 The astounding 49ers won against Washington this week. They lead the league in rush defense, allowing only 70 yards per game. Also, the San Francisco defense leads the league with an average of giving up 14 points per game. In the past 3 years, the defenses who gave up less than 15 points per game were the Steelers, Jets, and Steelers again. All of those teams went on to the Conference Championship Game.
Sam's Sports Brief
@SamsSportsBrief
3. Ravens

6-2 The Ravens were able to sweep the Steelers this season. That took some heart and defensive prowess. Ray Lewis and Ed Reed are the leaders on this team, and boy are they doing a great job.
The Sportz Guru
@TheSportzGuru
4. Steelers

6-3 The Steelers are coming off of a heartbreaking loss at home to the Ravens. The Steelers fought hard in this game, but in the end their defense gave up a 92-yard game winning drive. As we know, this is an indisputably inconsistent team, but, with a top 5 scoring defense and a top 3 offense (in terms of yards), how can they not be #4?
Sam's Sports Brief
@SamsSportsBrief
5. Giants

6-2 Giants fans were in for a wild ride last Sunday when Manning threw the go-ahead TD pass with one minute remaining. The Giants defense kept them in this game, and Manning was able to deliver at the end when it really counted. Tom Brady material? No, but pretty dang close.
The Sportz Guru
@TheSportzGuru
6. Patriots

5-3 For once, there is a severe sense of concern in Foxboro. The Patriots are on a 2-game losing streak for the first time since 2009, and their offense has been stagnant. They have scored 20 points or fewer 3 games in a row, the first time in 8 years. I remind you: TOM BRADY IS THEIR QUARTERBACK. If they play like this with terrific Tom taking snaps, then, that is trouble. The Patriots are 5-3, and if they lose this week, will be in 3rd place with a 5-4 record. Panic time…Sam's Sports Brief
@SamsSportsBrief
7. Lions

6-2 The Lions were off this week and face the Bears next week.
The Sportz Guru
@TheSportzGuru
8. Bengals

6-2 The Bengals are 6-2. THIS IS NOT AN ILLUSION. They are in first place in the toughest division in the NFL, and their 2 best offensive players are rookies. When they lost their franchise quarterback (Carson Palmer), and their 2 best receivers (Chad Ochocinco and Terrell Owens) there seemed to be no hope in Cincy. Andy Dalton has stepped up, A.J. Green has stepped up, and their defense (2nd in total defense) is playing better than ever.Sam's Sports Brief
@SamsSportsBrief
9. Saints

6-3 The Saints played the Bucs last week and beat them at home 27-16. This offense will keep them in ANY game. If the defense just gets a bit better, watch out.
The Sportz Guru
@TheSportzGuru
10. Falcons

5-3 The Falcons are coming off of an expected win in Indianapolis. The Falcons are a very complete team, with Matt Ryan, Michael Turner, and Roddy White leading the charge on offense, this is a team that is firing on all cylinders. I would like to see the defense step up, though.Sam's Sports Brief
@SamsSportsBrief
11. Bills

5-3 The Bills lost to the NY Jets last week because they only scored 11 points. In their wins, they've scored a lot more (around 25). If they want to be a playoff team, 25 is the number they want to reach every game.
The Sportz Guru
@TheSportzGuru
12. Texans

6-3 The Texans are coming off of a 30-12 win against the Browns. The Texans are 6-3, and seem to be finally getting over the hump. All of this is happening without Andre Johnson. Since his injury, Houston is 4-2, and looking good. Just imagine how good they'll be with their superstar… Sam's Sports Brief
@SamsSportsBrief
13. Jets

5-3 The Jets beat the Bills 27-11 last week. This keeps them in the race for the division with the Pats and the Bills. I think this Jets team has found it's swagger back.
The Sportz Guru
@TheSportzGuru
14. Bears

5-3 The Bears are coming off of a mammoth win over the Eagles in Philly. The Bears are now 5-3 and seem to be clicking on all aspects of the game. Matt Forte is second in the NFL in rushing yards, and in NFL history, no running back has accounted for a higher percentage of his teams' offense. Jay Cutler has also turned around his game, and is looking like a star quarterback for the first time since he arrived in Chicago. Remember when the Bears were 2-3? I sure don't.Sam's Sports Brief
@SamsSportsBrief
15. Chargers

4-4 The Chargers lost to Green Bay last week mainly because Rivers threw 3 picks, 2 of 'em going for Pick 6′s. The Chargers haven't beaten anybody "credible" so far this year. They aren't a good team.
The Sportz Guru
@TheSportzGuru
16. Buccaneers

4-4 The Bucs are coming off of a loss at the hands of the charging Saints. Listen, this is a mediocre team with a good quarterback, a decent running back, and a weak supporting cast. Mix that in with a defense that is 29th in total defense, and you have a team that will simply hover around .500 and never make that turn into greatness. Sam's Sports Brief
@SamsSportsBrief
17. Chiefs

4-4 I don't know what happened to the Chiefs last week…they got blown out by MIAMI 31-3! Kansas City gave Miami their first W of the season, which isn't something to be proud of.
The Sportz Guru
@TheSportzGuru
18. Eagles

3-5 Philly is coming off of a Monday Night loss at home to the Bears. Just when people thought this team was going to turn around, they take a step back with a lackluster performance against Chicago. I don't think the Eagles are a playoff team, and, even though they may fool us at times with their exeptional performances, they will never fool me. Sam's Sports Brief
@SamsSportsBrief
19. Cowboys

4-4 The Cowboys were on their bye this week. The 'Boys are 2 games back of the division leading Giants. If they want to move ahead in this division race, Tony Romo needs to step up his game in the 4th quarter, and Miles Austin must stay healthy. Sam's Sports Brief
@SamsSportsBrief
20. Titans

4-4 The Titans lost to the Bengals last week by 1 TD. If this team want's to be a playoff team, CJ needs to pick it up and have some 100-yard games. Until then, this team isn't going anywhere.
The Sportz Guru
@TheSportzGuru
21. Redskins

3-5 The 'Skins took another step back with a loss in San Francisco. Since John Beck took over as starter, they have been just fantastic with an 0-3 record! It's either Good Rex, Bad Rex, or John Beck (or David Garrard)… It's decision time for the shenanigans, or should I say
Shanahan
agins?Sam's Sports Brief
@SamsSportsBrief
22. Raiders

4-4 Wow, this is bad. The Raiders lost to the BRONCOS last week 38-24. I don't know what to think of this team anymore. I heard Darren McFadden is out this week vs. the Chargers, which doesn't help.
The Sportz Guru
@TheSportzGuru
23. Panthers

2-6 Cam Newton and the Panthers are coming off of their bye week. Although Cam Newton has looked great this year, breaking records upon records, the rest of the Panthers have been slightly below par. They are 2-6, and Newton's supporting cast better step it up if they want to finish with a decent record. Sam's Sports Brief
@SamsSportsBrief
24. Browns

3-5 The Browns lost to the Texans 30-12. Who expected them to win this game anyway? Peyton Hillis is turning into an a**hole.
The Sportz Guru
@TheSportzGuru
25. Broncos

3-5 Tim Tebow Tebowed his way to a Broncos victory against the Raiders. I am one of the few Tebow believers. He lacks some of the skills of a established NFL quarterback, but man, is this guy a winner or what? The Broncos are a subpar team overall, as only the 0-9 Colts have allowed more points this year than the Broncos. Sam's Sports Brief
@SamsSportsBrief
26. Cardinals

2-6 The Cardinals won in glorious fashion last week (Patrick Peterson punt return in OT). I see a lot of potential for him as well as this team going forward.
The Sportz Guru
@TheSportzGuru
27. Jaguars

2-6 The Jags are coming off of their bye this week. With Blaine Gabbert's mediocre play leading the Jaguars to a 2-6 record, the question must be asked: Why on Earth was David Garrard released?Sam's Sports Brief
@SamsSportsBrief
28. Rams

1-7 The Rams almost had their 2nd win of the season, but they lost to the Cardinals in OT. I can't describe how bad this team is.
The Sportz Guru
@TheSportzGuru
29. Vikings

2-6 The Vikings are another team that had their bye this week. So far, Christian Ponder has looked first-rate, and he will face a gigantic test this Monday Night in Green Bay. Can the 2-6 Vikings turn their season around?Sam's Sports Brief
@SamsSportsBrief
30. Seahawks

2-6 The Seahawks are quietly descending to the bottom of the power rankings. The Seahawks are 30th in the NFL in total defense. Blend that with the Tavaris Jackson/Charlie Whitehurst 2 headed monster, and you have a somber, morbid story.Sam's Sports Brief
@SamsSportsBrief
31. Dolphins

1-7 Hooray! The Dolphins won a game! They are now set to finish the season at an astounding 1-15. All is good in Miami, all is good. Sam's Sports Brief
@SamsSportsBrief
32. Colts

0-9 The Colts lost again, this time to the Falcons. With one more loss, the Colts will turn from a depressing soap opera to a total trainwreck. Sam's Sports Brief
@SamsSportsBrief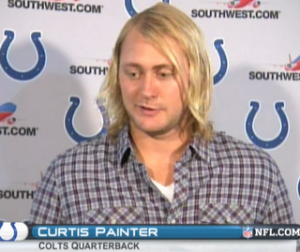 Is it just me, or does Curtis Painter not look like the stereotypical NFL quarterback?
This week was another interesting week in terms of individual rankings. Sam had the Giants at #4 and the Steelers at #5, while Steve had just the opposite. While Sam ranked the Patriots at #6, Steve had them drop all the way to #8. Sam had the Chargers at #14, and Steve ranked them at #17. One of the biggest disputes was the Redskins: While sam put them at #20, Steve had them at #24. Sam ranked the Vikings at #28, while Steve had more confidence in them, and put them at #25. Finally, Sam had the Rams at #27, while Steve ranked them #30. There were many contrasts between the rankings this week.
To close out, here are 2 riveting facts:
The odds of the Packers going 16-0: 6.4%. The odds of the Colts going 0-16: 2.2%
Let's see if history can happen from both ends of the spectrum.
By Sam Brief Sam's Sports Brief
By Steven Hromin The Sportz Guru
<a href="http://polldaddy.com/poll/5660119/">View This Poll</a>