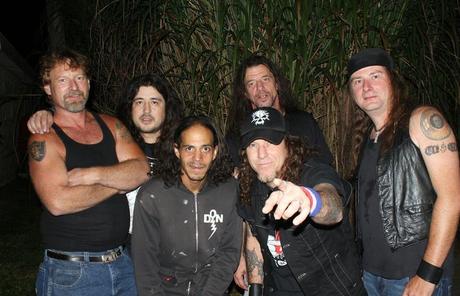 The THC-laced debut album from WEED IS WEED (members of PENTAGRAM, SPIRIT CARAVAN and EARTHRIDE), the cleverly and aptly titled Blunt Force Trauma, is out today via Ripple Music. The whole onslaught of stoner heaviness is playing in its entirety today on The Obelisk, which hails it has "raw stoner fuckery, riffs leading the way with punkish abandon and Sherman's distinctive weed is weed blunt force traumagravelly vocals tossing out simple but effective hooks."
Listen to Blunt Force Trauma in its entirety AT THIS LOCATION.
Blunt Force Trauma can be ordered directly through Ripple Music HERE.
Years of seismic rumbling have led way to the tectonic formation that is Weed Is Weed. Two legendary masters of Maryland Doom, Dave 'Sherm" Sherman and Gary Isom, come with a stoner/doom metal pedigree second to none. Sherm and Gary have been the creative catalysts in such genre defining bands as Pentagram, Earthride, and Spirit Caravan, and now they launch their newest, blazing heavy rock venture.  Having assembled their most blazing line-up ever, this group of musicians have crafted the perfect soundtrack for red-eyed blazers the world over with Blunt Force Trauma, which was originally released in January 2013 and sold only at live shows. Blitzed out, stoned heaviness, tales of reefer madness and alligator fights are all in order.
Sherm is completely shredding the vocals, undoubtedly turning in his best performance to date, as he is more than ably backed by the rip and tear of the triple-guitar attack courtesy of Gary on slide & lead guitar teamed up with Jason Fisher and Rob Portillo's riffing and rolling. Match that with the full on rhythmic assault of Darren Waters on bass, and the single-monikered Cougin on drums, and this band is ready to pummel the unsuspecting ear drums of those about to burn.
Weed Is Weed is:
Dave Sherman - Lead Vocals/ Guitar
Jason Fisher - Guitar
Darren Waters - Bass Guitar
Rob Portillo - Guitar
Gary Isom - Lead/ Slide Guitar
Cougin - Percussion
LINKS:
ripple-music.com
facebook.com/WeedIsWeed