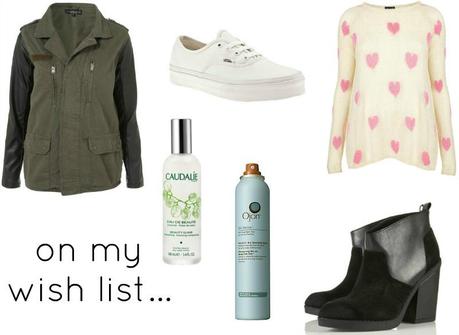 Jacket Topshop Trainers Vans Jumper Topshop Boots Topshop Ojon Dry Shampoo Caudalie Beauty Elixir
So a little variation on my Wednesday Wants post today! Its my birthday next month, so have been having a little think about what I can put on my 'list', and know for sure that the first thing will be a pair of Vans. I loved Converse/Dunlops when I was younger, and love that they are back with a vengeance! Have been dropping less-than-subtle hints to Rich, so fingers crossed. 
You may recognize the jacket above - Zara stocked an identical one not so long ago (you may have seen Louise off MiC coveting it) but it completely sold out before I could get my mitts on it. I've been reliably informed that Primark are also doing a similar one, but I love that Topshop do theirs in Petite - shorter jackets tend to look better on me. As for the boots and the jumper, well they're lush. I can see me getting lots of wear out of them both, so may pop them on my list. 
I slipped the Caudalie Beauty Elixir on the list, however I just couldn't wait any longer and finally gave in and bought it! I have put it off for so long I just had to bite the bullet. I've also heard amazing things about Ojon's products, especially their Dry Shampoo. I really don't like dry shampoo (the residue is gross and doesn't make my hair feel clean!) but have been told they have improved in recent years. Perhaps I will give this one a try and see how I get on - it would make my life so much easier; washing my mane everyday isn't a small feat!
Do you have/love any of these items?