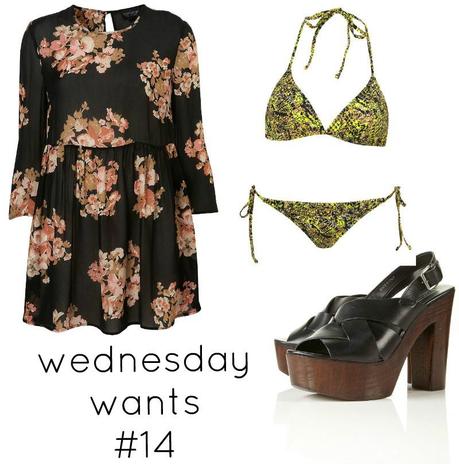 Yes, I know, it's not Wednesday! I totally forgot to post this yesterday but I figured better late than never. All the above are from Topshop (shock horror!) - I want to buy a new bikini for this summer (I go away in less than three weeks!) and love this one. Not sure how the colours will look IRL but definitely gonna check it out. Been eyeing up these heels for ages now, not sure I can manage the height but friggin love them! And this dress... I know it's pretty Autumnal, but I just love it. Will definitely be buying it to wear for work with some opaque black tights and heeled ankle boots! 
In other news... still no internet! BT is an absolutely joke. Hoping for this Friday, but have learnt not to get my hopes up - we'll see! This makes blogging extremely hard, as you can imagine, so please continue to be patient! Am off for a weekend of relaxation in Champneys with Rich's mom and sister this weekend, and can't bloody wait. We've had year 11's in college this week for 'taster days', and it is so tiring. As a teacher, I am constantly putting on a 'performance', but taster days even more so. It really is hard to be enthusiastic, smiley and on the ball when you teach the same lesson 5 times in one day! 
Bring on the treatments and relaxing in the pool so long I become a wrinkled prune!