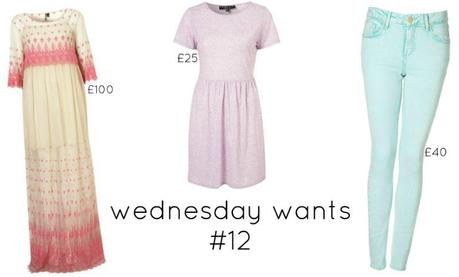 Limited Edition Embroidered Mesh Maxi Dress
Speckle Tee Mini Dress
Moto High Waist Peppermint Jamie Jeans
Three gorgeous pieces I'm lusting after this week. I suppose this post isn't entirely a 'wishlist' as I actually bought the jeans at the weekend - they are a gorgeous bluey greeny pastel color in real life, but also have a glint of neon about them! I know pastel and neon are a complete contradiction in terms, but somehow these jeans are both!
I know the maxi dress is a bit 'out there' but I am absolutely in love with it - if only I had a suitable event to wear it to (actually not sure what that would be?!) I would splash out the £100 for it. It's sheer from the knees down, gorg!
And the middle is a Topshop favorite in a new summer shade, I tried it on over the weekend but couldn't justify buying both the jeans and the dress seeing as we move next week. Sob!
Which of three pieces is your favourite?