I still haven't quite gotten over the fact that things like avocados and bananas are now 'local food,' and sometimes very local. It's a little weird to check the label on my vinegar and see that it has come from France while everything in the guacamole, even the salt, came from right around here.
If only there were corn chips to go with it! But, happily, toast cut into strips is a good substitute. So there's that.
And, there are the bananas. Bunches and bunches of bananas. When we went to the lake several months ago, I left a bunch of them on the porch of the cabin we were staying in, and a group of baboons (what's the proper term for a group of baboons?) came and had a party with them.
Apparently, leaving bananas out is basically a tacit invitation to any baboons that may be hanging around.
Because they are so plentiful, I find myself having to do plenty of baking with bananas, especially now that it's getting colder here. (When it was hot, we made banana shakes. Yum.) Last week, I made these muffins, and almost immediately had to make more.
These aren't the kind of muffins that are all "applesauce instead of oil" and "honey instead of sugar." Oh no. They are not trying to impress you with how healthy they are. But they are trying to impress you with how tasty they are.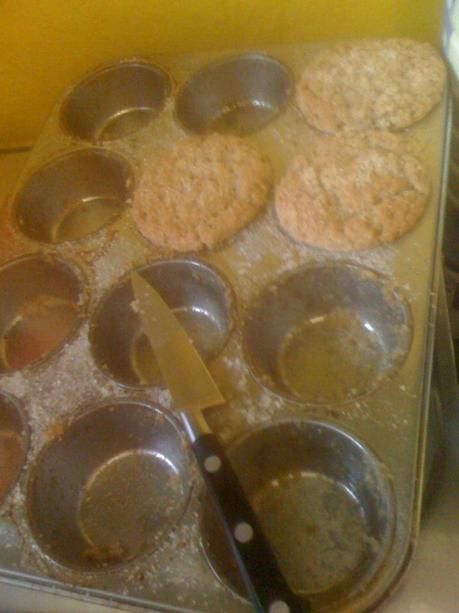 See? Tasty.
Delicious Banana Muffins
(adapted from an Ina Garten recipe)
makes 12 standard size (not giant) muffins
Preheat the oven to 350F
Grease a 12 cup muffin tin with butter and sprinkle lightly with granulated sugar. (Prevents sticking and is much nicer than dusting with flour.)
Combine in a large bowl:
1 and ½ cups flour (may use up to ½ whole wheat flour)
½ cup rolled oats
½ cup dried unsweetened coconut
1 cup sugar
1 tsp. baking powder
½ tsp. baking soda
¼ tsp. salt
In a separate bowl, thoroughly combine:
1 egg, beaten
½ cup butter, melted and cooled slightly
¼ cup plus 2 TB milk
3-4 bananas, mashed (about 1 cup)
1 tsp. vanilla
Add blended wet ingredients to blended dry ingredients and stir until just combined. Do not beat. Divide batter evenly among the prepared muffin cups and bake immediately for 25-30 minutes, or until a toothpick inserted into a center muffin's center comes out clean.
Cool in muffin tin on rack.