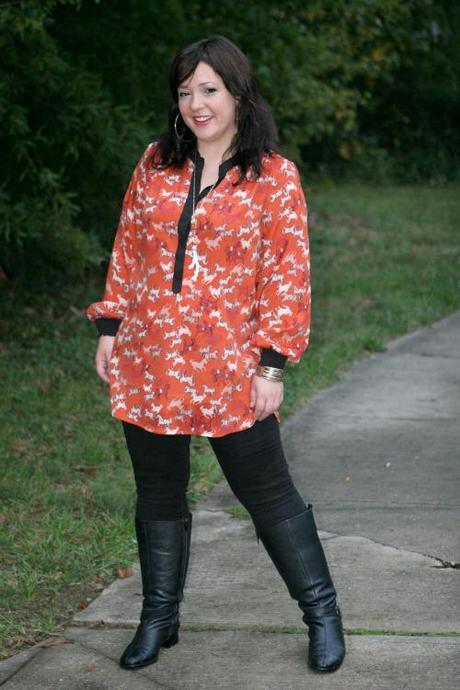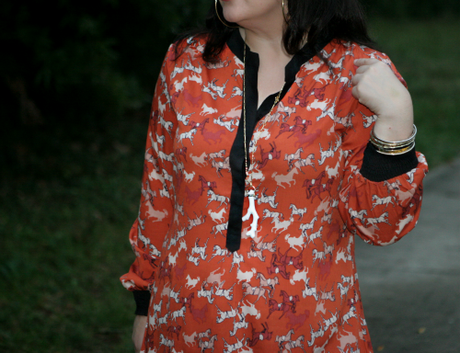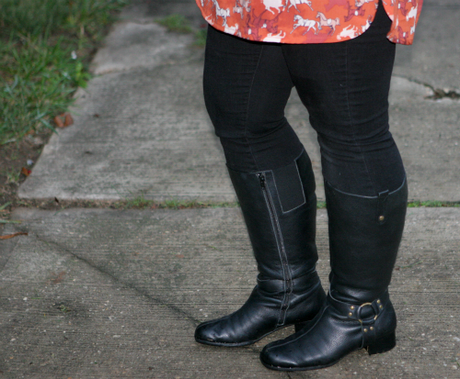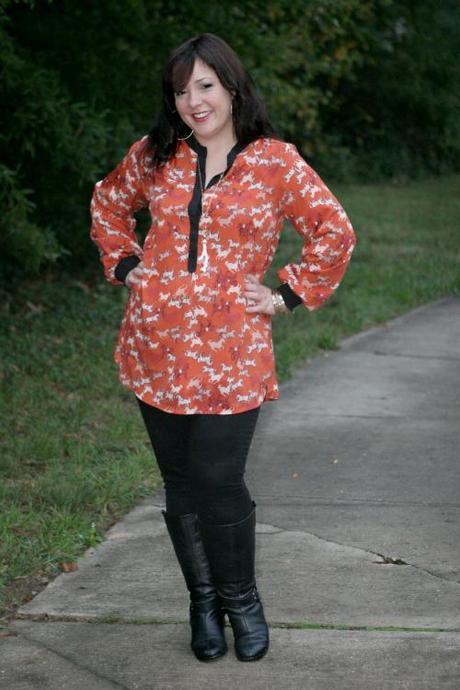 Shirt: Simply Be c/o Gwynnie Bee
Jeggings: Old Navy (similar)
Boots: Fitzwell
Necklace: Stella and Dot c/o Kristin Biggs
Some days you just want to be able to throw on an outfit and go; on days like this I immediately go for tall boots, skinny pants, and a flowing top. I just received this tunic from Gwynnie Bee yesterday and think it is too cute. Come on now, how can you resist a top with horsies all over it? I'm pretty excited for Gwynnie Bee's new arrivals - peplums, sequins, wrap dresses and more! Not only that, Gwynnie Bee tweeted yesterday that they just placed an order for leather jackets! Swoon! And speaking of Gwynnie Bee...
Gwynnie Bee Free Trial Offer
Through October 31, 2012 if you sign up for Gwynnie Bee and mention Wardrobe Oxygen you get a free, 30-day trial subscription (up to 5 items at a time)! No risk, no commitment at all. You just have to sign up for the trial prior to the end of this month (October). Cancel on or before your 30 days are up and you won't be charged (Gwynnie Bee will need their clothes back though). New Gwynnie Bee Guests, request an invite (the site is invite-only at this time), tell them that Wardrobe Oxygen referred you, activate your account, browse around and give it a try. You will receive an email with the invite and the trial instruction. Existing Gwynnie Bee guests: you are also eligible to receive the 30 day free trial. You can use your current guest account to browse, then go to the "subscribe" part of the site to activate your trial. Remember to tell them Wardrobe Oxygen referred you so you can get the trial! As a reminder, this works with plans up to five pieces at a time.
If you want to know more about Gwynnie Bee, check out my review of the program here. Do know that I receive a commission for each person who signs up for Gwynnie Bee, however I have chosen to partner with them because I think the program is awesome and I love how they treat their customers... and come on, gotta love a company with horsie shirts!