Goodness, it is awfully close to Christmas now, isn't it? I'm off to see the Louis Wain exhibition, because nothing says Christmas like psychedelic cats. Before I go, I have time to bring you this little poppet and her dog...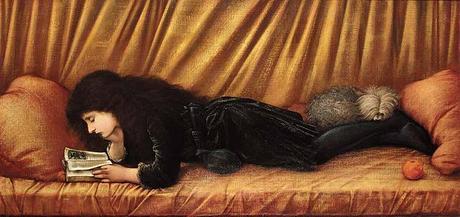 Katie Lewis (1886) Edward Burne-Jones
Twenty-one years ago, this little darling came up at auction and so there is some in-depth information in the Christies catalogue. I love this picture because, unlike other portraits of children of the era, it probably reflects what little Katie looked like most of the time. Of course, it's laden with meaning, what with the apple, the book and that little tiny dog. By the look of the provenance, it actually remained in the family until 1995, passed from Katie's father the eminent solicitor Sir George Lewis to his widow, to Katie and then to her (possibly great) niece Elizabeth Wansborough. It was Elizabeth's posthumous sale that released it from the family in 90s.  I remember seeing it first at the big Burne-Jones exhibition in Birmingham around the millennium and thinking it was absolutely delightful, cute without being cloying and reminded me of being a young bookworm myself.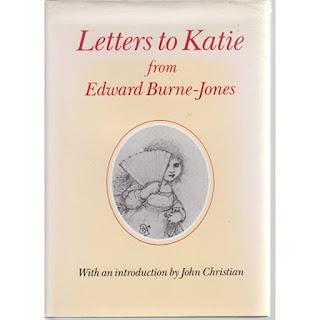 I'm sure that we've all got a copy of this on our bookshelves somewhere. Burne-Jones's little illustrated letters to his child-friend Katie are absolute gems, feature many escapades involving the painter and his many objects of humour, including himself and Katie...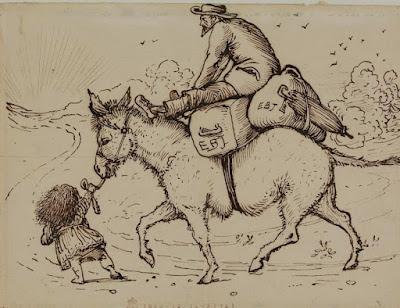 The drawing above was accompanied by a note requesting that little Katie meet him at the station when he visited, with a donkey, and that he would like apricot jam with his breakfast.  Katie would have been around 6 years old at the time of the letter, so the illustrations of the game little girl taking on ridiculously adult tasks have a 'Giles' quality which is very appealing. Katie kept all of the letters in an album which she bequeathed to the British Museum shortly before her death, in 1960.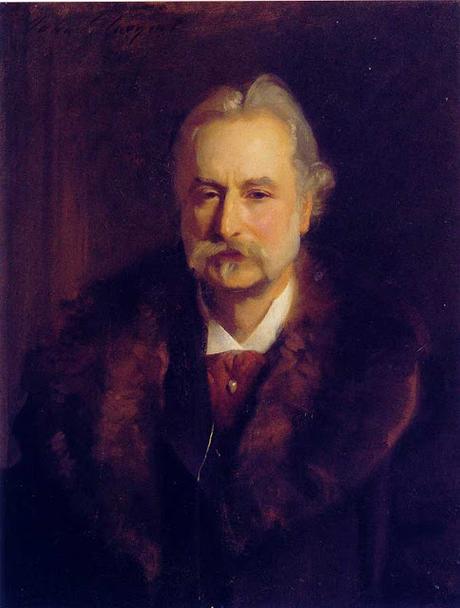 Sir George Lewis (1896) John Singer Sargent
Katie came from an interesting family.  Her father was George Lewis, a solicitor so gifted at defending rich, illustrious and artistic clients that it earned him his knighthood from a very grateful King. He was so famous, he got name-checked in a Sherlock Holmes story, which is very swish and makes you suspect he knew exactly where all the skeletons were closeted...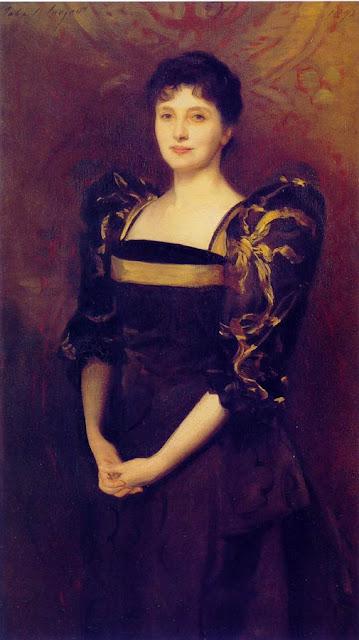 Mrs George Lewis (Elizabeth Eberstadt) (1892) John Singer Sargent
George's first wife died shortly after giving birth to their daughter, Alice. Katie was born to Elizabeth, the second wife who also posed not only for Sargent but also in a far less formal portrait, for Burne-Jones...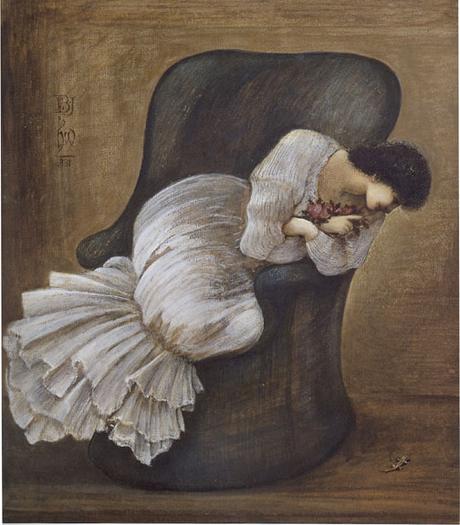 Portrait of Lady Lewis (1881) Edward Burne-Jones
I wonder if this portrait is connected to the one of Katie and I also wonder if it reflects how the artist saw the two of them.  In Lady Lewis's portrait, she is curled in a chair, looking down at a tiny lizard.  Her pose has been described as
fearful
, obviously expressed in humor by the artist. In Katie's portrait, the little girl is reading George and the Dragon with a very intense expression as if it was an instruction manual.  There is no doubt that Katie is ready, willing and able to take on a dragon, whereas her mother retreats from a tiny lizard. Burne-Jones wrote also to Lady Lewis, but she burnt his letters after his death so the content of them can only be imagined. They certainly did not get donated to the British Museum...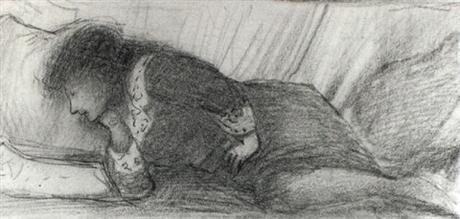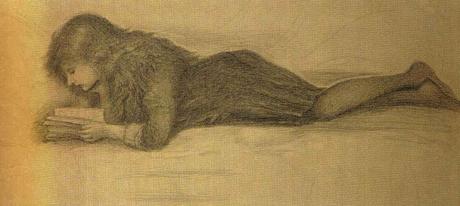 Studies for the Portrait of Katie Lewis
There are a couple of pencil sketches that were made in preparation for the portrait, and neither contain a dog. Interestingly, the dog is not a elegant hound, but a quick, fluffy little pup, still for a moment, just like Katie.  As a young woman, Oscar Wilde described how 'her fascinating villainy touched my artistic soul' and she frightened the life out of Burne-Jones, the Lewis's house-guest, with her boisterous affection.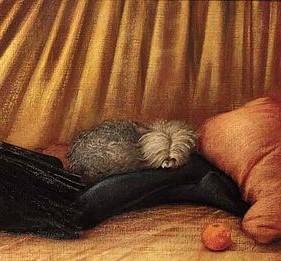 I am very disappointed that Katie never wrote her memoirs as she met some of the most fascinating men and women of the early twentieth century and was apparently lively, intelligent and witty.  Interestingly, Burne-Jones hung on to this portrait of her until she was 19 years old, when he finally gave it to the family.  Possibly, despite being terrified by her, he was too attached to the memory of that little girl to want to part with her. I can definitely see why.
See you tomorrow.