Wedding Photography
Image of the Week
In wedding photography you get to photograph ones of the keystone moments in people's lives and tell the story of how their day unfolded. I absolutely love this photo of John and Sara dancing with their daughter during their wedding party. Nor only is their little girl adorably cute (and she is!) but I just love the look of happiness and excitement on John's face. You can only have this kind of look on your face when you are astoundingly happy and totally in love. One of my favorite aspects of the photo is the way that his little girl is looking at her own hands as she claps – trying to get it just right as she joins in. We get the back of Sara on the left, but even though we can't see her face we can tell that she has a huge smile.
I love parties like the one Sara and John had – wall to wall people dancing, clapping and singing. That is how every great day should end.
Would you like to see more of our wedding photography? If so, just have a peek through our blog and see some of the other amazing weddings we have had the privilege to photograph.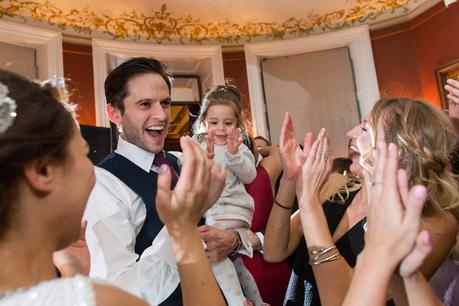 If you are getting married soon and you are looking for fun, natural documentary wedding photography that can sometimes be a little bit quirky – why not give us a shout and we can chat about how we can help!