The title is a little bit of a fib! I am simply going to show you some great wedding guest looks for spring time! Obviously some of them can overlap into summer but these are a few of my favorite out there at the moment.
I have a wedding I'm attending this weekend so this is all linked to that, because I love to create an outfit moodboard (you might have noticed) as it gets the clogs turning for what I'm going to wear to this wedding!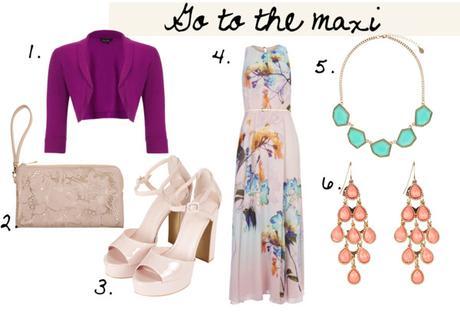 1. Phase Eight Bolero Jacket - £50.00 2. Oliver Bonas Ava Clutch - £32.00 3. Topshop Lena 2 Patent Platforms - £56.00  4. Wallis Floral Maxi - £85.00  5. Accessorize Abstract Collar Necklace - £12.00  6.  Accessorize Medium Vintage Chandelier Earrings - £10.00
Here is look number 1!  A maxi ensemble by Wallis.  Now, usually I don't 'do' maxi dresses because being only 5ft4 I can sometimes look a bit daft and when I'm a feeling a bit bigger I tend to look more like an umpa lumpa than a floating goddess...! That aside this is the first maxi dress I've seen in awhile and thought 'ooo I could wear that'.  I like the cut of it and of course the pattern screams spring time! Plus this dress will work for so many occasions throughout the two sunny seasons, so a good type of wardrobe investment. I've simply added some nude/pink patent heels (super high for us vertically challenged) then played on the colours from the dress with the various accessories.  B-e-a-u-t-i-f-u-l!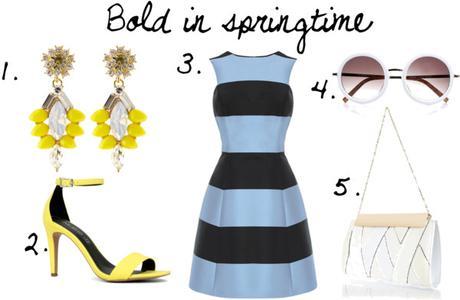 1.Coast Yellow Sparkle Earrings - £15.00 2. Aldo Ibenama High Sandals - £70.00 3. Coast Ellie May Stripe Dress - £150.00 4. River Island Round Sunglasses - £13.00 5. River Island White Criss Cross Clutch Frame Bag - £25.00
I saw this dress in Coast the other day whilst hunting for wedding guest dress and completely fell in love.  I am loving big striped dresses right now and even though they aren't meant to be the most slimming I can't help but lust over it. Coast have another gorgeous black and white striped dress with some cheeky floral patterning, but this one stood out as throwing in lemon tones makes it individual.  The sunnies were just for  bit of fun but those sandals are perfect for any summer occasion.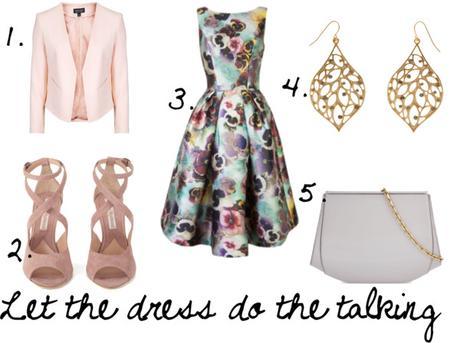 Floral midi dress / Topshop slim fit jacket, £60 / Vivienne Westwood pink peep toe shoes / MaxMara chain handle purse / Monsoon yellow gold earrings, £17
Oh I do like my florals don't I?! I saw this dress when Chi Chi launched it and knew I had to have it!  I now have it hung up ready to be worn. I was going to wear it for this wedding but I think I may save it for the UK Blog Awards as it's so glam. This look keeps things quite classically dainty without having bold accessories, they're all pastel shades keeing the look very pretty and feminine.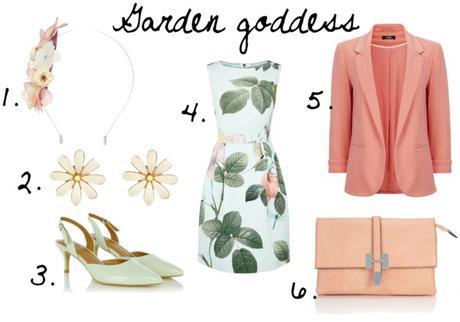 1. Crown and Glory Country Garden Fascinator - £30.00 2. River Island White Chunky Daisy Studs - £6.00 3. Coast Serena Slingbacks - £55.00 4. Ted Baker Eleta Distinguishing Rose Dress - £199.00
5. Wallis Coral Pocket Detail Ponte Jacket - £40.00 6. Wallis Peach Shoulder Bag - £38.00
Whilst hunting for bridesmaids dresses in Nottingham I saw that Ted Baker had all their SS15 items out, my Mum picked up this dress and I couldn't help but think that this is an ideal wedding guest dress. Initially I wasn't sure on the large garden inspired print but the more I looked the more I liked. Working on the greens I decided pastel green slingbacks work perfectly and give this footwear look a different twist to the others.  I debated about a fascinator but felt the dress was too busy so a floral headband fits with the garden theme!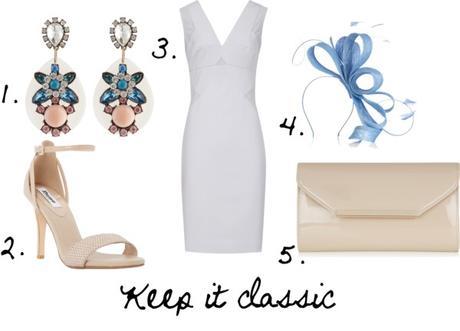 1.Coast Perspex Earrings - £18.00  2. Dune Madeira Nude Sandals - £69.00 3. Reiss Lyanette Abyssal Blue Mesh Dress - £179.00 4. Coast Amelia Fascinator - £45.00 5. Accessorize Patent Envelope Clutch - £17.00
This is what I'd call classic wedding guest in spring time. We have an elegant Reiss fitted pale blue dress, Dune nude strappy sandals, an oversized nude clutch then just to finish things off amazing earrings and of course (had to put one in somewhere) a fascinator!
There you have some of my favorite SS15 wedding guest outfits.  I have a lot more wedding related posts coming up with the run up to MY wedding in July!! Not that I'm stressing about it ..at...all....