I cannot begin to tell you how excited I am about the new wedding show coming up in September 2013 at Event City in Manchester. It is already one of the most talked about shows this year and they have so much planned I wouldn't even know where to start…but, I'm going to try!!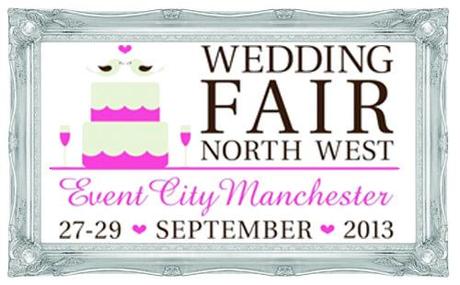 27th-29th September 2013 sees Event City host the ultimate day for wedding inspiration, Wedding Fair North West. Over 150 wedding suppliers will be attending over the weekend so you can chat all things wedding with photographers, videographers, cake makers, florists, stationers…the list goes on. But it's not just the suppliers that are there to inspire you as they have a lot more up their sleeve. Wedding planning experts will be on hand to help solve your wedding worries as well as the amazing Ian Stuart attending to talk 2014 bridal fashions. Tasting sessions, a Champagne bar, catwalks and even a bridal coach, this show is proving to be truly amazing on paper! I couldn't resist and had to book myself in so as well as all the above you will also get to come and chat wedding films with yours truly!
It got a little too much for me when a special parcel arrived in the post and I opened it to find something to share with all you bride and grooms to be. Thanks to the good people at the Wedding Fair North West I have 10 complimentary invitations for two to attend the show worth £30!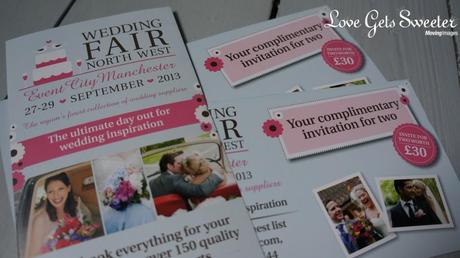 Would you like to be one of the lucky few to get a free pass for you and a friend? It's the ultimate wedding day out-and there's even the Trafford Centre next door to make it a long day out! All you need to do is email me on [email protected] and tell me why you would like the tickets. The best answers will be picked out at the end of August so get your answers in quick!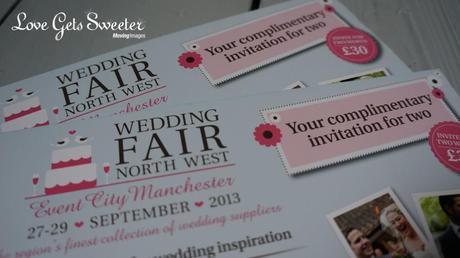 I look forward to hearing from you! xx