Whether you are engaged and preparing for some worst case scenarios, or you are like me and cannot clear your mind of those wedding day hiccups, sit back and relax! Let's chat about it.
Alright, so if you are anything like me when I was engaged, you focused on weddings in movies or read blog after blog boasting about how perfect a couple's wedding turned out. In some cases, it was almost too good to be true, right?
If it feels that way… IT PROBABLY IS! 
In the beginning of the planning process, I sorted through tons of magazines, Pinterest, and blogs, only to realize that my expectations were being set way too high. Not because of budget, time, or even resources… it was because I had this idea of a perfect wedding where nothing would go wrong.
To all newly engaged couples: Get this idea out of your brains right now! Things go wrong. Most people just don't share the negative moments because who wants to relive them? The point is, you have to understand that not everything is going to perfectly. It just won't happen. How you react to those imperfect moments will shape how the rest of your day plays out.
Let's use an example from my big day to, hopefully, put you at ease. Our wedding coordinator was nowhere to be found for the entire day of our wedding. Yup. You read that correctly. She didn't even show up. Not to mention, the linens weren't steamed, the DJ was confused 90% of the event, and the alter wasn't up until maybe 10 minutes before I walked down the aisle.
Take note that this is when having an incredible wedding party at your side does wonders. Remember this when choosing your leading ladies. I wrote an entire blog post about bridesmaids if you would like to check it out!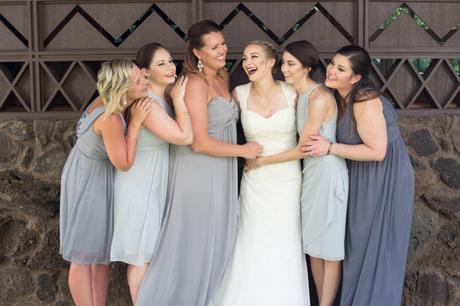 Not only was our wedding party helpful when dealing with those wedding day hiccups, our guests were too! I STILL do not have the words to describe how wonderful our wedding was, despite all those stressful moments. Even though our wedding was not exactly how we envisioned it, we were still surrounded by amazing family and friends.
That leads me to my next, and final point. Remember why you are having the wedding… to get married! So what if things go bat shit crazy. It happens. As long as your future person is there at the end of the aisle waiting for you to say your vows, that is ALL that matters. Looking back, the moment I saw David's face, all my worries disappeared. The day was perfect.
Completely unwarranted life lesson from a married woman #17: Without the rain, there would be no rainbow. Never forget that.