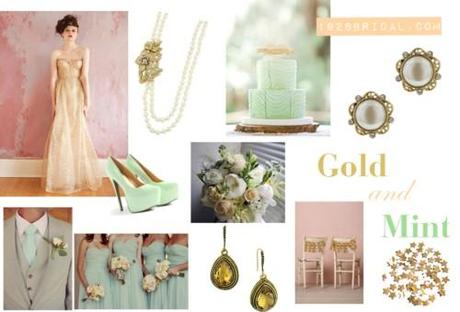 With wedding season right around the corner, we thought to showcase some of the current trends that you might be seeing soon! This is also the time of year when our lovely brides are putting the finishing touches on their looks, so here are some fabulous and affordable accessory options for the big day! All looks are easily found on 1928.com!
Personally, I love this look! Gold and Mint have made their way into Spring fashion, so it's only right that it should make a big splash in the wedding world. The lovely combination of gold and mint mixes the romanticism and glamour of gold and the fresh and fun feeling of mint, making it a great look for fun young couples in love!
The bride featured above is also showcasing a growing trend of wearing colors beyond the traditional white. Gold is a great option as it acts as a neutral like white but adds a little more glamour and individuality! I love the idea of the bride fully adorned in gold, accessorizing with this lovely Gold Swarovski Crystal Pearl Necklace featuring an antique gold tone crystal floral brooch and a pair of  Crystal Pearl Button Earrings! Her bridal party is dressed in flowy mint green dresses accessorized with a fun Boho Chic Topaz Gold Earrings!