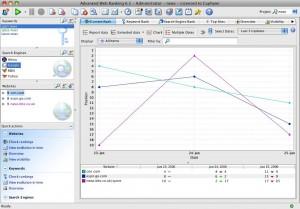 In this age where an online presence and economical yet effective business strategies are in high demand, obtaining website rankings for your business is indeed a wise move. However, directing traffic from search engines has been a recurring problem for many new websites. If you're currently experiencing this problem, could you be neglecting an important factor that is affecting your online presence? In this article, we outline 3 of the factors that may be causing your site to acquire less than the expected number of visitors.
Your Website is Deficient for Website Rankings
When potential customers are directed to your website, ensure that you keep their attention long enough for them to browse through your products and services. Two points that affect their decision to keep browsing are how fast your website loads and the website's design. Those two work hand in hand mainly because a professionally designed website ensures that the content will not weigh down the loading time. Optimizing the images and choosing a faster server are just some of the changes you should look into. Your website rankings will significantly rise once you revamp the performance of your website. It will also result in a better customer experience, more traffic and ultimately, an increase in sales.
There Isn't Enough Quality Content for Website Rankings
If you are exceptional with words and can create lengthy quality content, then by all means write to your heart's desire. Otherwise, hire a writer who has years of experience writing SEO friendly articles and can incorporate your keywords flawlessly. Avoid writing and publishing articles that are only after quantity. Even if you publish 5 short (less than 500 words) mediocre articles in a month, it will not help your website rankings as opposed to publishing a well written article once or twice a month. Customers usually ignore content that are written for the sole purpose of producing articles that search engines will recognise. They do not make sense because they're usually stuffed with keywords and consequently, make your website unreliable.
You're not with the Right SEO Company for Website Rankings
Because employing an SEO company is a need for most websites to be successful, hundreds of firms are popping up everywhere on the Internet. If you're someone who does not have a good idea how Search Engine Optimization works as a business, you could fall into the wrong hands. To choose the right SEO agency, you have to check the services they are offering and ensure that:
They evaluate your marketing strategies. Before they can give recommendations, it is essential that a good SEO firm will evaluate your website, your strengths and weaknesses and finally offer related services.
They can explain their plans and actions. You're paying a company to do their job, but you also have to know what they are doing. If an SEO company is using jargons (technical words or phrases that you absolutely don't have any idea about) and not bothering to explain or discuss their course of action, then forget them and move on to a more reliable company.
They don't make unrealistic promises. Your website rankings won't hit the first page in a week and that's a fact. A lot of time and work is needed to boost your website rankings and if your current company tells you that it can be done in a very short span of time, then you obviously hired the wrong one.
Choose wisely when it comes to SEO companies. You may have to spend time perusing proposals and talking to consultants, but your efforts will pay off in the end.
In conclusion, millions of people are accessing the Internet every single day for various reasons and purposes. The fact that not even one bothered to visit your website only means that there is something wrong with what you are doing. By reviewing the factors above, you can take the next step to ensure that your online presence will visibly increase.
Debra Wright blogs about a plethora of topics including Search Engine Optimisation. Wright considers TMY as a leading provider of Search Engine Marketing and Search Engine Optimisation services.