If you're new here, you may want to subscribe to my RSS feed or sign up for my weekly newsletter. Thanks for visiting!
Website Builders vs WordPress is a rather tough battle. Why? Firstly, because both the open source CMS and the site constructors have millions of satisfied, active users. Secondly, because both have many advanced included options that are hard to say no to. However, these web building services have many differences, too. And these can be defining when choosing between a website builder and WordPress. So, if you find yourself deciding between the two options, take into consideration the points I'm going to discuss below.

Functionality
WordPress. Being an open source platform, WordPress allows its audience of millions to develop their extensions and share them with the world in the form of WP plugins. There's also a possibility to design your own, unique themes tailored exclusively for this CMS. Thus, the Internet is now full of the extra handy WordPress add-ons that can be downloaded free or at a reasonable price. This is to say that with WP you can virtually create a website of any complexity.
Website builders. Website builders can vary in their functionality drastically. This is due to the fact that there are different types of website builders: narrowly specialized and versatile ones. For instance, if you're a WOW addict and you need to build a guild website you can sign up to a specialized site maker like iClanWebsites. There you will find a plethora of pre designed solutions geared towards building your chosen type of a website: game-related themes, user management, ability to host your own tournaments etc.
Summary. Although many think that website builders can be very limiting web building tools, there are platforms allowing you to access your website's source code even when on a free plan. This option is available on uCoz website builder. This means that certain website builders are by no means inferior to WordPress in terms of freedom of customization.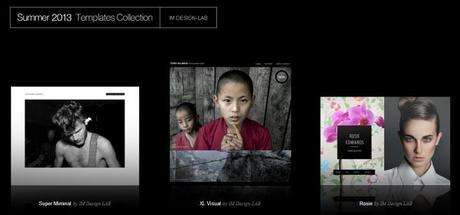 Ease of Use
WordPress. WordPress is a quite simple-to-install and use CMS. However, it requires basic webmastering knowledge, especially when it comes to theme customization, activating plugins and security measures.
Website builders. Traditionally, website builders have 'turnkey' website building packages: they offer everything you need to get a website up and running in one place. With IMCreator site maker for instance you will get a customizable template, advanced web building tools, hosting and ability to attach a domain name directly through your IMCreator account. As for you site's web address, there are two options: their subdomain or your own, previously purchased web address.
Summary. Website builders are far easier to use than WordPress, since most of them are powered by the intuitive, drag-and-drop and WYSIWYG editors. Furthermore, they will guide you through all the stages of the process – from domain purchasing to publishing your website. Setting up a website with WordPress isn't rocket science, too. Yet it doesn't offer turnkey solutions (you have to 'assemble' your website piece by piece yourself).
Support
WordPress. There are many forums and helpful web resources (including the official ones) that will help you get the most out of this CMS. However, given the tremendous number of existing extensions for WP finding the right piece of information can be a tough task. The most accurate and actual articles on getting started with WordPress are gathered on their Support Page.
Website builders. As a rule, website builders are more flexible in terms of customer support. MotoCMS site builder for example, offers Live Chat support as well as email support 24/7. All their customers get lifetime assistance and system updates after a one-time payment (unlike other website builders, MotoCMS has no monthly fees).
Summary. Site builders win in terms of support. However, this is mainly due to the fact that WordPress has a larger audience and it just can't physically cope with the load.
Final Thoughts for Website Builders vs WordPress
WordPress is a flexible content management platform that is loaded with many customization options. As of September 2013, its latest version had been downloaded by more than 6 million users. While creating a blog using WP is a breeze for an experienced webmaster, it can be a bit complicated task for a newbie. This is where website builders come into play. They can be a great alternative for those who'd like to bypass annoying technicalities and start customizing their websites in a matter of minutes.