WebMeUp Software Really Rocks SEO!
I received an invite to this beta version of a new WebMeUp software for SEO with a community. It came from a local gal named Alicia and I'm so glad I'm checking it out. It totally amazed me and I spent a full 3 hours totally involved with testing things on my various websites and blogs.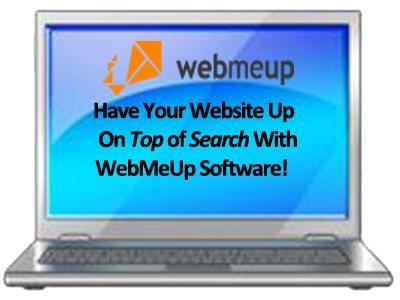 It really does NOT take long to set this SEO software up for your website. It comes with a 15 day FREE trial. You can get it extended by adding information or doing a post like this on it for an extended period of time. They are called Web Points. I've been asked more lately to do reviews on beta testing and really haven't had the time. I'm so glad I did try this one! I found things on the websites I've been working on that Google did not find.  Broken links from my homepage to a brand page on our nursing scrubs site. That amazed me! And of course I had to test it for real and not take it on faith alone. WebMeUp software also inspired me to fix some old posts here on Inspire to Thrive.
What Can You Do With WebMeUp Software?
You can check for broken links – This one really surprised me since I have various others ways to check for broken links. I found more of them with the WebMeUp Software! 
You can check our your incoming and outbound links along with their page ranking. It even grades them, if you see "F'" you should delete them. I did!
You can check all your pages ranking – Not just the site itself. Our page with broken link had a 0 ranking. No surprise why after learning link was broken from home page!
You can see what your competitors are doing – Imagine knowing where they get all their backlinks from? This makes me wonder, what if everyone is using this WebMeUp software? And I noted some of the places "others" were linking to were not in the same niche. Google doesn't like that. I will not follow them there on the dark side of SEO.
You can check your keywords ranking. You can also check your competitors keyword ranking. So much data to go through and analyze!
You can see how many pages you have vs competitors. This made me sick on the retail sites. How can they have SO many pages and how can I ALONE get there? Is that an SEO factor? (More to come after I research this one factor more.)
You can test your landing pages. Enter your keywords and enter project to test them out. WebMeUp also guides you on how to fix your optimization rate. Love that!
You  can probably find more to do on this WebMeUp SEO software.
Are you using any SEO software that can do all this and/or more?