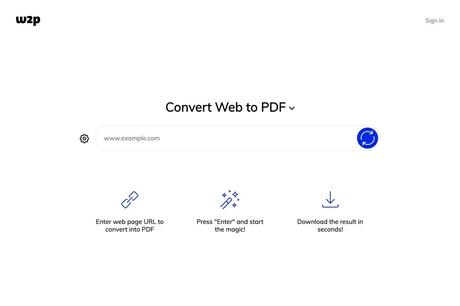 This article will introduce " Web2pdfconvert "is a free online tool. Its main purpose is to convert web pages into PDF and image formats. It also provides conversion of HTML files or source codes into PDF and images. The operation method is very simple. Just copy and paste the page link. Quickly convert formats and retrieve files.
Web2pdfconvert also provides different setting options according to different conversion projects, such as browser viewable range setting, page orientation, page size and edge spacing, etc. For the image part, you can set the JPG, PNG format and image resolution size, However, it should be noted that Web2pdfconvert has a limit of five conversions per day. If you want to lift the limit, you need to pay 6 euros per month or 60 euros per year. There are many similar alternatives, and users don't have to spend money.
Web2pdfconvert

use teaching
STEP 1
After opening the Web2pdfconvert website, the default is to convert web pages to PDF. Click the menu on the right side of the title to display different conversion options, including web page to PDF, web page to image, HTML to PDF, and HTML to image.
STEP 2
Click "Settings" on the left side of the conversion function URL bar to see more advanced options, such as disabling JavaScript, blocking cookie consent boxes, delaying loading images and content, hiding web page backgrounds, etc. The browser's viewable area (width, height), viewing in landscape or portrait orientation, and margins for borders.
Adjust the page size to be converted from the settings option, this print function in the browser can also adjust the paper size.
If you choose to convert to a picture, you can choose the picture format as JPG or PNG from the settings, and you can also adjust the size of the picture.
STEP 3
Copy and paste the URL to be converted, and then click the button on the right to start. It will take a while to convert.
STEP 4
After completion, a download link will be displayed, click "Download the converted file" to download and obtain the file.
The picture below is an example of how I use Web2pdfconvert to convert a free resource online community into PDF format. It can be seen that even Chinese content can be displayed normally without problems such as garbled characters or squares.
STEP 5
As mentioned earlier, Web2pdfconvert has a limit of five conversions per day. If the limit is exceeded, the following screen will appear, asking whether to pay to upgrade to unlimited conversions. However, there are many similar services, and there is no need to stick to Web2pdfconvert , friends who are interested can study it by themselves!
Three reasons why it's worth a try:
Provides a variety of setting options, including adjusting the viewing range, page orientation, size and border spacing
It can not only convert web pages into PDF but also into image format, and is also suitable for HTML source code
You only need to copy and paste the web page link to quickly convert without installing additional software
線上工具,線上轉檔,HTML,HTML轉PDF,HTML轉圖片,PDF,PDF工具,PDF製作,備份工具,格式轉換,網站工具,網頁保存,網頁備份,網頁截圖,網頁擷取,網頁樣式,網頁轉PDF,網頁轉圖片,網頁轉檔,線上網頁截圖
#Web2pdfconvert #Free #online #tool #quickly #convert #web #pages #PDF #image #format