Weather looks fair for the CBC tomorrow, besides the west wind between 7 and 13 mph.
Tonight: 
A chance of rain and snow showers before midnight, then a chance of snow showers. Cloudy, with a low around 30. West wind between 15 and 18 mph, with gusts as high as 28 mph. Chance of precipitation is 40%. Total nighttime snow accumulation of less than a half inch possible.
Monday: A slight chance of snow showers before 7am, then a chance for flurries before ending. Mostly cloudy, then gradually becoming sunny, with a high near 39. West wind between 7 and 13 mph. 
Weather from http://forecast.weather.gov/MapClick.php?CityName=Creekside&state=PA&site=PBZ&textField1=40.68&textField2=-79.1935&e=0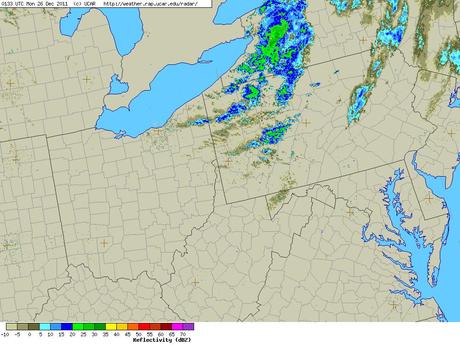 Image generated from http://weather.rap.ucar.edu/radar/