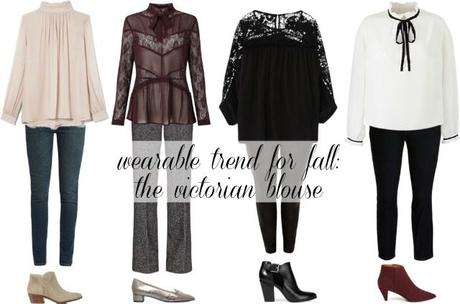 Shop Similar: pleated blouse | skinny jeans | suede ankle booties | paneled blouse | tweed trousers | silver loafers | lace sleeve blouse | faux leather leggings | black bootie | tie-neck blouse | ankle jeans | red suede ankle boot

Turn on your JavaScript to view content

This fall there are so many wearable trends, and trends that may already be in your closet, or easily created with low-budget, handmade, or thrifted pieces. One of these trends is the Victorian look. Ruffles, lace, smocking, and high collars are back, and this is a look that I think is so easy to work into many personal styles. While this trend is seen in blouses, dresses, and jackets, this post is going to focus on just blouses because they're the easiest way to add this trend to an existing wardrobe. Also, a blouse is less likely to look dated in a year because it can be styled in multiple ways and under different types of layers. But how exactly do you wear a Victorian-inspired blouse without looking too sexy, too steampunk, or too much like Jerry Seinfeld?
The biggest tip is don't have anything else look like a costume. No Fluevogs, no lace-up granny boots, no milkmaid braids, no maxi skirts or peasant skirts (or poodle skirts or bubble skirts or...). Keep the rest streamlined and clean so the blouse looks purposeful.
The four outfits above are examples of how to wear such blouses for work and play. The first shows one with items likely already in your wardrobe - just switch out last fall's plaid shirt or split-back or exposed-zipper blouse. With skinny jeans, you can wear the blouse untucked; if you pair with a more relaxed fit consider tucking it in (see below). The second look is for the workplace. While I don't think many can carry off sheer blouses at the office, this is just an example. I have many other blouses that are more conservative linked below. But you can wear one of these blouses under a blazer, on its own with looser trousers, even slipped under a sheath dress for a different effect. The third look is for a night out. Longer in length, the lace looks great juxtaposed with faux leather leggings and tough booties. The fourth look shows how such a blouse can be a great complement to this season's statement booties. If the blouse is simpler (not quite "puffy shirt" territory), pair with dark jeans or ankle pants with clean lines and show your personality with footwear with a bit of style.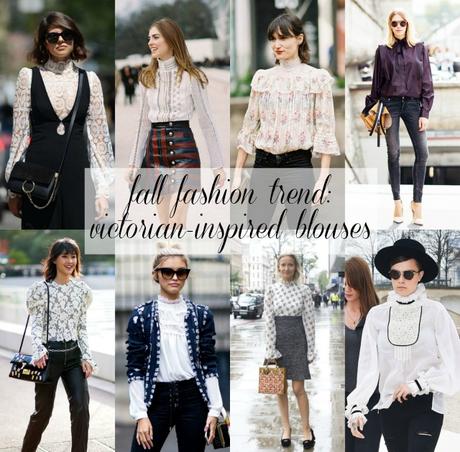 While these blouses can steal the spotlight, they do look great layered. Style them under blazers, biker jackets, dresses, and sweaters. This kind of blouse can look great under a short-sleeved cashmere tee, a grey tweed sheath dress, a classic pantsuit, a distressed denim jacket, a v-neck merino sweater. You'll find a blouse of this type can be quite versatile no matter your personal style.
Shop Plus Size Victorian-inspired Blouses

This is really up to you. If you're daring and going out on the town, a seamless tee shirt bra can suffice. I prefer camisoles with a silky finish, either of silk or another non-stretchy fabric, or a synthetic like bathing suit material that won't catch on chiffon and beading. Look for one with adjustable straps so you can control the level of cleavage. Usually a camisole's straps are thinner than one for a bra; a bra with clean simple straps in the same color will not stand out under a sheer top. I do this often and no one notices or cares that a portion of my bra strap is exposed. While some sheer tops can work with a traditional tank with wider straps, having this much fabric underneath can often ruin the look of the blouse. If you feel too exposed, a sheer blouse may not be for you.
As for color, I recommend matching the color of the blouse as close as possible. This is not the season where a black camisole under a white blouse or a red camisole under a black blouse is trendy. That being said, a nude camisole can sometimes be more distracting (and considering we all aren't beige, harder to match to truly look nude). With navy, grey, maroon, brown, and black go with black. With white, try white, and with ivory and cream go with a camisole of that shade. When it comes to statement colors like mustard, try a couple different looks. Often these blouses aren't quite as sheer and a nude-to-you camisole may be the best bet to just offer opacity without changing the color.
Shop Work Friendly Victorian-inspired Blouses:

Many blouses have sheer or lace bibs or shoulders, exposing bra straps. Some choose to handle this with a strapless bra, but such bras can be uncomfortable or unsupportive. Years ago when this trend first became popular, you could purchase clear stretchy straps to attach to your convertible or strapless bra. Problem is, these straps often broke, weren't that supportive, hurt, and were still visible. My recommendation? Have in your lingerie drawer a seamless, full coverage bra with very simple straps. I have this one from Fantasie. The straps are wide enough to support, but no padding or bows or details to make it look like a supportive bra. Under a sheer panel blouse, the straps look like a camisole. I recommend choosing this bra in black, but if your blouse is a certain color you may wish to find a bra in the same or similar color.
Shop Victorian-inspired Blouses Great for Layering:

This season, blouses are being seen on the runways and in magazines tucked in. That doesn't mean you have to tuck if you find it more your personal style or more flattering to leave it untucked. As I mentioned in this post, balance the volume of a Victorian-inspired blouse with a slimmer bottom. If you're not tucking because you don't want to draw attention to your midsection, I ask you to just try. You may be surprised that tucking in a blouse may create more of an hourglass figure and in fact make your belly look smaller. As you look in the mirror, remember few will see you standing still with your arms to your side. Move your arms, pretend to talk, throw a bag over your shoulder and check out your reflection. I wouldn't be surprised if you find you like the look of a tucked-in blouse!
Shop More Blouses: