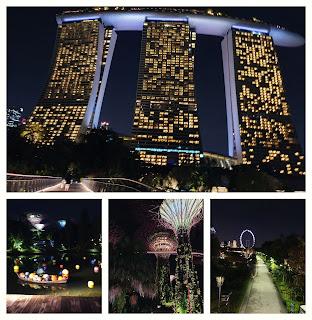 Another post which may help parents decide whether to bring their kids to
Gardens by the Bay
. So we went...and it was
really empty
. (Check out my clean shots!) It is a bit sad but a lot of our attractions are a
shadow of the past
. There were so little people, I don't even
have much of a choice when looking for passer-by to help take a family shot
. Some
tips
which might help your trip there.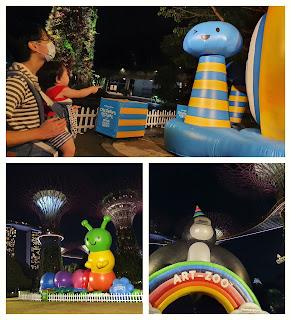 Go on a weekday: This is my general strategy to avoid the crowds. It does burn a bit of the leaves. But it is not like we have anywhere to go anyway. 


Split the day and night plans: We were staying in a nearby hotel. But still we decided to split the day and night plans so that the bubs can better enjoy the day. He probably could sleep in the stroller should we drag the evening into the night. But I really wanted lighter baggage LOL.


Children's Festival: We went to see the inflatables in the night. And hmm...my photos didn't turn up that well. I personally don't find them impressive. But my other friends went in the day (with toddlers that can walk/ run) and they seem to enjoy themselves more. Go in the day!



Mid-Autumn lantern sets & displays: Totally not worth seeing in my opinion. The design of the rabbits didn't appeal to me at all. LOL!


Flower Dome: We decided to visit one of them because it was too hot in the day and we needed aircon. We booked on the spot ($12/ adult). Thankfully, the number of people is controlled. It is quite empty while we were there too! 


Bring a tripod if you have one! There is really quite little people there to even stop a passer-by to help you take photos. We did take a lot of wefies but oh wells, the feeling is kinda of different.



Transport: We actually walked there on Day 1 evening and took the MRT there on Day 2 (nobody on the train at all!) Guess these transports are still safe!


What we packed: One bottle of milk, lots of snack and 1 diaper (totally not enough) His pee leaked and I did scold myself for missing this out. (The spare diaper and clothes was from our last trip). You can read our previous post on what we packed, which is a lot more comprehensive. Read it here! The changing room is really clean though, cleaner than the zoo!


Duration: We stayed only about 2 hours in the dome (walked around twice). Baby actually fell asleep after the first round. He was quite excited cos one of the words he could say was flower so he was pointing and repeating flower. So cute~! 
***
Note: Laptop is down, so posts won't be as frequent!