These artists 'draw the spotlight on craft that couldn't havebeen made at any other time than now.'

Michael O'Sullivan, The Washington Post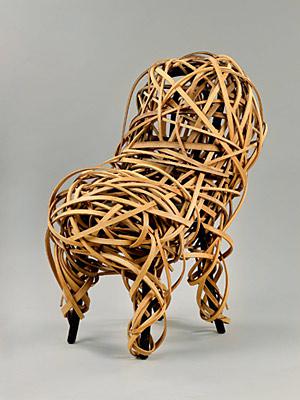 Matthias Pliessnig; Thonet No. 18; 2007; white oak, Thonet no. 18 café chair; Courtesy of Lewis Wexler, Wexler Gallery, Philadelphia
Staying close to home this July 4th weekend? Out of town guests making the sacrifice on the New Jersey Turnpike to visit you this time? Bring them to the Renwick Gallery to explore History in the Making: Renwick Craft Invitational 2011, highlighting the creativity and talent of craft artists working today.
Four contemporary artists give you a snapshot of the best American craft has to offer. Ubaldo Vitali uses classical silversmithing techniques to create luminous works for popes, kings, and presidents. Cliff Lee creates elegant porcelain vessels with Chinese glazes long thought lost to history. Judith Schaechter's moody stained glass windows reflect influences from gothic art to punk rock. And Matthias Pliessnig fashions mind-bending furniture from steam-bent oak strips.
Here's what our visitors are saying:
Provocative choice of pieces for the exhibit – I applaud the Renwick.

Cliff Lee's porcelains are breathakingly beautiful – his forms are gentle, soothing and evocative.

The beautiful visions of contemporary craft are really eye-opening.
After your guests leave, come back on Saturday, July 30 at 2 p.m. when Matthias Pliessnig will be discussing his work in the exhibition, recounting how he happily blurs the lines between design, craft, sculpture, and engineering.