Hi Huneybees,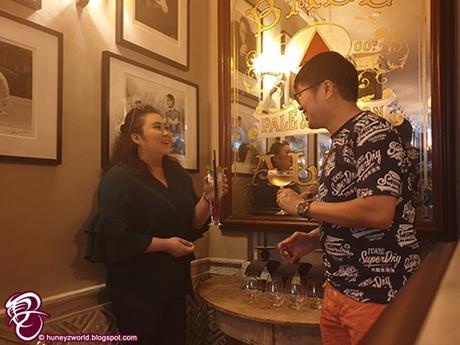 Unlike football, the English does not have a cuisine it can brag about, but thanks to its once far-reaching empire, the likes of fish and chips, English breakfast, high tea, and shepherd's Pie have certainly resonated with many people in this part of the world.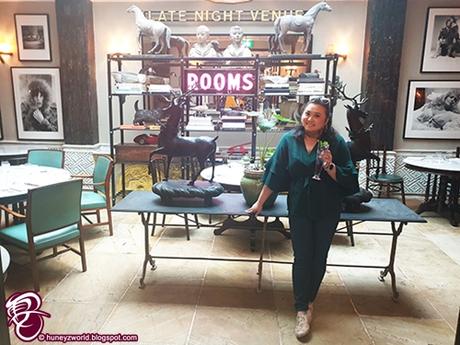 If you, just like yours truly Queen Bee, do enjoy these "English classics", the next place that I'm going to mention will certainly interest your palate.
Situated at a serene corner in the very heart of the bustling Lion City, is a place called "
The English House
" that promises to bring back the English nostalgia of the nineteenth century while one enjoys a classic English meal or drink there.
The English House is first restaurant with rooms project in this region by the influential English chef turned entrepreneur,
Marco Pierre White
, who is the man most notably known as and still is the youngest chef to be awarded three Michelin stars at age of 33 (he is 58 after his birthday this year). He has been dubbed as the first celebrity chef and has trained many famous chefs including Gordon Ramsay and is the current judge for Australia MasterChef.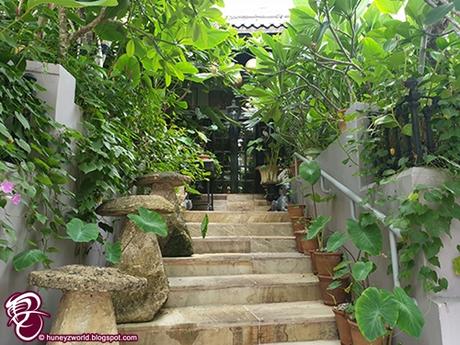 With many flora planted along its stairway leading to its entrance, we would have missed its entrance easily if not my distant memory of the once famous club called
Madam Wong
, which The English House now occupies together with its neighbor unit.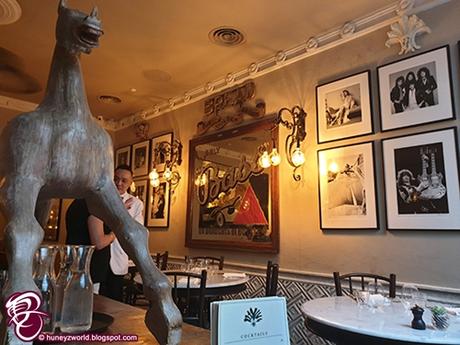 Once at the entrance, you will be greeted by a lovely receptionist at the "hall", who will lead you to into "Drawing Room" lined by black and white photos of celebrity by fellow English photographer
Terry O'Neill
on both walls. Some of these celebrities that I could identify include Richard Burton, Elizabeth Taylor, Helen Mirren and David Bowie.
The Drawing Room is also decorated with shelves displaying many artifacts, including vintage carousel arts and a
complete collection of the famous Michelin Guide
since 1900; all from the owner's personal collection.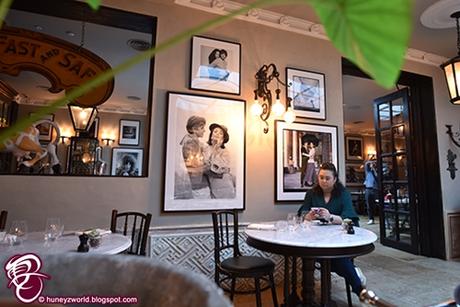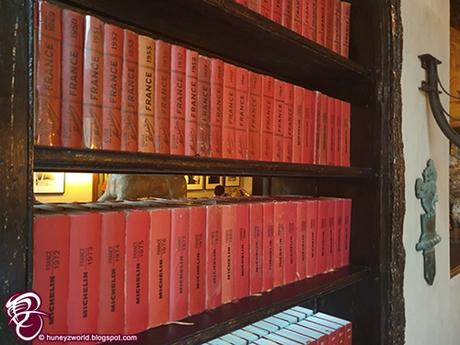 Moving into the "Dining Room" lays white round marble top dining tables and elegant upholstered arm chairs neatly arranged by the "housekeepers or house stewards" dressed in Victorian era servant uniform. To support a seated capacity of over 120 Pax, diners do flow over to the Drawing Room, which explains why these lovely dine tables and chairs are too.
When in the Dining Room, do look up to the ceiling of the Dining Room as you will see two large hanging lamps that used to illuminate London's 19th-century Burlington Arcade and interesting shaped ceiling fans ventilating the room.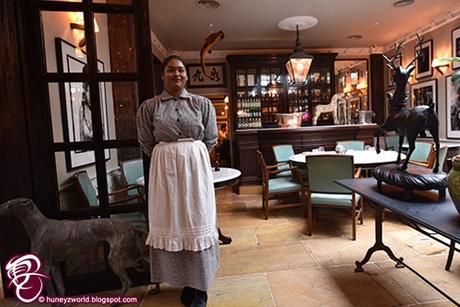 Food choice wise, since it was a Sunday we decided to go for
Classic Sunday Roast's set menu @SGD75++
instead of ala carte. The Classic Sunday Roast's set menu may look confusing at first glance but essentially you get a
4-course meal
from a choice of canape, a starter, either 1 dish from the Classic Sunday Roast's selection or Main Board's and a dessert choice from the Pudding & Cheeses section.
While drinks are excluded from the set, there's a choice of either Harry's Bar Bellini or Classic Bloody Mary @SGD22++ from its Sunday Cocktail selection or a cup of coffee with champagne truffles @SGD9++. Others drinks options are also available upon request.
;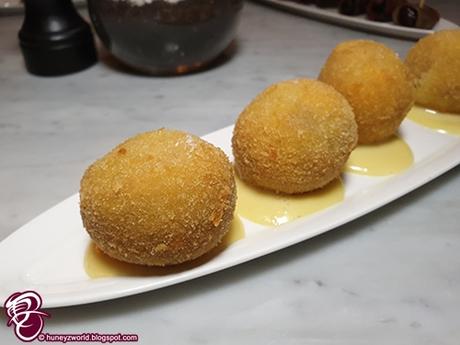 Canape : The Quails Scotch Egg is a classic English picnic snack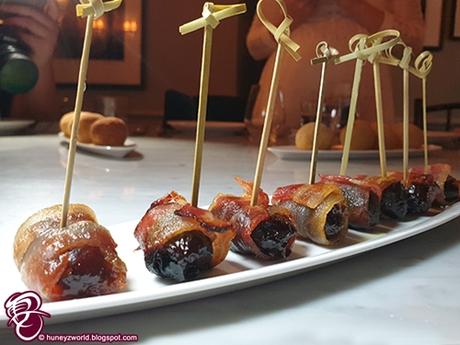 Canape : Devils on Horseback is a 70s cocktail muncher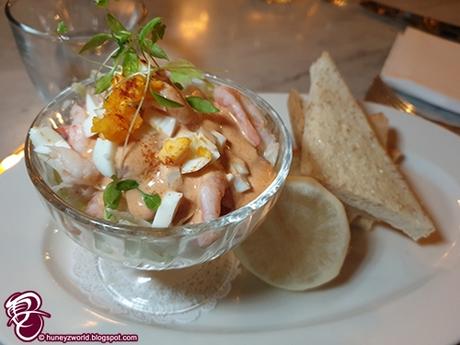 Christina's Starter : The Marie Rose sauce dressing on Wheeler's Classic Prawn Cocktail was rather refreshing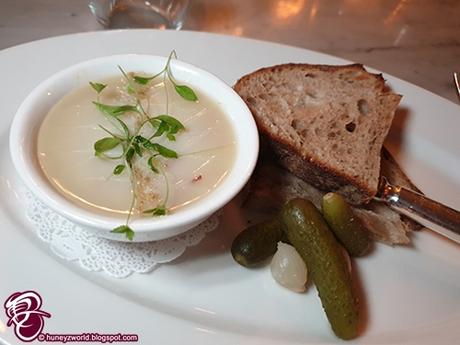 My Starter: Potted Duck with Green Peppercorn was nice with toasted sourdough but may be too salty eating it alone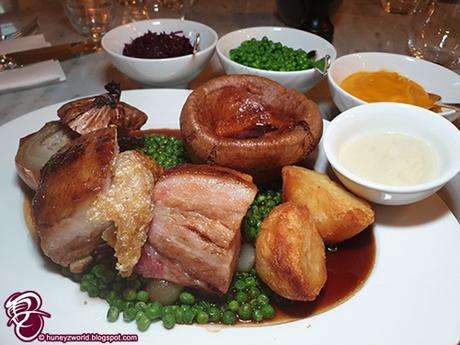 Christina's Sunday Roast's : Honey Roast Pork Belly with Apple Source was a bit too fatty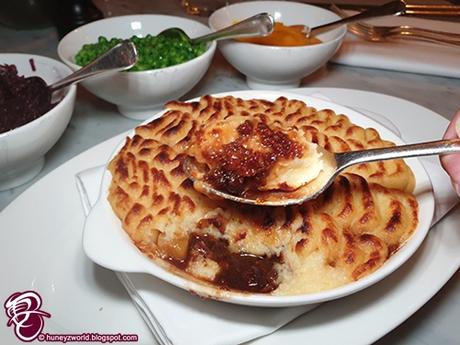 My Main Board: The outer mashed potatoe layer of Mr Lamb's Shepperd Pie was crispy but the stuff was too salty for my liking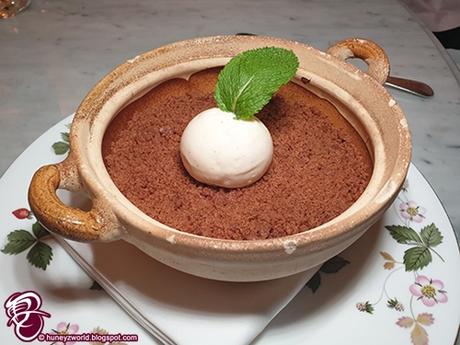 My dessert: Classic Apple Crumble tasted really good when it was hot and matched well with the melted vanilla ice-cream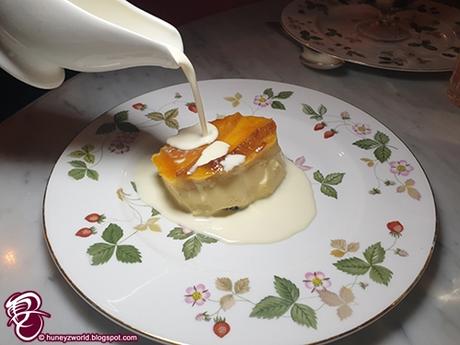 Christina's dessert: The bread and butter pudding with fresh cream will always be a safe choice
Taking the opportunity as an invited guest, we also tried the highly recommended Fish and Chips on the ala carte menu - Wheeler's Fried Fillet with
English Turbot
, Sauce Tartare - listed at whopping SGD98++ price tag!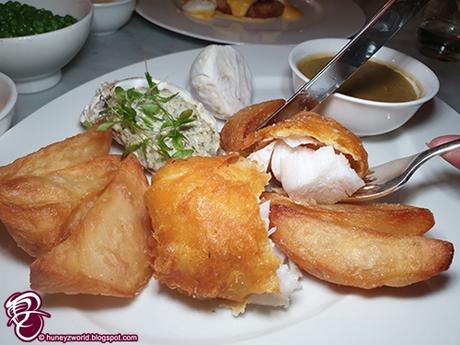 Looking like the two small golden pillows of size of my new Huawei P30 Pro, both Christina and I were pleasantly surprised by how fresh and sweet the fried Turbot fillet - a rare fish selection in this part of world - tasted and mind you the complement of the tartare source makes the dish one of the best I had ever eaten!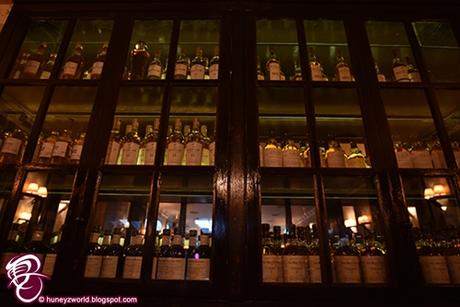 Here is an interesting fact: within the Dining Room, housed the biggest vintage Glenfiddich whisky collection in Singapore, all proudly seated in the large wooden cabinets at each end of the room. According to the house steward who served my table, these whisky are up for sales at "the right price" with the initial negotiation with the Sommelier and the final decision by the man himself - Marco!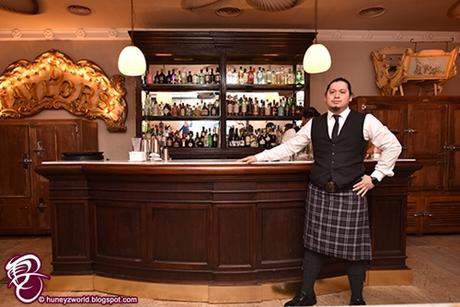 Talking about the Sommelier, he is the one in-charge of "Billiard Room" that is located between the Drawing Room and the Bath Room. The only guy allowed to dress in "Scottish way" with checkered Maud, he and his team of bartenders are responsible for concoction - whether is a Sunday Roast's special cocktail or special mocktail upon request - within The English House.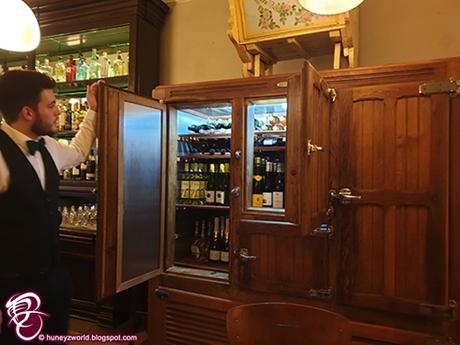 To allow patron to have that nice chilled lager or Champaign, two customised refrigerators are outfitted as wooden closet, seating inconspicuously in the Billiard Room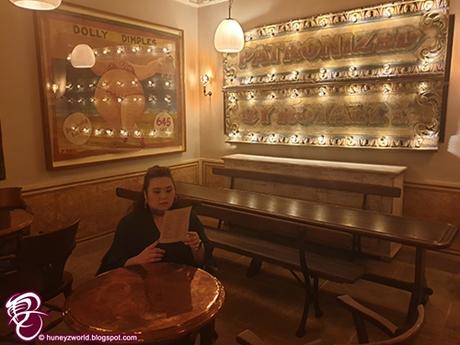 While there isn't a billiard table in the Billiard Room per se, the tradition of having wooden décor everywhere within the room is evidenced from the bar, furniture, vintage carousel arts on displayed to those classy looking wooden hand crafted and painted signboards hanging on the walls. With only the low lit warm lights in the room, it serves the exact purpose as in the olden times for men and women to chill and to gossip.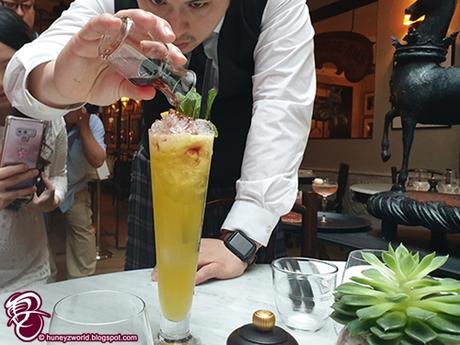 Lemon Tree - Homemade infused Lemon Rum, Passion Fruit, and Mint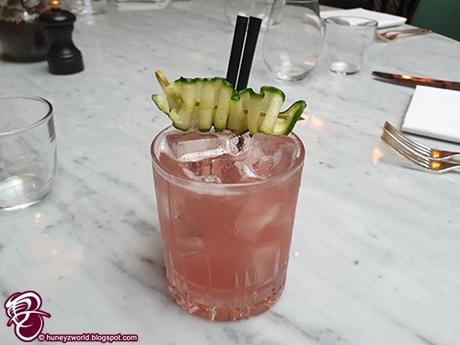 Hendrick's Tea Party - Hendrick's Gin, Watermelon, Cranberry, Gomme, and Fresh Cucumber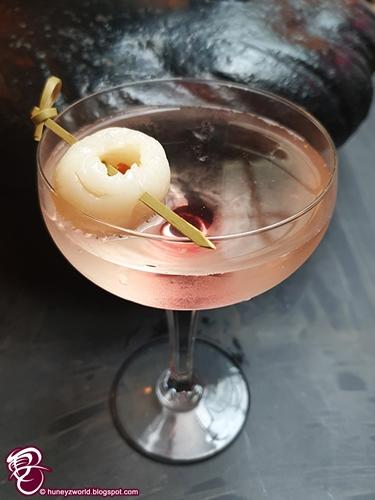 Chewlin - Lychee Liqueur, Grenadine topped with Prosecco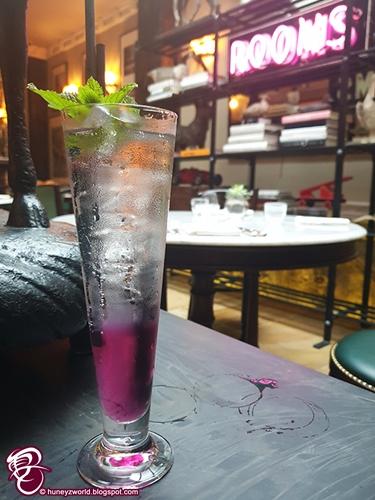 Eden - Rose and Butterfly Pea Flower, Citric Acid, topped with Soda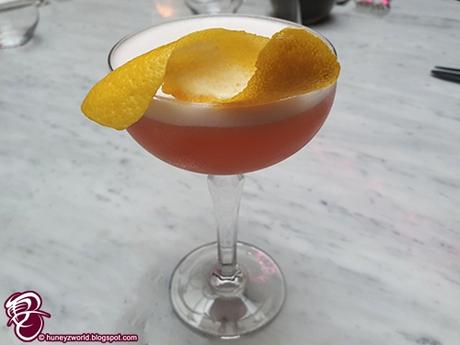 Rhubarb Sour - Homemade Rhubarb Syrup, Egg White, and Cranberries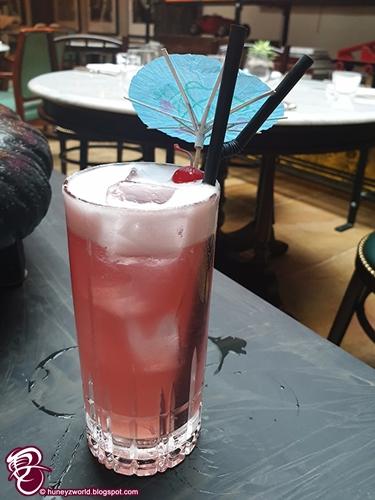 Lily's Lemonade - Almond, Grenadine, Rose, Soda and Egg White
Christina and I were not prepare to leave the place without a drink or two, so we decided to order a few instead, courtesy of The English House.
While the cocktails and mocktails look colourful and all do taste special from one and another, unfortunately both your Queen Bee and I are no expert to describe how good they were.
The exhaustive decoration does not ends in the Billiard Room. While the "Bath Room" is an essential layout within any house, it is also one place that almost all patron would visit - whether to wash hands before the meal, to relieve oneself , or to touch up makeup, etc. - and Marco fully understands that.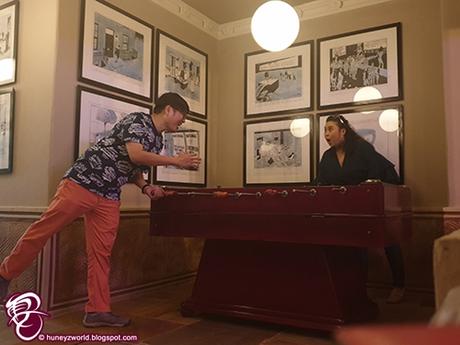 While there's no billiard table, we found ourselves a vintage table football for some Instagram photos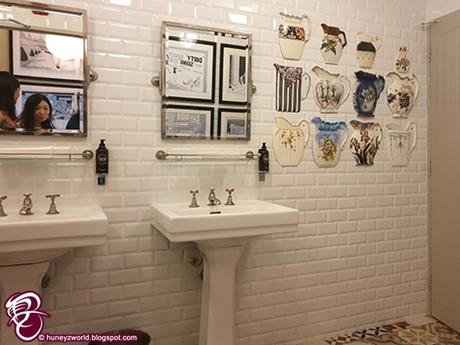 The exposed brick wall of the Bath Room interior gives a very nostalgic feel in this private space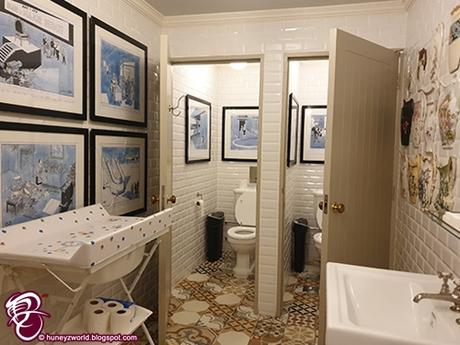 There's a reason to spend more time in the Bath Room at The English House
If you will to ask me which part of the restaurant do I like most, I would certainly say bath room and its walkway! While this might sound weird or even perverted to some but the whole walk way leading to the Bath Room, the Bath Room itself for both sexes and even right down to within each private cubicle inside, you will find exclusive late
Raymond Jackson
(JAK) cartoon pieces hanging for your appreciation.
The English House is overall a beautiful place to hang out and absorb the English culture with the amount of antiquities, works from some of the finest Englishmen, as well as the English fare from the well acclaimed Marco Pierre White.
I was particularly impressed by the amount of thoughts put into the renovation work.
It took more than a combination of experience, creativity and courage to transform what seen as nightmare to manage the traditional segregated layout of a historic pre-war shophouse with the need to comply with the local conservation act for such heritage, to drawing inspiration from
Das englische Haus
by Hermann Muthesius, into a restaurant with such a character.
It's a manifestation of Marco himself!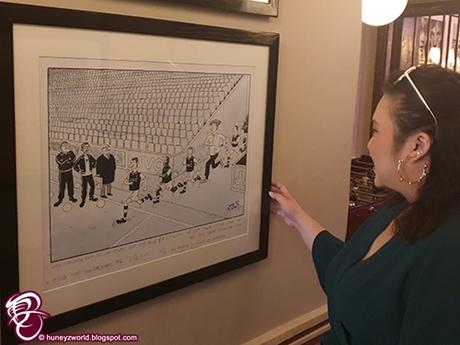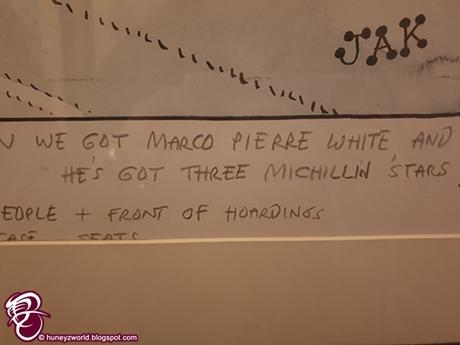 This is such a heartfelt message from the late Raymond Jackson praising Marco Pierre White
Christina refers The English House as restaurant in a private art gallery and loves the arts collection on display. The huge collection of JAK in particular and one which has dedicated cartoon on Marco speaks volume of the relationship between the two Englishmen and the respect for each other.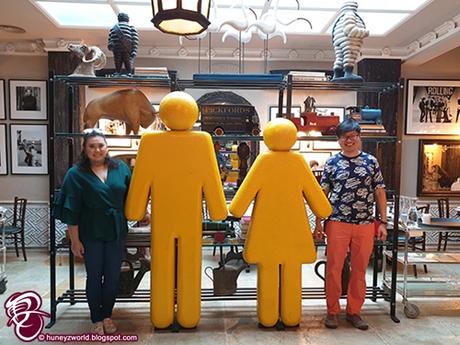 Both your Queen Bee and I can't agree more with Marco went he said "I've brought a little piece of England into a shophouse in Singapore." during his media interview when it opened last year in September.
Fyi, this great place that we hangout was also used as the shooting location for the official trailer of a local TV drama - Dear Neighbours 我的左邻右里.
Honestly, while the quality of food and its presentation were great, both of us felt a little let down in terms of food taste since this is the basic expectation from most patron of Marco Pierre White, the branded name of modern western cooking. However I will give The English House a bit more time to tweak the use of seasoning to suit local taste bug. Having said that, we will certainly come back to sample the high teas and recommend as a chill out place to all our Huneybees!
The English House also caters for family with kids. The normal menu for kids, comes with a main course and a dessert @ SGD20++ but on Sunday, its free for each paying adult! Go for it, mate!
Happy Sunday!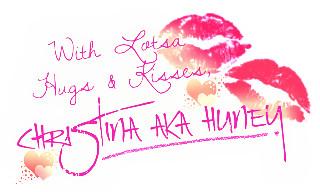 Don't forget to stay tuned to my blog / like my blog's Facebook page / follow me @huney_84 on Twitter & Instagram  for the latest updates!
http://www.huneyzworld.blogspot.com