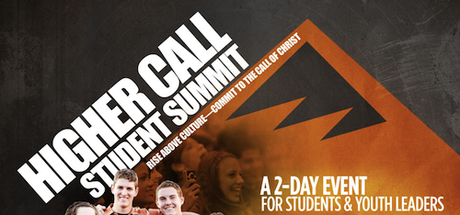 Just a reminder that Bryan Samms and I are privileged to be in Memphis, TN this Friday and Saturday, preaching to youth groups and encouraging youth leaders and parents! We sure hope you will join us there for the Higher Call Student Summit!
This meeting is a two-day event hosted by Eastside Baptist Church of Memphis, TN in conjunction with West Coast Baptist College. The two days will feature Bible preaching and teaching for students, as well as practical training and encouragement for leaders and parents.
These events are free for your youth groups, and take place on Friday evenings and Saturday mornings. You can find out more specific details about dates, locations, schedule, etc. if you visit www.wcbc.edu/highercall.
Every hour of the Student Summits has been planned with prayer—for the purpose of challenging young people to rise above culture and commit to the call of Jesus Christ, and to encourage and equip youth leaders in student ministry.
I'm thankful for the privilege to have part in these meetings, and am looking forward to the fellowship we will have with youth groups and leaders! It would be a great honor to meet you and host your group, if you live within driving distance.
The summits will be held near two other major regions in 2012—Atlanta, GA (September 7-8), and Dallas, TX (November 2-3).
Registration is free and simple. Just visit the web site and submit your basic information and the approximate number of students you would bring. Also, we will be happy to send you brochures to distribute to your youth group if you request them when you register.
We hope to see you at one of the summits! Let me know if you have questions!