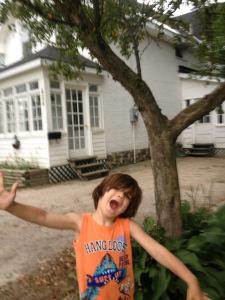 So we made it to our dream home, an old Victorian house in Smalltown, Ontario. We have high ceilings, two porches and a mudroom, a small garage and enormous yard. This is a big leap from our urban apartment overlooking the CN tower and Downtown Toronto. We've left the stuff of the city behind – children's health services and healthcare, traffic, noise, pollution. (Or at least a 90 minute drive away.) Instead we've found new services and re-connected with programs we've been part of in our Smalltown Ontario lives for a number of years. (The Ontario Early Years Centre in town has been part of our lives for nearly six years now, and staff greet the kids by name.)
Moving an entire household is not without a few hiccups. Poor Mr. Sensitive's bedframe was left behind, and he's been sleeping on a mattress pad for a couple days now. Little Miss Adorable's entire crib was left behind and she now uses The Dunk's bed while he makes co-sleeping into an Olympic sport. Strangely, my cardboard box labelled "Important: Kitchen Essentials" was left behind while a box of wedding photos that was still boxed from our last move arrived with us. So I can look at old pictures, but not make toast.
I can't complain too much, because this entire move was made possible with Smalltown support. Friends and family came out to help wrangle kids or load or unload our stuff. People worked to the best of their ability in their unique areas of strength – the cleaning specialist, the heavy lifters, the dolly operators, the secret rig driver. Everyone had something to contribute. I do not envy the folks who volunteered to drive our three cats to our new home.
Thank you to everyone who helped us along the way.