Monarch Butterfly Caterpillars
I've been checking the little patches of Narrowleaf Milkweed around my place several times a day and this afternoon found two caterpillars!  I hope these are the first of many more.  Here they are: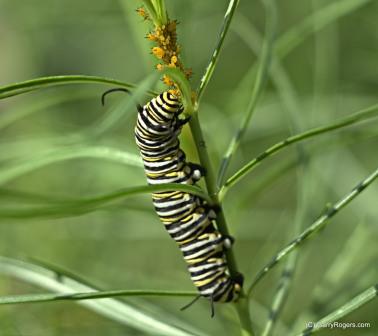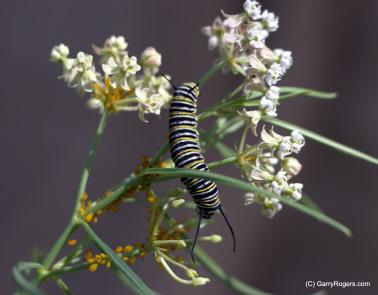 This was a great day for wildlife at Coldwater Farm.  Today, with expert help from Philipe Guerrero, I saw a Southwest Willow Flycatcher, a Yellow-billed Cuckoo, and a Gray Hawk along with lots of more common species.  The Cuckoo was a youngster, indicating that at least one nesting pair raised at least one check this year.  The Cuckoo makes a very distinct call, and thanks to Philipe, I learned it and realized I've heard it around the place for years.  I will do everything I can now to increase the protection for this habitat for these rare birds.  We got photos.  Philipe's are best and I'll see if I can post them later.
Philipe said he would help include Dewey-Humboldt (and Coldwater Farm) in this year's Audubon Christmas Bird Count.  I'll get going on organization.  We will need some volunteer help.