What did we get by booking four rooms in Anang Balay Turista four months in advance and making a 50% downpayment? We got Jhanna's Inn.
How did this happen? After we have been duped and dumped, we were told that this happens often with Anang Balay Turista. Sounds like the owner of Anang Balay Turista is a bit of a sigurista (hey, that rhymes!) and overbooks her place. When everyone who has booked rooms shows up, the owner of Anang Balay Turista asks Jhanna's Inn (a stone's throw from Anang Balay Turista; both are on the south end of the beach) to take some of her guests. Lucky for Jhanna's Inn.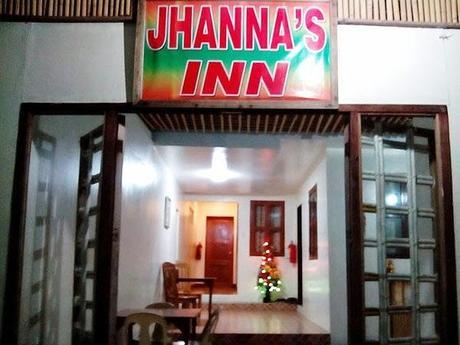 Jhanna's InnSerena St., Brgy. Buena Suerte, El Nido, Palawan+63 947 452 4842
And lucky for us, too, since Jhanna's Inn is newer and more comfortable than Anang Balay Turista. Before we were led into Jhanna's Inn, the caretaker of Anang Balay Turista took us to the second floor of Anang Balay Turista to show us one of the rooms...which turned out to be occupied. The alley and the staircase leading up to the second floor was narrow and steep; the child we were with slipped. The hallway between rooms in Anang Balay Turista was narrow, making the place rather cramped. Yup, we were lucky to be dumped in Jhanna's Inn, where the rooms were bigger (though only three: Quad Php 2500 / Triple Php 2000 / Twin Php 1500), and there was no staircase (narrow or not) to worry about.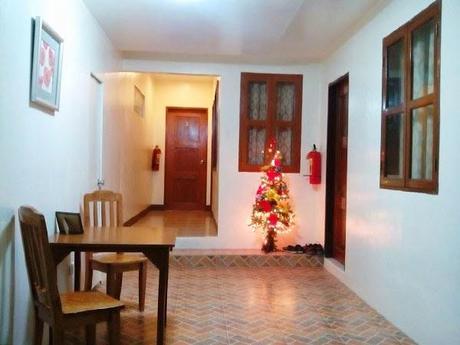 Jhanna's Inn has three rooms only.The common area has a couch, some chairs, and a dining area (not pictured).
On the downside, Jhanna's Inn does not provide free breakfast, whereas Anang Balay Turista does (one of the reasons we chose Anang Balay Turista in the first place, so we didn't have to worry about breakfast). Thanks to the angry powers of one of my companions, she got Anang Balay Turista to provide free breakfast (rice, egg, ham/hotdog, coffee/bottled water).
We arrived in El Nido around 10PM and it took angry companion an hour and several phone calls to the owner of Anang Balay Turista (who wasn't around) to get everything settled. After all the furor and confusion, each one of us went into our assigned cold (AC was on) room in Jhanna's Inn, freshened up in the clean bathroom (each room had its own bathroom), and jumped in bed to sleep for the next six hours.


 Triple (left) and Quad (right) rooms. The quad sharing room is spacious (though the photo doesn't show so) that it can accommodate one more single bed. Each room has an air conditioning unit, a flat screen TV, and its own toilet and bath. Towels, toilet paper, soap, and shampoo are provided.
How we reached El Nido from Puerto Princesa:
We rented a van through Northern Hope Tours. They charge Php 6000 per way, but angry companion (who wasn't angry at the time she booked the van) was able to haggle and we paid Php 11000 roundtrip (50% downpayment required). Their van can accommodate 12 passengers. We were dropped off at the inn in El Nido and picked up at the appointed date and time.
The year before, we rented a van through Trip@Palawan Travel and Tours ([email protected] / 0908 376 4933). They charged Php 11000 roundtrip (van waited in El Nido and we were able to use it to/from town since we were staying in Corong-Corong) plus Php 1500 for the sidetrip that we requested to Sabang for the underground river. Their van can accommodate 12 passengers.
Just this year, groups that rent a van have to pay Php 100 (per van) upon entering El Nido town. Those who take the bus or shuttle van are dropped off outside of town and have to take a tricycle to go to their hotel/resort/inn.
Jhanna's Inn can also arrange van transfers to and from Puerto Princesa and island hopping and inland tours in El Nido. Had we known Jhanna's Inn existed, we could have booked with them and not gone through all that hassle with Anang Balay Turista. Next time we shall dump ourselves directly to Jhanna's Inn.
* In the confusion upon our arrival, I forgot to take photos. All photos above are from Jhanna's Inn's facebook page. *